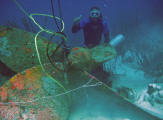 DIRECTORY
SS ORANJESTAD PROPELLER
FOR INFORMATION ABOUT THE
RETRIEVAL OF THE PROPELLER
FROM THE LAKE TANKER SS ORANJESTAD
On the morning of February 16, 1942 German U-Boat 156 torpedoed and sank the Lake Tanker Oranjestad. The Oranjestad sank in 225 feet of water about 500 yards off the reef in front of Coco Beach on the east end of Aruba.
Now, sixty-seven years later a group of divers have found the tanker and raised one of the bronze propeller to the surface. This directory will take you to all the sections; outlining, with text, photos and video, the phases of this dangerous, but successful operation.
You will also find press releases about the operation, explanations by the divers on how the operation was carried out and discussion and plans for the use of the propeller now that it has been recovered.
April, 2009