LAKE TANKER FAMILIES
IF YOU HAVE FAMILY (FATHERS, GRANDFATHERS, WHOMEVER) WHO WERE ON THE LAKE TANKERS, SEND ME A EMAIL IF YOU WOULD LIKE TO CORRESPOND WITH OTHERS WHO ALSO HAD FAMILIES ON THE LAKE TANKERS.
I WILL ONLY SHARE YOU EMAIL ADDRESS WITH OTHER LAKE TANKER FAMILIES AND ONLY IF YOU GIVE ME PERMISSION TO DO SO.
AS FOR PHOTOS AND OTHER MEMORABILIA, IF YOU HAVE ANY AND WOULD LIKE TO SHARE THEM PLEASE SEND THEM TO ME. MY EMAIL ADDRESS IS: dje9537459@austin.rr.com
| | |
| --- | --- |
| PUNTA CORDA PHOTO FROM ALEX MILLER | SAN CARLOS PHOTO FROM ALEX MILLER |
LAKE FLEET FAMILIES
KAREN CLUBB, GRANDDAUGHTER OF CAPTAIN FRANK AND ESTER LAURENSON
THE GIBBONS FAMILY
BRYAN MCCALL
DAVID McKEE/JIM SAMSON
HUGH CHANDLER
CAPT. JAMES HILL
CAPTAIN W. M. RUSSELL
CAPTAIN HENRY JOHN TURNER
CAPTAIN ERNEST ARMSTRONG
---
PROOF THIS WORKS, READ BELOW.
Hi Danny,
A few days ago I had an e-mail out of the blue from a guy by the name of Alexander Millar. He said that he had gotten my e-address from you and I'm glad you gave it to him.
His dad had been in Aruba, or at least with the lake fleet from about 1927 to 1942 and on sorting through some old pictures, he was intrigued as to who the other persons were who in them.
How he found your Lago-colony site I don't know - ( he also knows about Auke Visser's site with all the Esso ships listed, most with pictures) but he had read my few words about how we came to Aruba and as his parents had a association with Islandmagee decided to ask if I could identify some of the people..
Anyhow to cut a long story short - he sent me an e-mail asking if I would be able to help, one particular picture had three men looking at a copy of my Northern Ireland weekly newspaper "The Larne Times". I had seen a similar picture and asked if one of the men was wearing a straw hat - he replied "Yes" and attached it to his reply. His Dad is in it, standing right next to mine.
So, after some 60 or 70 years he and I now know who is in the pictures. My sister in Northern Ireland has also been in touch with him - he is coming to her place next week to see if she can identify other persons - but it also turns out he had worked in the Civil Service in Belfast, in the same building as my sister for many many years.

Ain't it a small world.
Rgds.,
Bill
AND THIS FROM ALEX MILLAR
Just on a point of interest and a remarkable coincidence, a few weeks ago I noticed an article on the site which I thought was similar to my own father's experience in Lago Tankers so I wrote to Dan Jensen requesting the e-mail address of the writer. On receiving this, I contacted a Bill McMaster, whose father also hailed from Northern Ireland and, like my father, sailed on lake tankers in the 1930's. It turned out that both of us had a copy of the same photograph, showing our two fathers standing beside each other reading a newspaper from home ( see attached ) - neither of us previously knew the identity of the others in the photo. My father James A G Millar is in the middle and Bill's father ( also Bill McMaster ) is on the right. I have since met Bill's sister, Pam, who lives just outside Belfast and it turned out that we both worked in the same Building for years and actually knew each other. Talk about it being a small world ! This is a good example of the benefits which can arise from the web site.
Keep up the good work.

Regards,

Alex.Millar
Belfast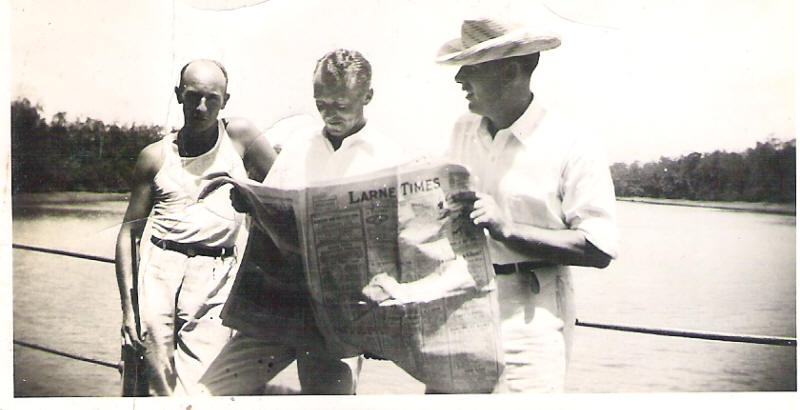 Capt. James Hill
I hadn't visited your Web site in a while so I was pleasantly surprised to see all the new folders you have and new photos and other stuff. I noticed you had a section for Tanker families. Well, my dad, Capt James Hill, was in the Marine Dept, hired by London Esso in 1938, worked first on tankers traveling internationally, then went to Aruba in 1946 straight onto the Lake Fleet. When that was disbanded he moved onto the tugs where he stayed until he subsequently retired in 1965. I have some photos and I would love to tell his story with some more detail. My sister Dorothy (Hill) Ellis (Class of '58) were talking tonight and she was recalling some details that I didn't know. I told her she needs to record it all so let me work on that and I will get back with you. Please share my email address with everyone.
All the best and keep up the good work,
Olivia Hill (Class of '63)
---
Hi Dan,
I noticed in your Lago-colony web-site, a new article, written by a Capt. J F Fisher from Belfast on life aboard a Lake Tanker in the 1930's. When I read this and saw his photograph, I realized that I actually worked with Jack Fisher in the Civil Service in the 1960's - while I knew then that he was a retired Captain from the Merchant Navy, I had no idea that he had served in Aruba. I say this, because my father also served on Lake Tankers operating out of Aruba during the period 1932 to 1942 - quite a coincidence !
I would therefore very much like to contact his daughter, Carol Hinds, to compare notes about this period. I am presently researching my Father's naval career and this contact could help to throw some light on it. Do you have an e-mail address for Carol which you could pass on ? I'm sure it could be mutually beneficial to discuss our respective father's time with Esso.
Regards,
Alex. Millar
Belfast.