A TRIP ON ONE OF THE LAKE TANKERS
THERE WERE LAKE TANKERS GOING BACK AND FORTH FROM LAKE MARACAIBO TO ARUBA. IF YOU WERE FRIENDS WITH THE CAPTAIN YOU COULD GET A TRIP OVER WITH YOUR FAMILY TO SEE THE LAKE AND THE OIL WELLS. MANY FAMILIES AT LAGO TOOK THIS TRIP. THESE PHOTO WERE TAKEN BY WALT SPITZER
PHOTO BELOW, THIS WAS A LAKE TANKER. SHE HAD A FLAT BOTTOM TO GET ACROSS THE BAR INTO THE SHALLOW LAKE MARACAIBO. FULLY LOADED THESE TANKERS ONLY DREW ABOUT 14 FEET OF WATER. THESE SHIPS WERE SPECIALLY BUILT FOR THIS SERVICE. SEE THE HISTORY OF LAGO REFINERY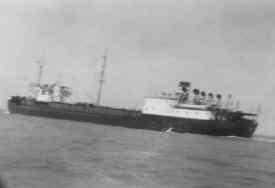 BELOW IS A PHOTO OF THE MID-SHIP OF THE LAKE TANKER.
THIS WAS WERE THE OFFICERS AND VISITORS ATE AND SLEPT.
THE BRIDGE IS AT THE TOP OF THE STRUCTURE AND THE SHIP IS PILOTED FROM HERE.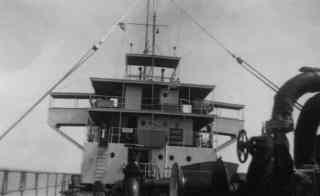 BELOW, A VIEW FROM THE BRIDGE, MID-SHIP, LOOKING AFT.
NOTE THERE IS NO CAT WALK BETWEEN THE AFT AND MID-SHIP ON A LAKE TANKER, YOU WALKED THE DECK.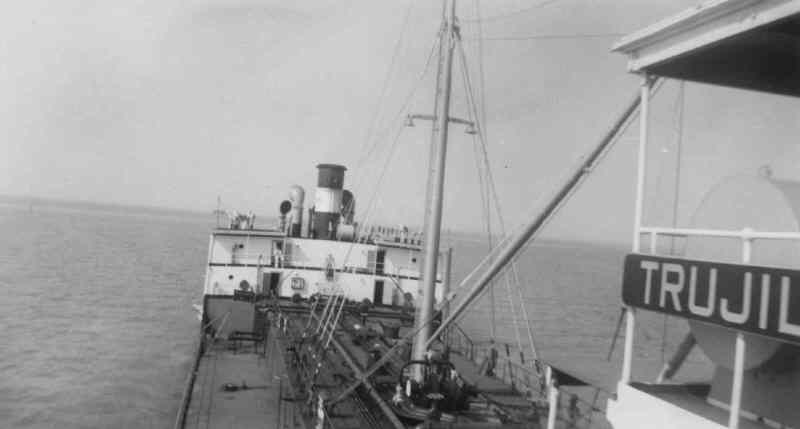 A PASSENGER WALKING THE DECK.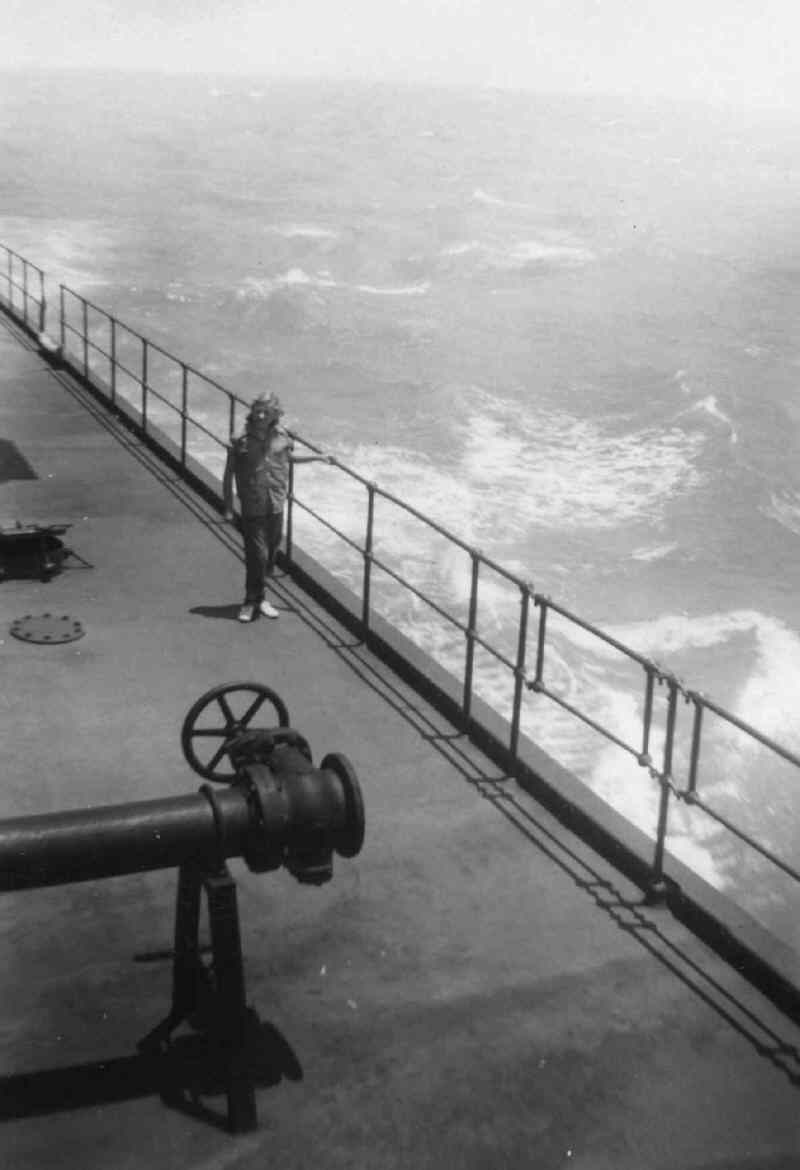 LITTLE BROTHER WATCHES AS CREWMAN WALKS THE DECK, THIS IS IN CALM WEATHER.
SEE WHAT HAPPENS TO THE DECK OF A LOADED TANKER IN MODERATE SEAS.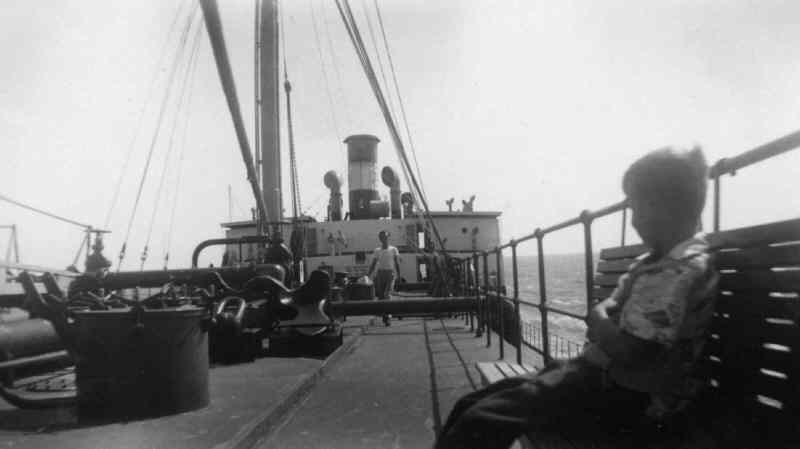 KIDS LOVE A TANKER TRIP, THERE IS SO MUCH TO PLAY ON, AN ANCHOR IS BETTER THAN ANY PLAY GROUND.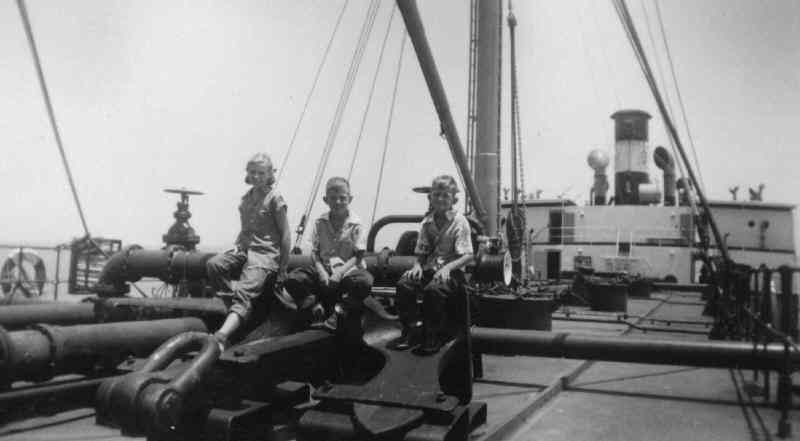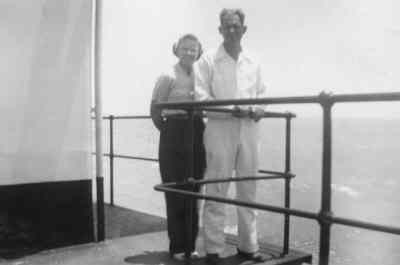 MR. AND MRS. SPITZER ON BOARD THE LAKE TANKER.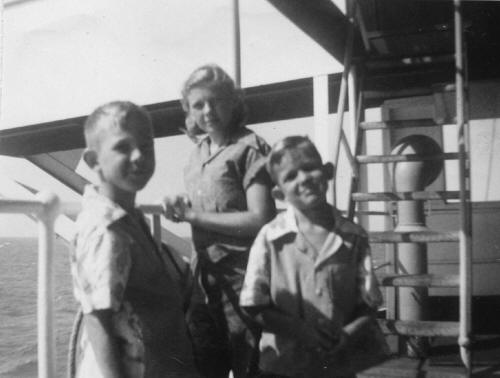 THE SPITZER CHILDREN, KYLE, MARY B AND ART ON BOARD THE LAKE TANKER.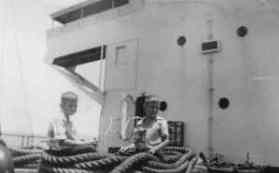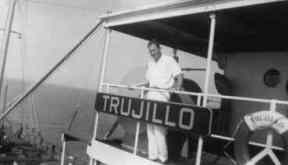 MR. SPITZER ON THE TRUJILLO.
ART AND KYLE SITTING ON ROPE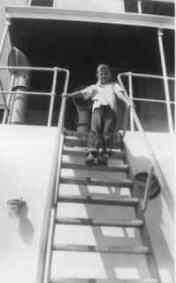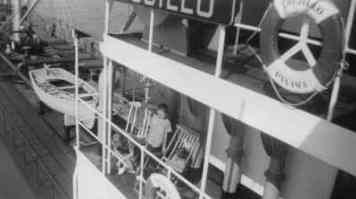 NOT A LOT OF ROOM FOR DECK CHAIRS ON A LAKE TANKER.
ART COMING DOWN ON DECK.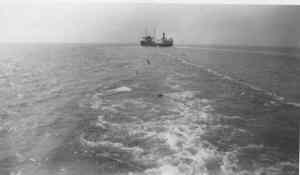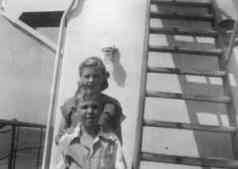 MARY B AND KYLE ON DECK.
PASSING ANOTHER LAKE TANKER
THIS IS SUSANNE GRAVENDIJK WHEN SHE MADE THE TRIP TO THE LAKE ON THE LAKE TANKER ESSO TRUJILLO.
SHE WAS FIVE YEARS OLD..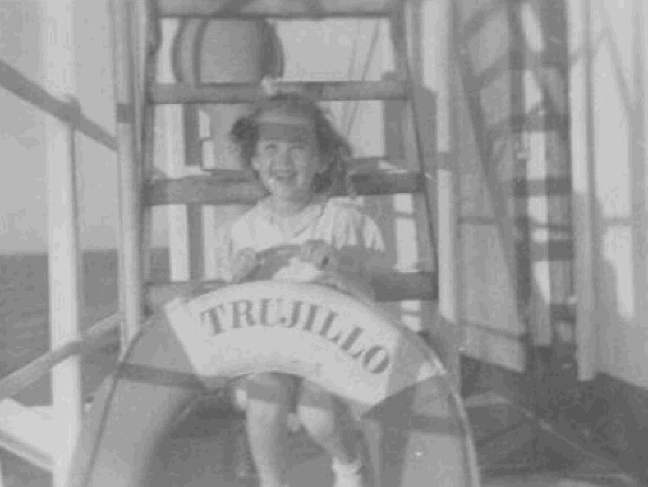 AND WHEN YOU GOT TO THE LAKE THIS IS WHAT YOU SAW, LOTS OF OIL WELLS OUT IN THE MIDDLE OF THE WATER.
BUT THAT IS WHAT FED THE LAGO REFINERY AND GAVE OUR PARENT'S JOBS.