John and Jessie McBride
Jill Ruddell Great Uncle and Aunt were John and Jessie McBride who came from Renfrewshire (John) and Aberdeenshire (Jessie) in Scotland. It is not know when John came to Aruba or what he did but he married Jessie in 1937 in Aruba. They had a daughter named Kathleen who was probably born in Aruba. If any one knows anything about the McBride family please let me know so I can put you in touch with Jill.
These are what Jill has sent which she found in her parents things when they died.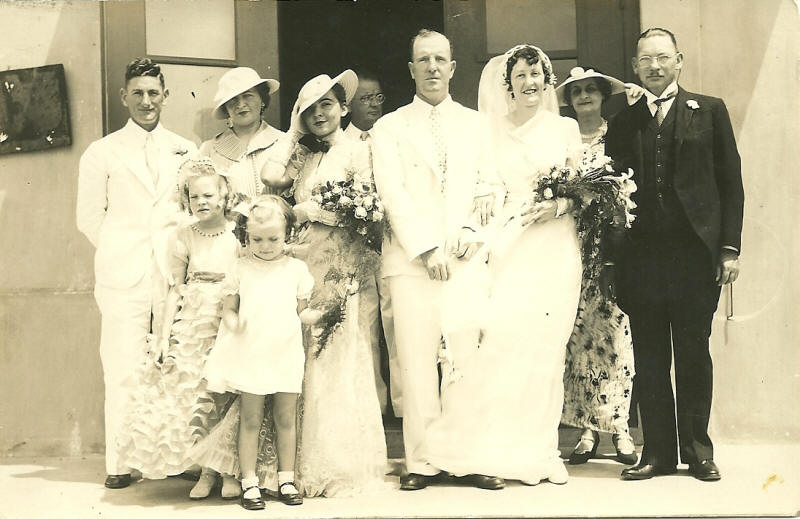 John and Jessie McBride's wedding photo, that is L. G. Smith on right in dark suit.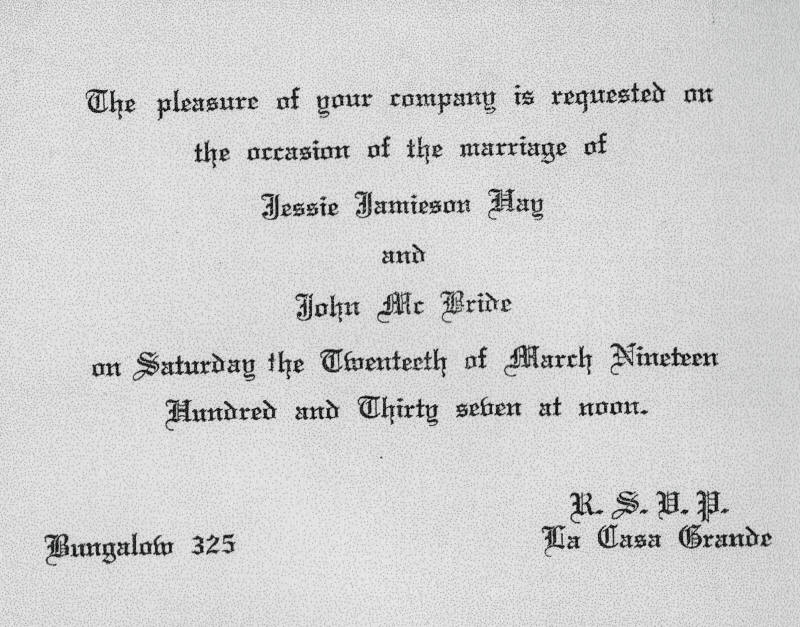 Wedding invitation to the wedding of Jessie Jamieson May and John Mc Bride.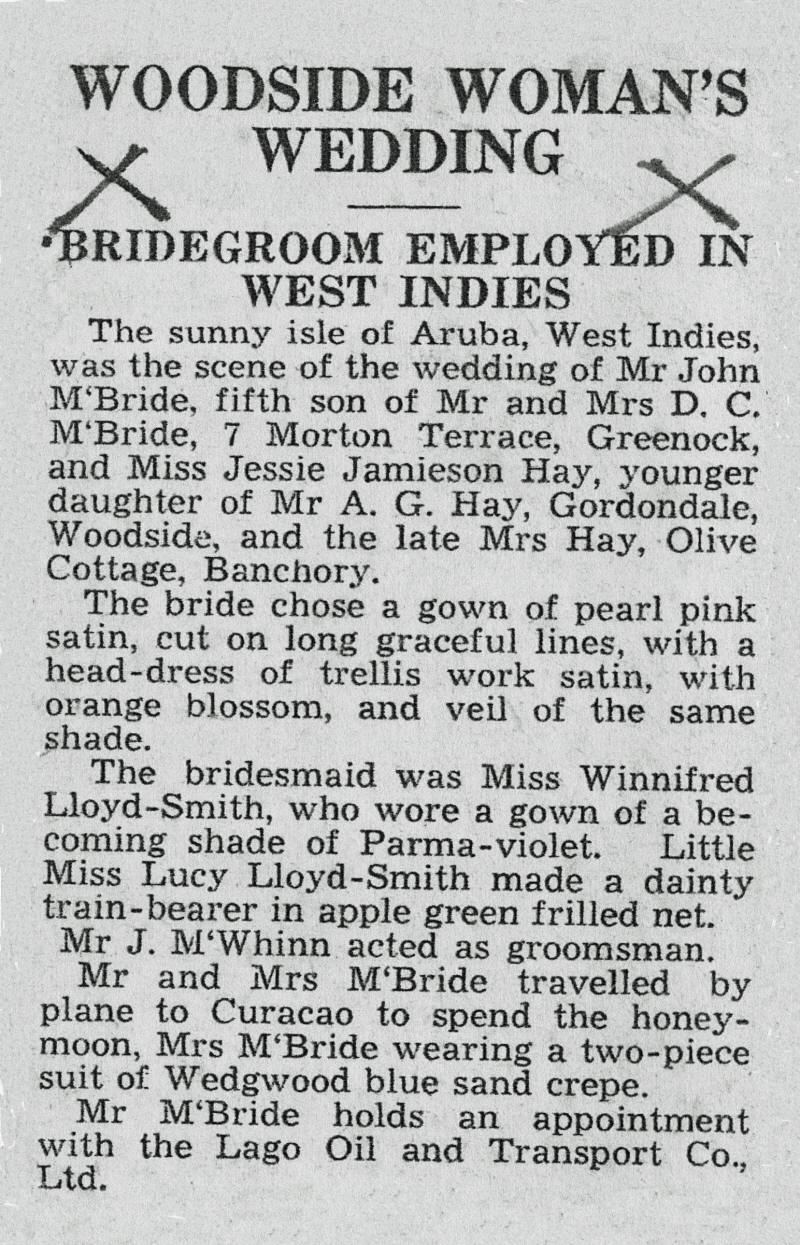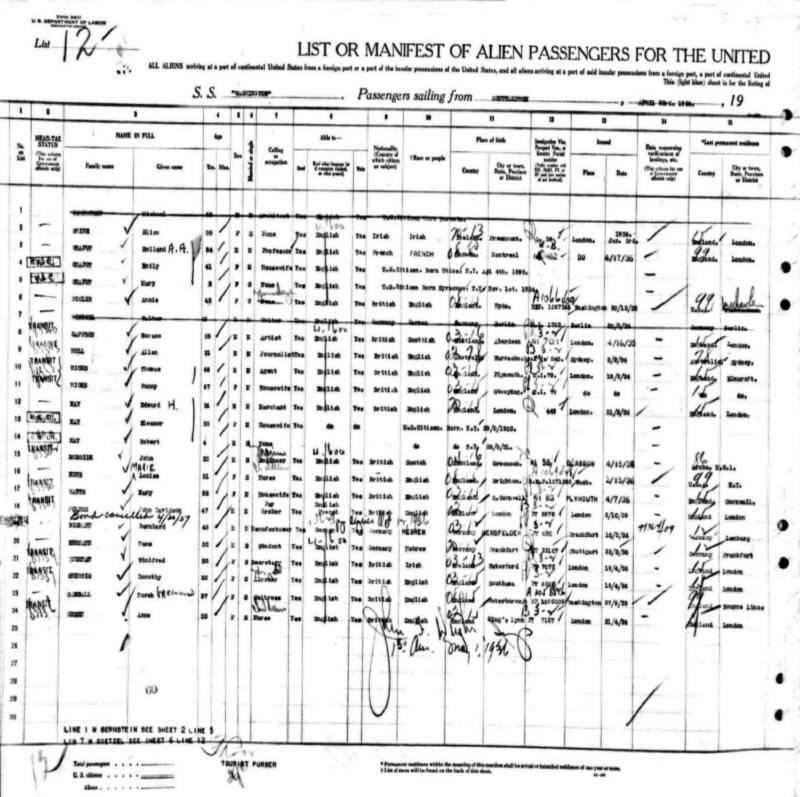 This is the passenger list of those traveling one the SS Washington, John McBride is listed as Passenger, age 33, occupation "engineer". If you click on the Passenger List it will take you to a larger copy.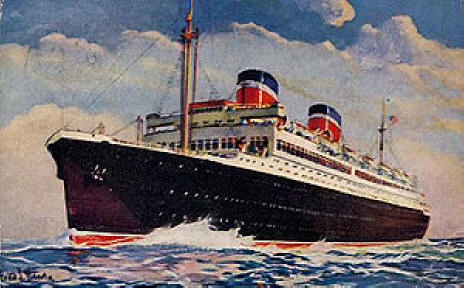 This is a drawing of the SS Washington, a liner owned by the United States Line. She had a Length: 705 ft 3 in (214.96 m) a Beam: 86 ft 0 in (26.21 m) and Propulsion was B&W boilers, Parsons steam turbines (30,000 shaft HP) - twin screw with a Speed of 20.5 knots and she displaced 24,289 GRT.
Accommodations were 580 in Cabin class, 400 in Tourist, and 150 Third class. As John was traveling to Aruba he was probably already hired by Lago and therefore traveling Cabin (First) Class.
Announcement of the wedding, probably in the bride's or grooms home town paper in Scotland.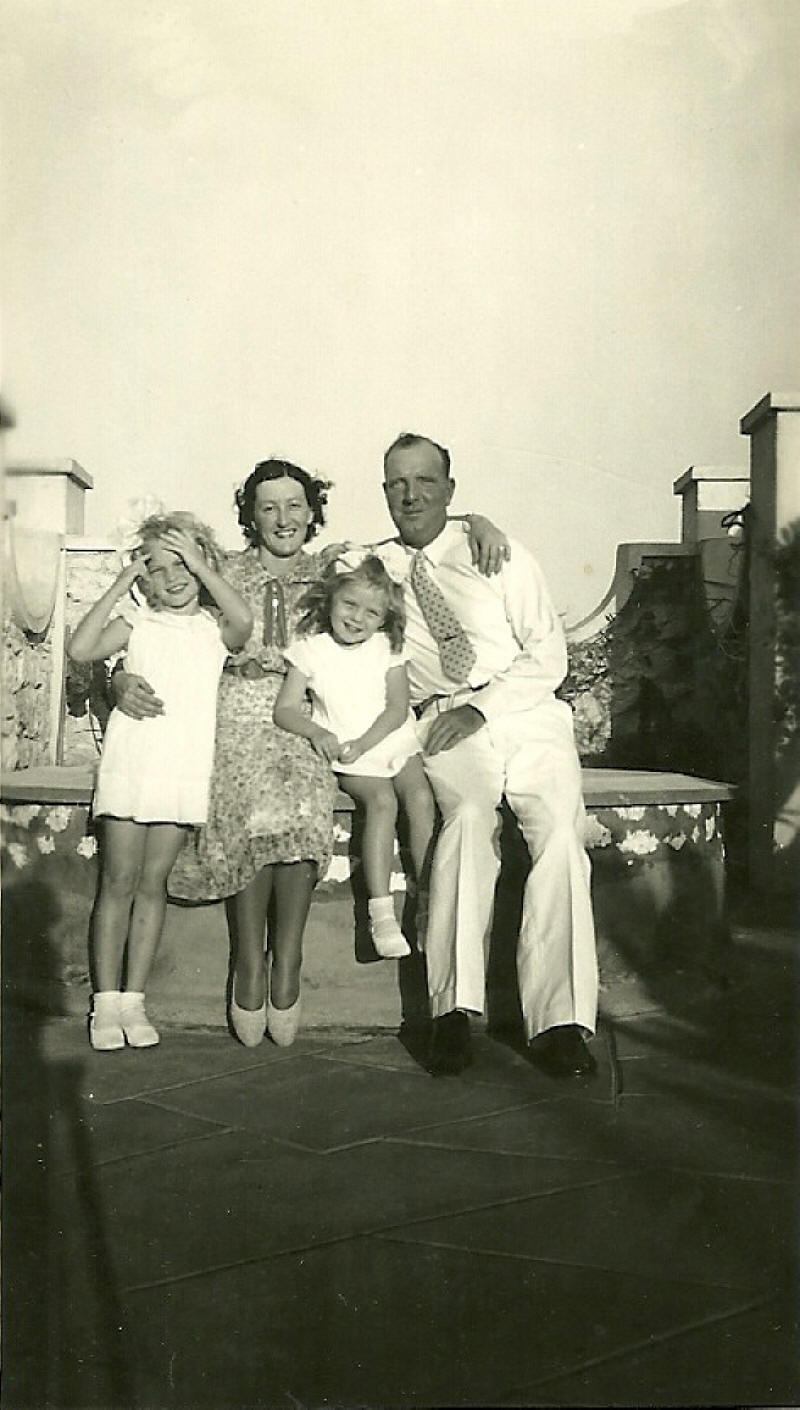 this photo has written on the back....
"Didn't know that the stork could work this quick, did you? Lucybeth & Margie (not sure if I am reading "Margie" correctly) at Casa Grande"
Dan's Note: In the Smith Biography by Gerald Lloyd Smith (oldest son) he mentions Lucy and Margie, Lucy was born in 1929 and Margie 1932, the photo was taken in 1937 just about right for the girls in the photo.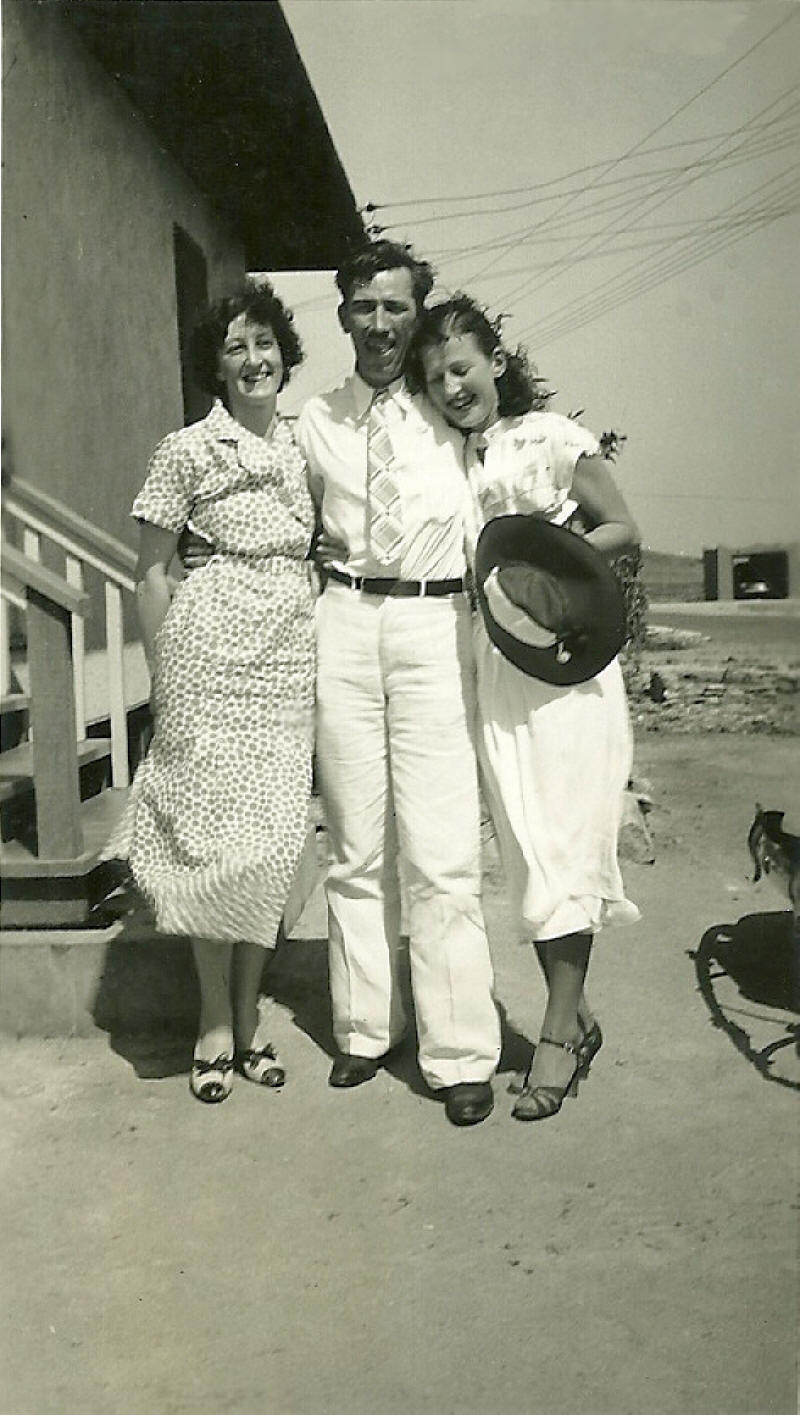 Jill writes: This photo is marked "Mr. & Mrs. G. P. Smith (friends)". It looks like Jessie McBride on the left.
Dan's Note: This is probably G. L. Smith, Lloyds oldest son and the author of the biography, and his wife. L. G. Smith and his wife were married in 1916 so this could be the oldest son.
Dan's second note: Lucy (Smith) Stewart has confirmed that this is not her brother and the couple, Mr. & Mrs. G. P. Smith are not part of the L. G. Smith family.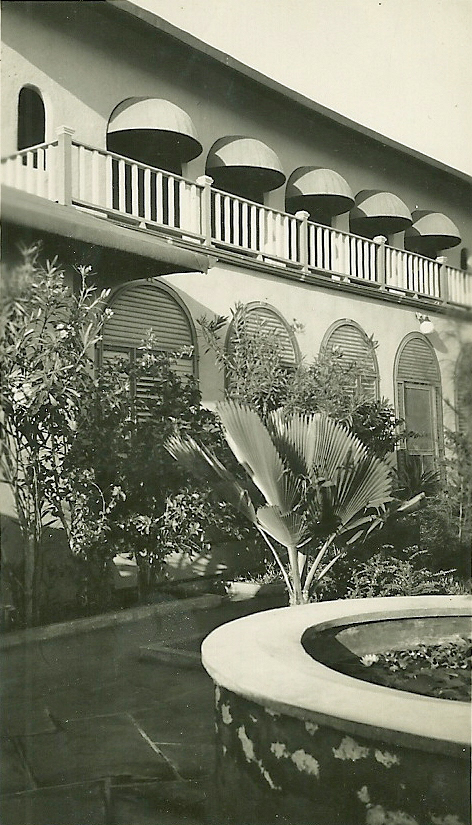 The garden at La Casa Grande in 1937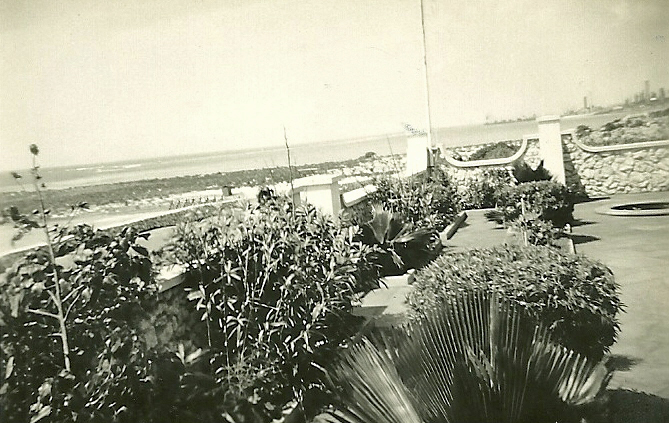 This photo is taken from the front of La Casa Grande looking out over Lone Palm Stadium, (lower level, left) The Big Lagoon and refinery in background.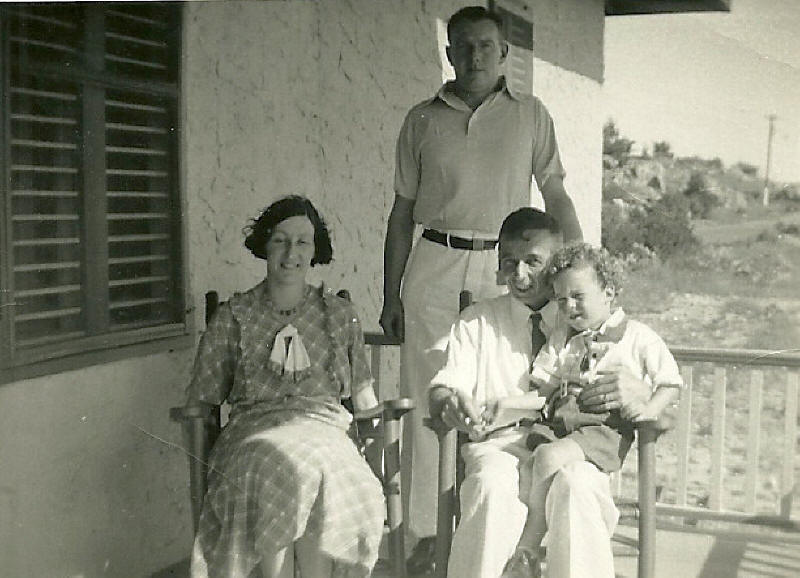 The McBride's had a daughter, Kathleen who's was christening was in 1939. This is Kathleen with friends. Does anyone recognize any of these people?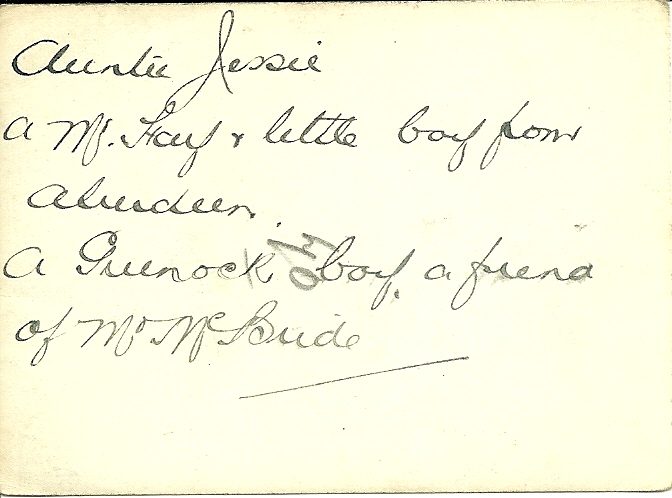 This is what is written on the back of the photo above.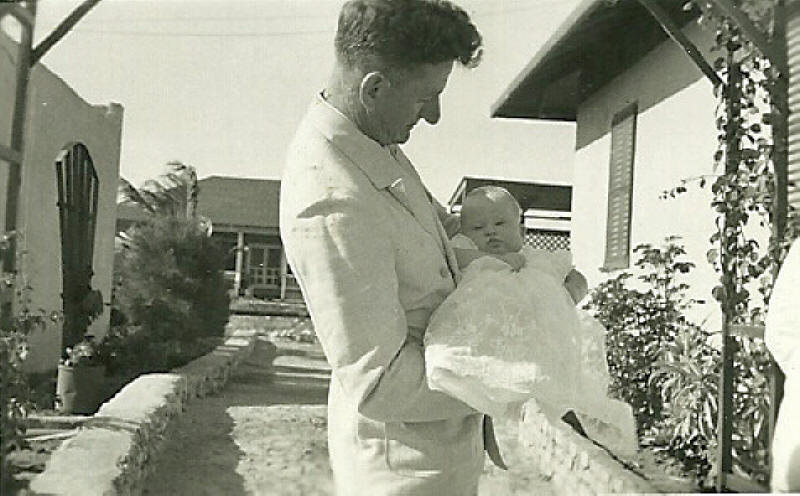 This photo has, Uncle James (christening)
written on the back of the photo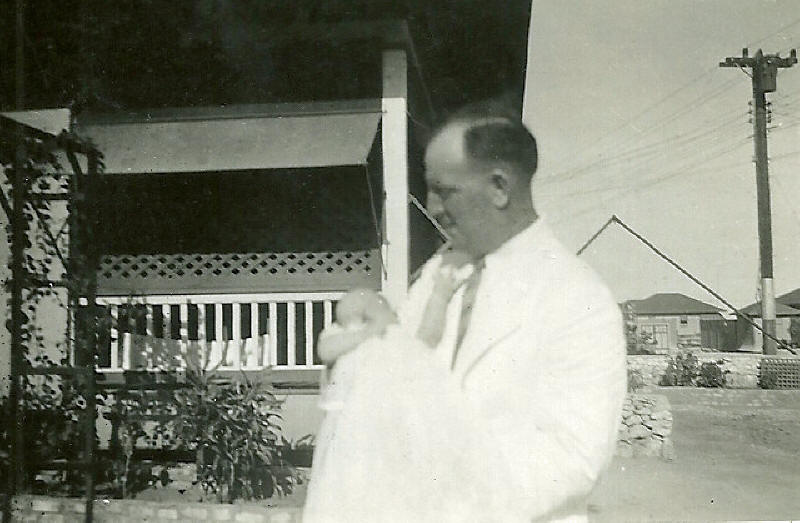 John McBride, the proud father, holding Kathleen in her Christening dress.
---
There was some confusion when I received the photos, wedding invitation and wedding announcement of the McBrides from Jill, their grand nice.
Why was the wedding reception held at La Casa Grande?
What was the connection between the McBride's and the Smith family?
What was john McBride's position at Lago.
Jill did not know much about this side of her family and after writing to a couple of persons who's fathers worked with the Lake Fleet not much was learned.
I asked Larry to send out a request for help in one of his mailings and within hours the mystery was solved.
Jessie May, the bride had been hired by the Smith family to come to Aruba as a nanny for the two Smith girls, Lucy and Margie. This information came from Lucy (Smith) Stewart. In her email Lucy explaining the relationship between Jessie and the Smith Family; she also said Jessie had made a dress for her to wear at the wedding. That dress can be seen in the photo with her, her sister and her father in the wedding photo.
Thanks to everyone who helped solve this mystery.
CLICK HERE TO RETURN TO THE SCRAPBOOK DIRECTORY