CENSORED ENVELOPES FROM ARUBA IN WORLD WAR II
Because of an envelope that went on sale on eBay I contacted Jan Schelling in Holland and we exchanged information about the Lago Post Office and the interment camp on the island of Bonaire that housed persons from occupied European countries during World War II. My mother was Danish and she and I (I was an American by birth but only two yeas old so I was to go with my mother as were many other Europeans in Lago Colony to the interment camp. because of intervention by Lago Oil we were not shipped to Bonaire)
During this exchange of information I told Jan that my father was a stamp collector and low and behold he has an envelope that was addressed to my dad in his collection.
Thanks Jan, for all this wonderful information.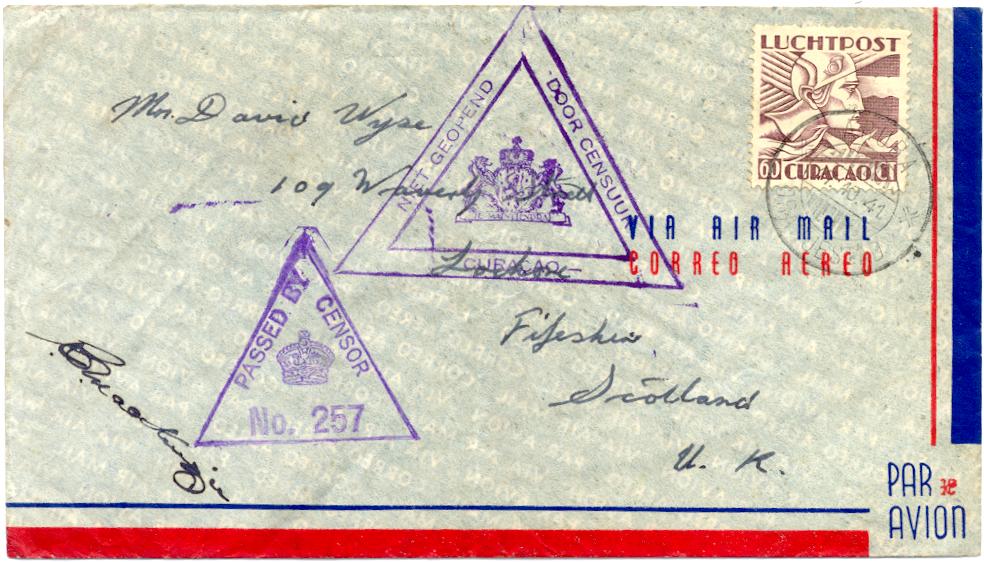 The envelope above is an Airmail cover franked with a Mercurius 60 cent stamp (= airmail rate to Europe for letters up to 5 grams, the seamail rate was 15 cents for letters up to 20 grams), cancelled by the 'ARUBA/ORANJESTAD' date-stamp of 17.10.41. The cover was forwarded by PANAM to Miami, then to New York and by Clipper (sea-plane) to Lisbon via Bermuda and the Azores (Horta). From Lisbon by KLM air-service to Bristol, and finally by train to Scotland, where it arrived about a month after it left Aruba.
The cover was censored by the British military censor No. 257 (only censor number known from Aruba) and countersigned by the commanding officer. The civilian censor at the Oranjestad censor office did not bother to open the envelope as he placed the 'NIET GEOPEND DOOR CENSUUR CURAÇAO' (= not opened by Curaçao censorship) on front. Aruba was during the war part of the 'Colony of Curaçao'.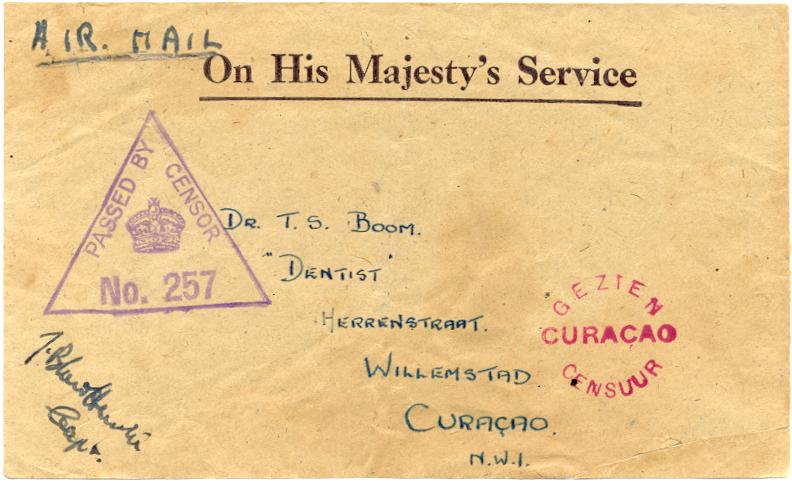 Above, an example of "On His Majesty's Service" envelope sent by AIR MAIL to a dentist in Willemstad, Curaçao (arrival mark for 23.7.41, on the rear). No stamp, but forwarded by way of the Oranjestad censor office where the red 'GEZIEN/CURAÇAO/CENSUUR' handstamp (used for unopened mail) was applied. Probably the Aruban postal authorities accepted the "Service" status of this mail (although the inter-island air mail rate was only 10 cents). On front is a triangular 'PASSED BY CENSOR No. 257' handstamp (in violet) of the British military censor (only number known for Aruba), accompanied by the signature of the commanding officer (a captain).
Note in the address 'Herrenstraat', should have been 'Heerenstraat' (= Gentlemen's Street), 'Herren' is the German equivalent. A painful mistake at that time !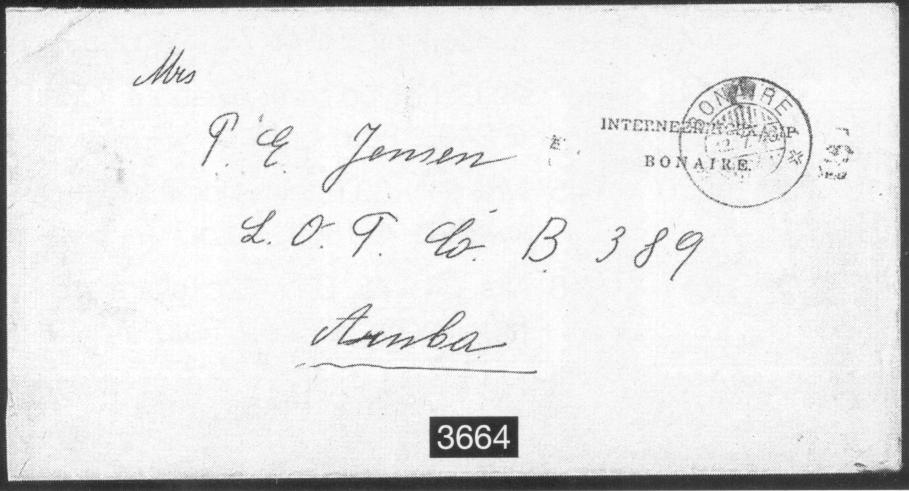 And, the letter above is in Jan's collection, it is addressed to my father, it is a small world.
I found another cover in my collection that might interest you. It is a recent acquisition, but I have no scans as my scanner broke down a few weeks ago.
It is a small cover addressed to: "Mr. P.E. Jensen, c/o PAN-AM (Lago Oil & Transport Comp), Aruba, Ned. West Indies". The cover was sent from the Internment Camp on Bonaire (no sender's name, only "Bonaire, Prison Camp, N.W.I.") and has an 'INTERNEERINGSKAMP/BONAIRE' handstamp (in violet) on front. On the rear is a 'POSTCENSUUR/(coat of arms)/CURACAO' resealing label (the rarest of all labels used in Curacao) with handwritten numbers "6" and a very clear 'ARUBA/St.NICOLAAS' arrival date-stamp of 28.5.40. This is one of the earliest censored covers known from Curacao.
Dag meneer,
Jan
JAN AND I HAVE BEEN DOING SOME CORRESPONDENCE ABOUT THE LAGO POST OFFICE. WERE LETTERS CANCELED AT THE LAGO POST OFFICE? WERE THE PERSONS WORKING IN THE LAGO POST OFFICE EMPLOYEES OF LAGO OR THE DUTCH GOVERNMENT (WAS THE POST OFFICE LIKE A BRANCH OF THE SAN NICHOLAAS POST OFFICE). JAN SENT THE FOLLOWING EMAIL AND ENVELOPES REGARDING THAT MATTER.
Herewith scans of a cover that could have been cancelled at the Lago Post Office. It has a 'Francotype' postal meter with Lago and Esso text. This type of cancellation is rather scarce, the Lago example is one of three used in the Netherlands Antilles before 1950, and the only one from Aruba. It was not used very frequently, as I have only seen two copies.
The cover was sent to an Oil Company in Jamaica, so it is really 'business mail'. It was forwarded by way of the Oranjestad Post Office, and not opened at the Oranjestad censor Office ('NIET GEOPEND' handstamp). But it was opened by the censor in Kingston (nice orange-red lettered label on the left). About the postal rate I am not sure: the usual postal rate for airmail (up to 5 grams) was 20 cent, but sometimes a 25 cent was used (also on airmail from the Hollandsche Bank Unie). In this case the envelope with contents must have had a weight between 5 and 10 grams, as the double air rate is applied.
Note that in the date-mark the (English) name ST. NICOLAS is used, and not the 'official' (Dutch) name ST. NICOLAAS.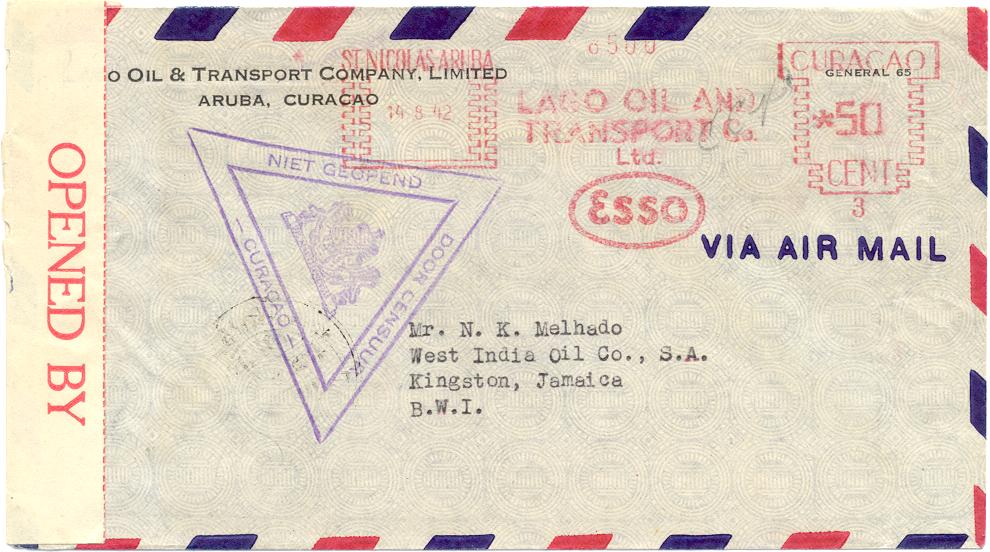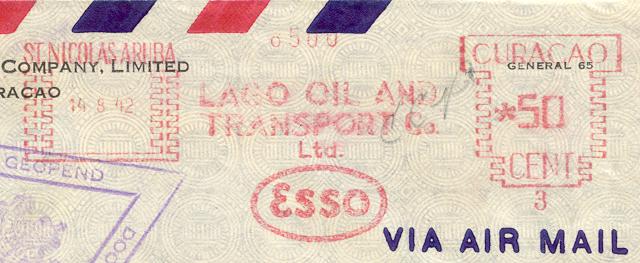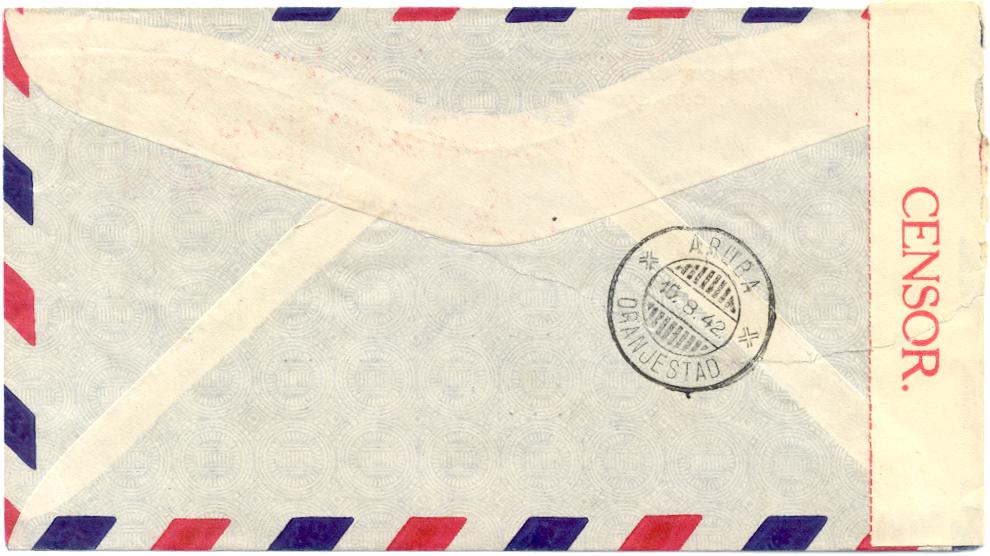 PHOTOS OF LAGO COLONY IN WW-II
E-MAIL ABOUT TUCKER ENVELOPE