LAGO AT WAR, WORLD WAR II
These photographs were supplied by Stan Norcom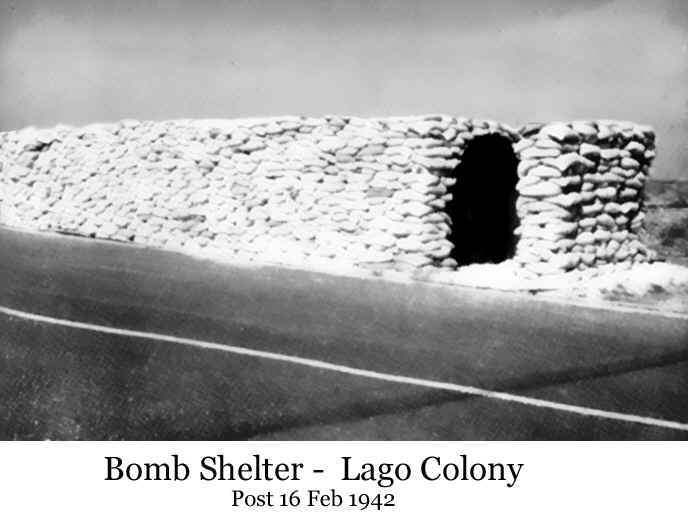 The photographs above and below show the bomb shelters after the sandbags were placed around the metal shell.
Click here to see a map showing the location of these bomb shelters.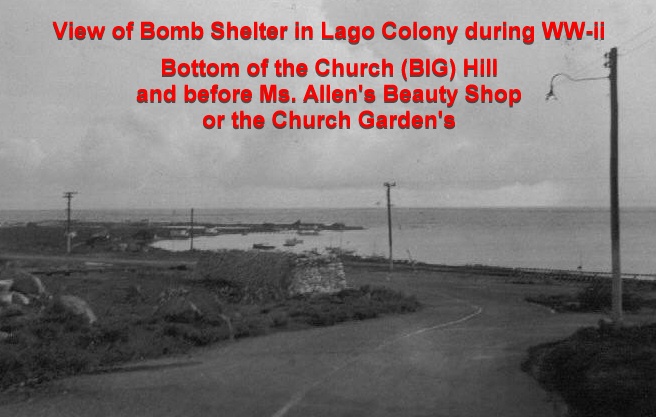 This photograph from the scrapbook purchased on EBay shows the metal shell used in the bomb shelters in Lago Colony during World War II, before the sandbags were added.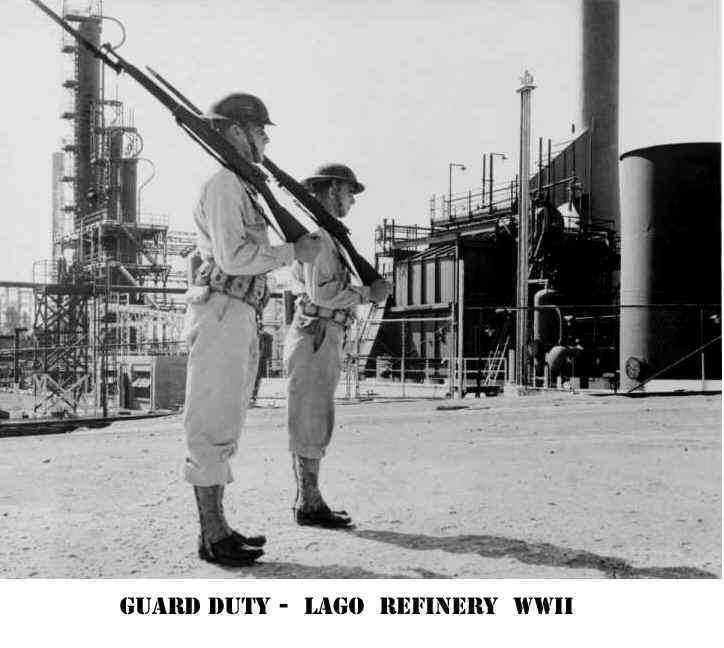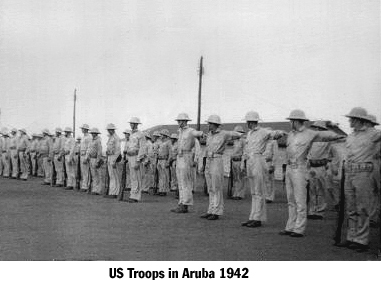 Below are photos taken from "40 Years of Refining at Lago" showing the only damage done by shells fired at the island from U-156.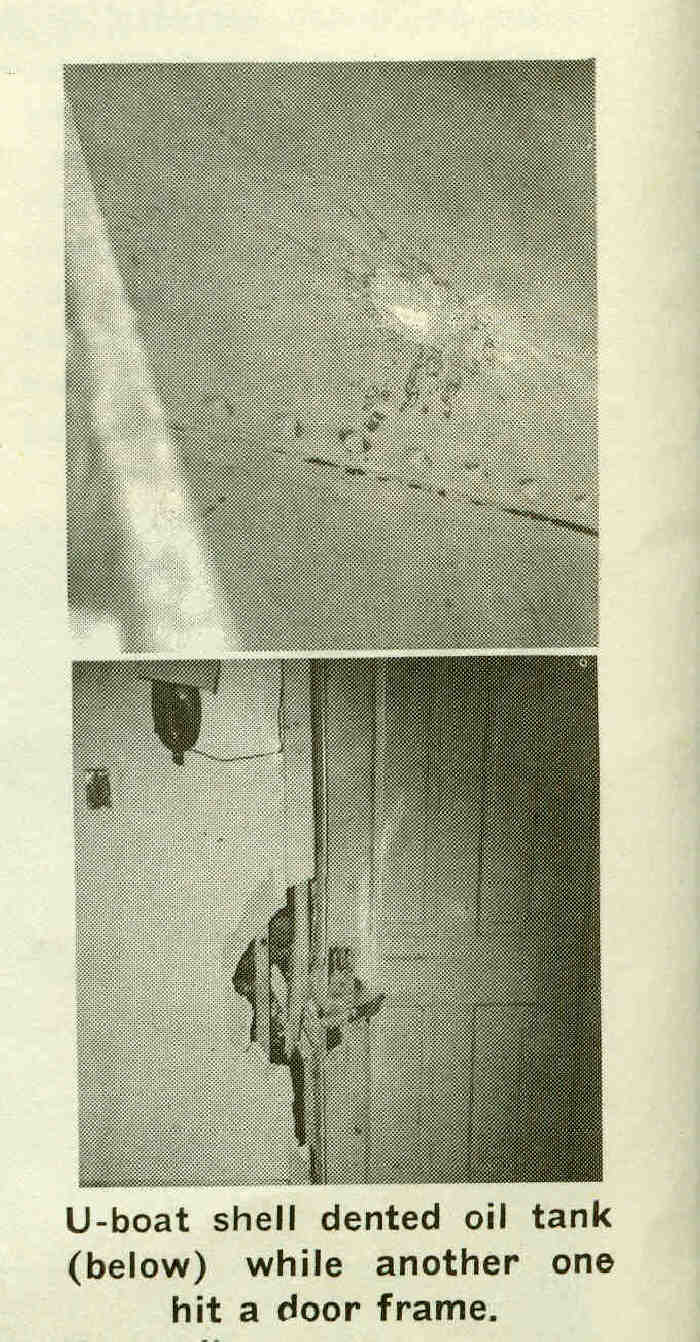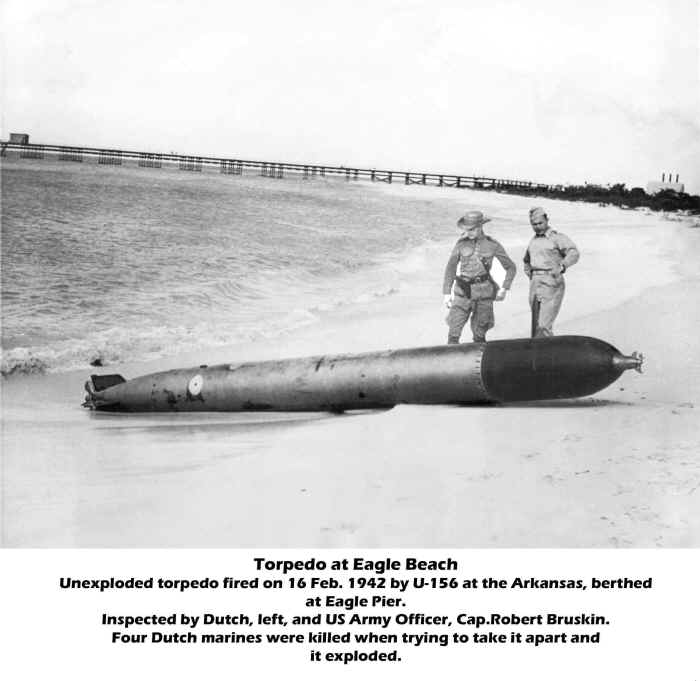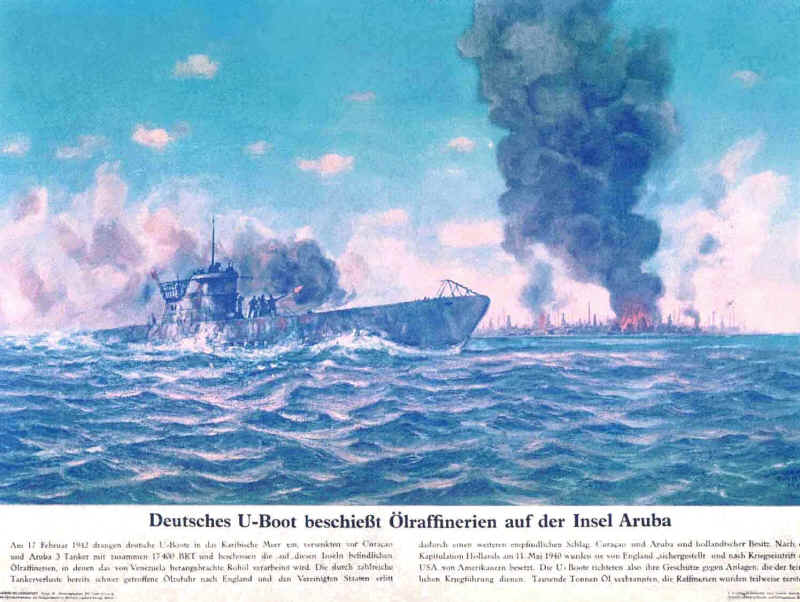 CLICK ON THE PROPAGANDA PAINTING ABOVE, TO SEE TRANSLATION OF THE GERMAN TEXT.
The above is from a German magazine used as German propaganda after the attack of U-Boat U-156.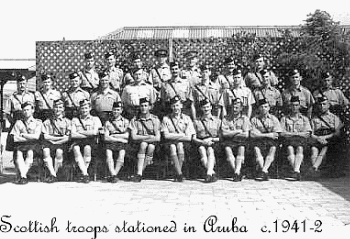 Above, a photograph of the Scottish Troops (The Cameron Highlanders) stationed on Aruba during the early part of World War II.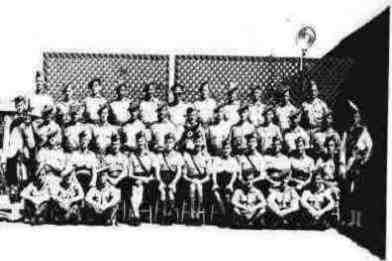 Above, another photograph of the Scottish Troops (The Cameron Highlanders) stationed on Aruba during the early part of World War II. This photograph was supplied by Ted Gibbons, on the back of the photograph is written: "With the compliments of Sergt. G. Malcolm Aruba 1942."
Above, unidentified Scott Highlander, in parade full uniform and one with bagpipe, probably very hot for the Aruba weather.
The photograph below was taken in 2005 by Steve Fremgen. This is what remains of the foundations for gun emplacements on top of Colorado Point during World War II. This was part of the gun system intended to defend the island and refinery. The guns were removed in 1945, soon after the war was over. These foundations are 60 years old at the time the photo was taken. These guns could rotate 360 degrees.
CLICK ON PHOTO OF GUN FOUNDATIONS TO SEE OTHER PHOTOS OF THESE FOUNDATIONS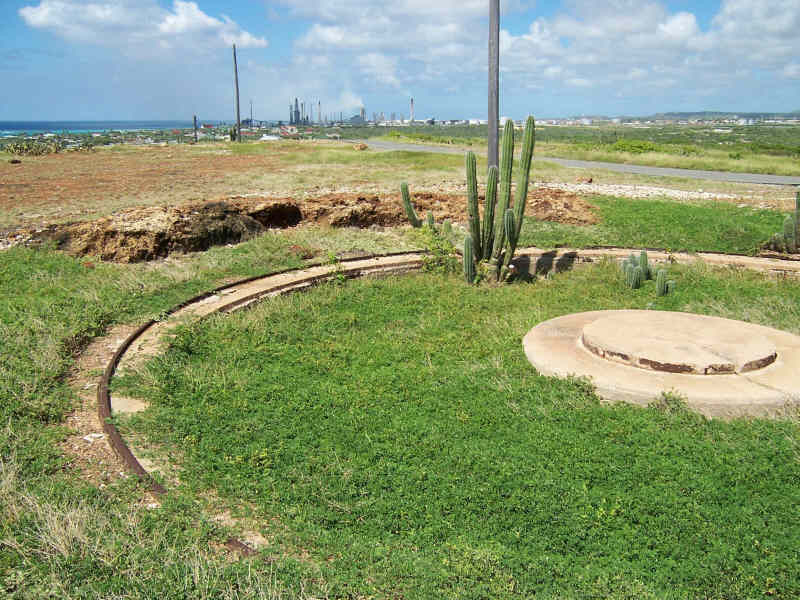 With the war came censorship and all letters were censored before leaving Aruba. Below was is a letter which was being sold on EBay where the censer stamps can clearly be seen and the letter resealed with censorship tape.
CLICK ON THE ENVELOPE TO FIND OUT MORE INFORMATION ABOUT THE CENSOR STAMPS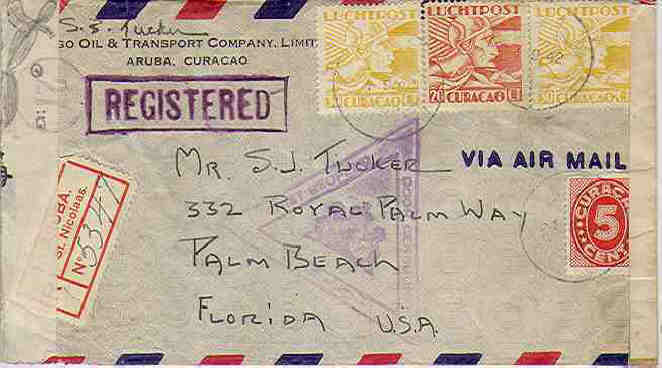 The censer resealing stamp on the left seems to be done by Americans, either in Aruba at Lago Post Office or USA after it arrived. My guess is it was done in Aruba by US troops. The closure tape after opening on the left was the Dutch reading of the letter.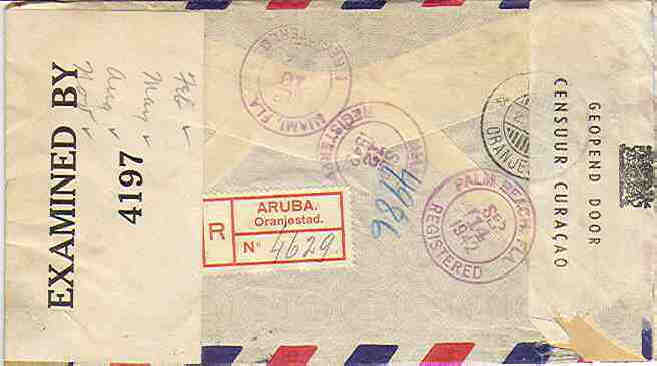 Black out instructions issued during the war. Supplied by Bill Moyer.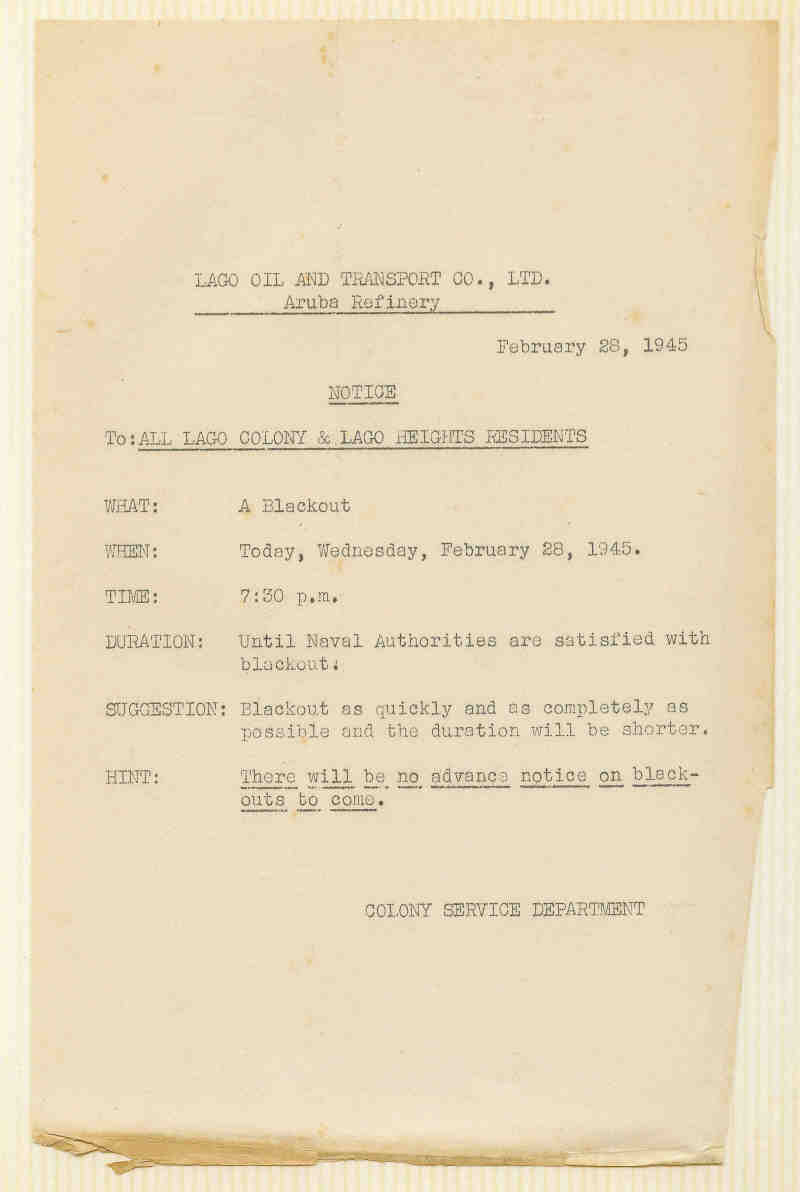 Many tankers were torpedoed off Aruba by German U-Boats, including the Esso Aruba. First a close-up of the hole caused by the torpedo.
Photos from Stan Norcom.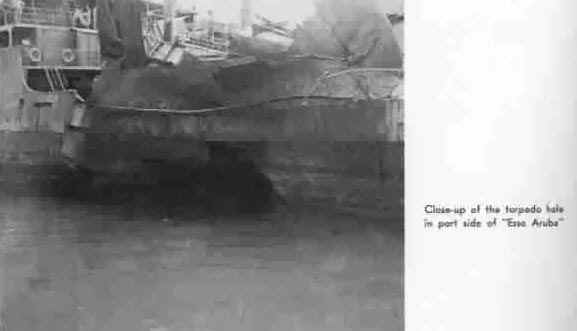 Next, a shot of the same hole caused by the torpedo showing the location on the tanker.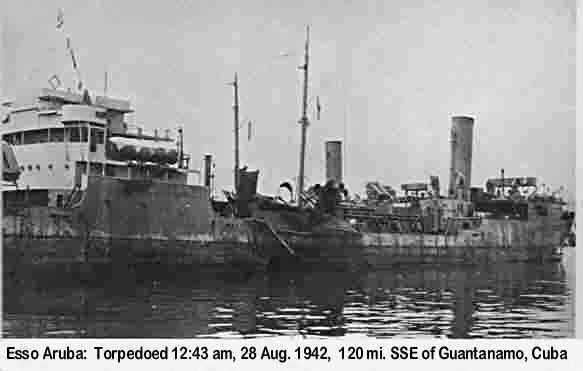 Same photo below as above, but enhanced to show more detail.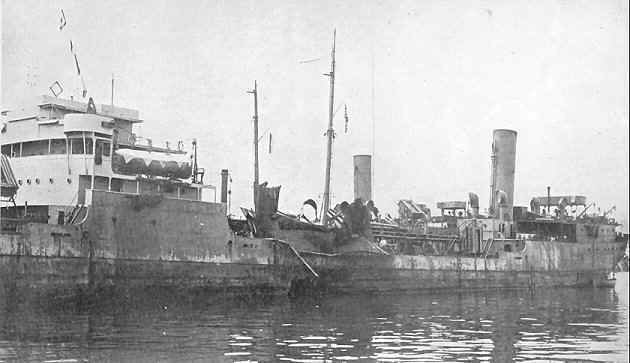 Below, an oil painting by W. Spencer Wright of the Esso Aruba.