TANKER "FORT WILLIAM HENRY" ON THE REEF
Auke Visser points out that the name on the bow of the tanker is only two words, not three. He says there were two T-2 tankers named "Fort Henry" but none that he could find that are called "Fort William Henry" When I got the photo from Homer Waits the title was "Fort William Henry".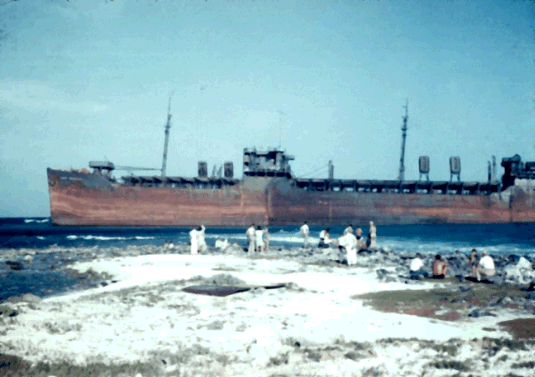 These photos by Homer Waits show a tanker, the "Fort William Henry" on the reef off of Baby Lagoon. It was taken off the reef promptly by the tug "Captain Rodgers". Later, the tug met the same fate at BA Beach while trying to help another disabled tanker. During that "rescue" a line became fouled in the tug's propeller and she was washed up on BA beach. A tanker was used to try and pull the tug off of the beach but that attempt failed. Later a large tug was brought in but it also failed to pull the Captain Rodgers off of BA Beach. The tug remained on the beach and rusted.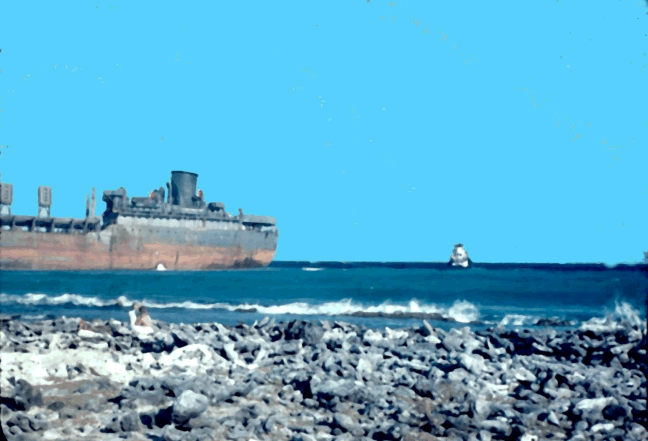 Tug "Captain Rodgers" off the stern of the tanker.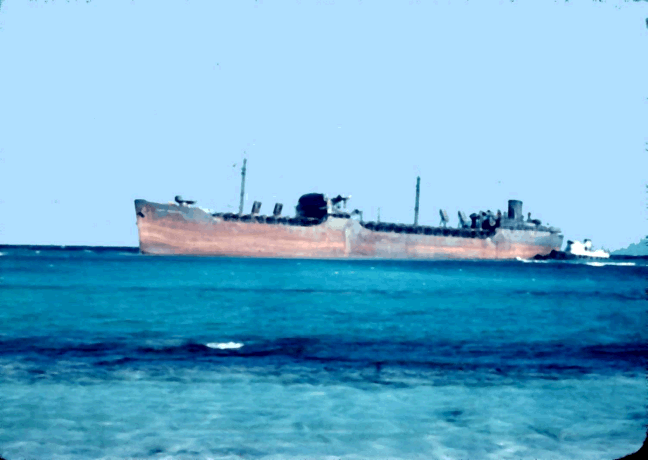 Tug "Captain Rodgers" pushing on the stern of the tanker.
The following black and white photo of the "Fort William Henry" was provided by Reg Kennerty.
Not many children get entertained in this way, or at this close of a vantage point, very often.
CLICK ON PHOTO BELOW TO RETURN TO THE CAPTAIN ROGERS ON BA BEACH.