THE ARUBA REFINERY TODAY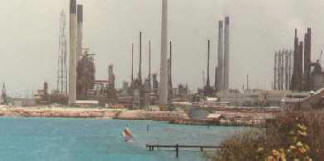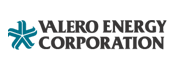 CLICK ON PHOTO, LEFT, OF THE REFINERY TO SEE WHO IS THE NEW GENERAL MANAGER.
CLICK ON VALERO'S LOGO, RIGHT, TO GO TO THEIR WEB SITE.
A Case for the Vapors
by Jeffrey Winters, Associated Editor, Mechanical Engineering
December 2004 issue.
In this article Mr. Winters points out that US consumption of gasoline is increasing while refinery capacity is operating close to demand, thus foreign gasoline imports are beginning to increase.
In the past the United States imported crude and refined the finished product within the US. Now the United States is beginning to import the finished product.
However, because of new federal standards on cleaner gasoline many of the foreign refineries cannot meet the new federal requirement.
The article then says: "In May, San Antonio-based Valero, which operates 13 U.S. refineries, purchased a 315,000-barrel-a-day facility on the Caribbean island of Aruba. This isn't the first foreign refinery for Valero, which owns one in Quebec, but it is the first it purchased expressly for making products to be imported by the United States."
"According to Valero's senior vice-president for refining operations, Rich Macogliese, the Aruba refinery's major product will be feedstock for other Valero refineries along the Gulf Coast. The refinery processes low-grade crude from the Yucatan peninsula that cost much less than benchmark grades. Once the preliminary refining is complete, the feedstock is shipped to the United States in order to be further refined into gasoline. Rather than seeing it as a foreign asset, Valero "looks at Aruba as part of our Gulf Coast network.""
"For Valero, the Aruba refinery project is both a challenge and an opportunity. Macogliese said he was struck by the antiquated power generation facility at the refinery. Electricity is so expensive on the island that the plant must generate its own. Some of the equipment, he said, dates to the 1940's. On the other hand, the refinery has the potential to more than double in capacity, and its port facilities are top-notch. With the right up-grades and expansion the Aruba refinery could be a major exporter to the United States."
The article goes on to point out that, as the U. S. becomes more dependent on foreign gasoline the number of tankers needed to carry the product increases and soon you run into a roadblock logistics.