| | | |
| --- | --- | --- |
| | The Cameron Highlanders in Aruba 1940/42 | |
The 4th Battalion The Queen's Own Cameron Highlanders left Inverness, Scotland on August 9, 1940 bound for Aruba. They reached the island on September 3, 1940. They made camp at Saveneta and began their assignment, to defend the island and the two refineries on the island, the Eagle (Shell) refinery in Oranjestad and the Lago (Esso) refinery in San Nicholas. During the 18 months they defended the island the island was never attacked. To learn more about their trip to Aruba see ARUBA DEFENSE IN WORLD WAR II.
The Cameron Highlanders remained in Aruba until February 13, 1942 when they were replaced by the U. S. Army Coastal Artillery Battalion. The ship that brought in the well equipped American troops took the Highlanders off the island and back to Britain.
On February 16, 1942, the Germans attacked, the Americans troops, newly arrived on the island were ill-prepared for an attack, but the refineries were spared. See THE DAY HITLER LOST THE WAR to understand why.
To learn more about The Cameron Highlanders visit the following web site: http://www.eldonspecialties.com/df/camerons/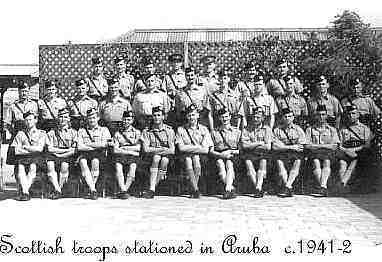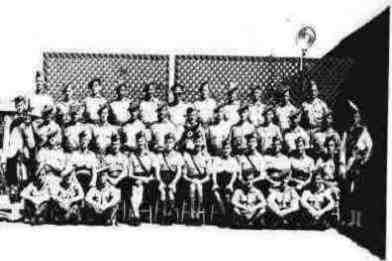 Two photographs of the Scottish troops in Aruba. 1941-1942. Photo left supplied by Stan Norcom and photo right supplied by Ted Gibbons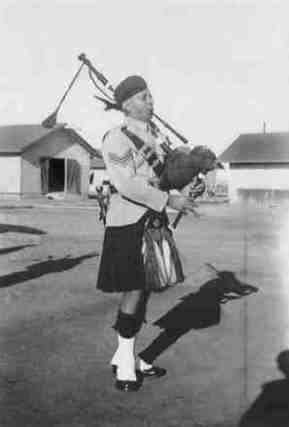 Two photos of Highlanders in Aruba in full parade dress, I am sure they found this very hot in the strong Aruba sun. The barracks can be seen in the background.
Photos taken from the EBay scrapbook.
CLICK ON PHOTO TO READ BACK OF PHOTO.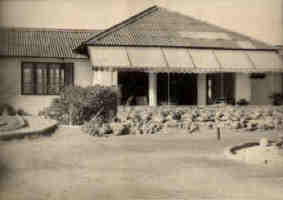 Officers Club at Camp Saveneta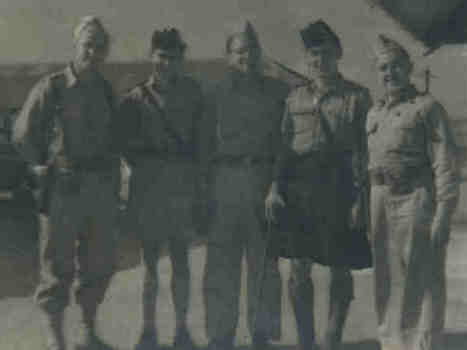 Cameron Highlander and American troops in Aruba, this photo must have been taken at the time of the handover of the defense of the island from the Cameron Highlander's to the Americans.
February 13, 1942
This photograph is used with permission from the site mentioned above which was researched, created and maintained by Dean Foster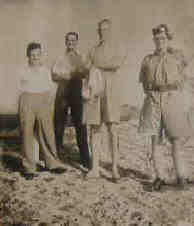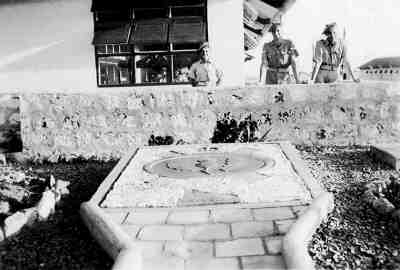 Major Monro and Colonel Barber with the Cameron Highlanders and the other two are Lago employees. These photographs are from the scrapbook that sold on EBay.
CLICK ON PHOTOS TO SEE WHAT IS WRITTEN ON THE BACK.
COLONEL BARBER
CLICK ON THE PHOTO TO SEE WHAT IS WRITTEN ON THE BACK.
AGAIN, CLICK ON PHOTO TO READ WHAT IS ON THE BACK.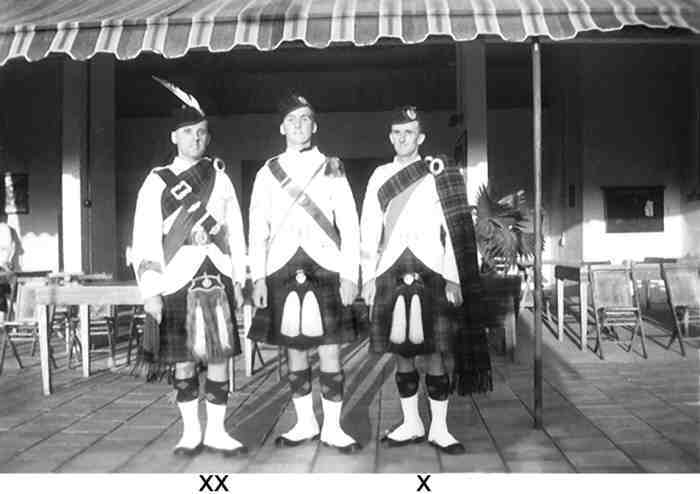 CLICK ON THE PHOTO TO READ THE BACK OF THE PHOTO.
CLICK ON THE PHOTO TO GO TO THE BACK OF THE PHOTO.
THE FOLLOWING PHOTOS OF THE SCOTTISH TROOPS CAME FROM THE DON BLAIR COLLECTION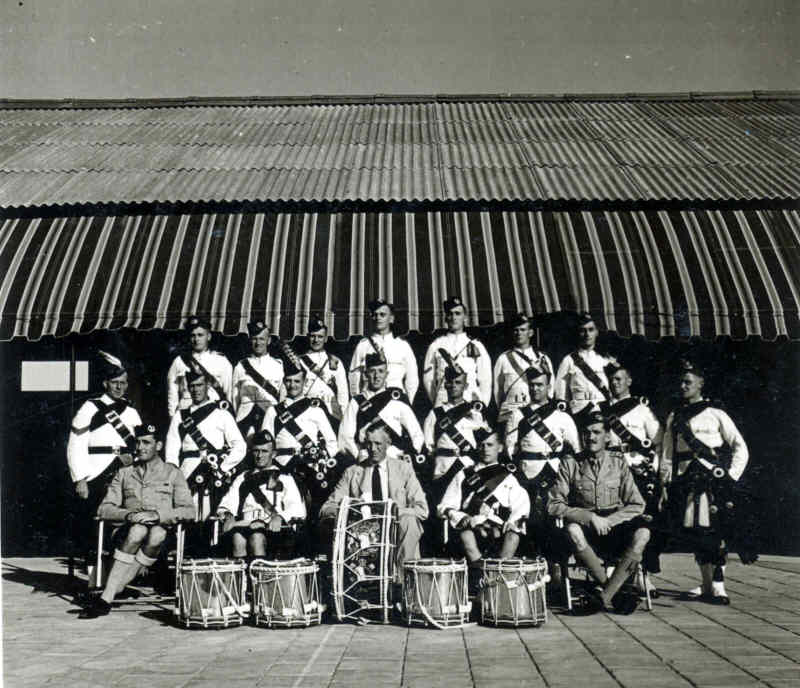 THE NEXT PHOTO WAS SENT IN BY VIC LOPEZ.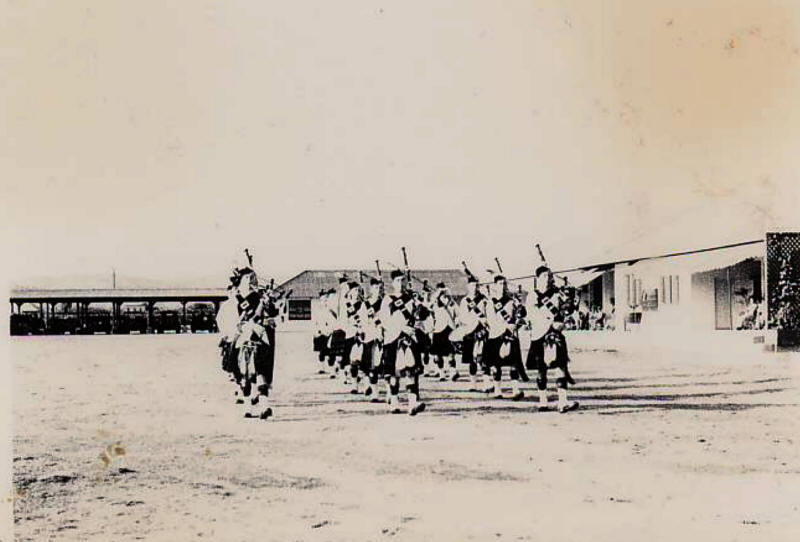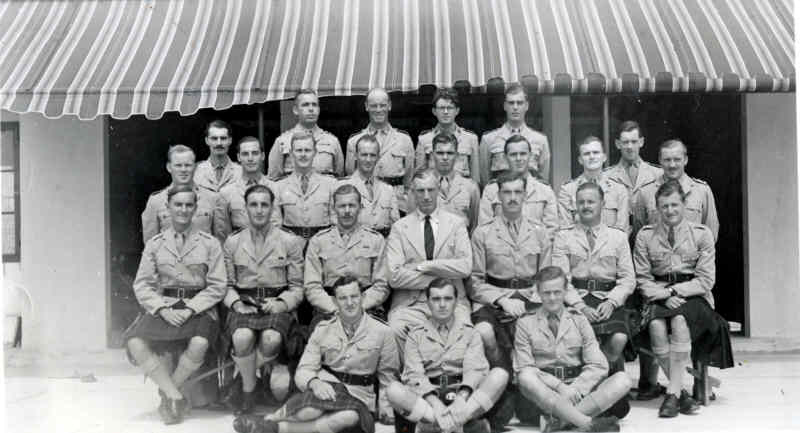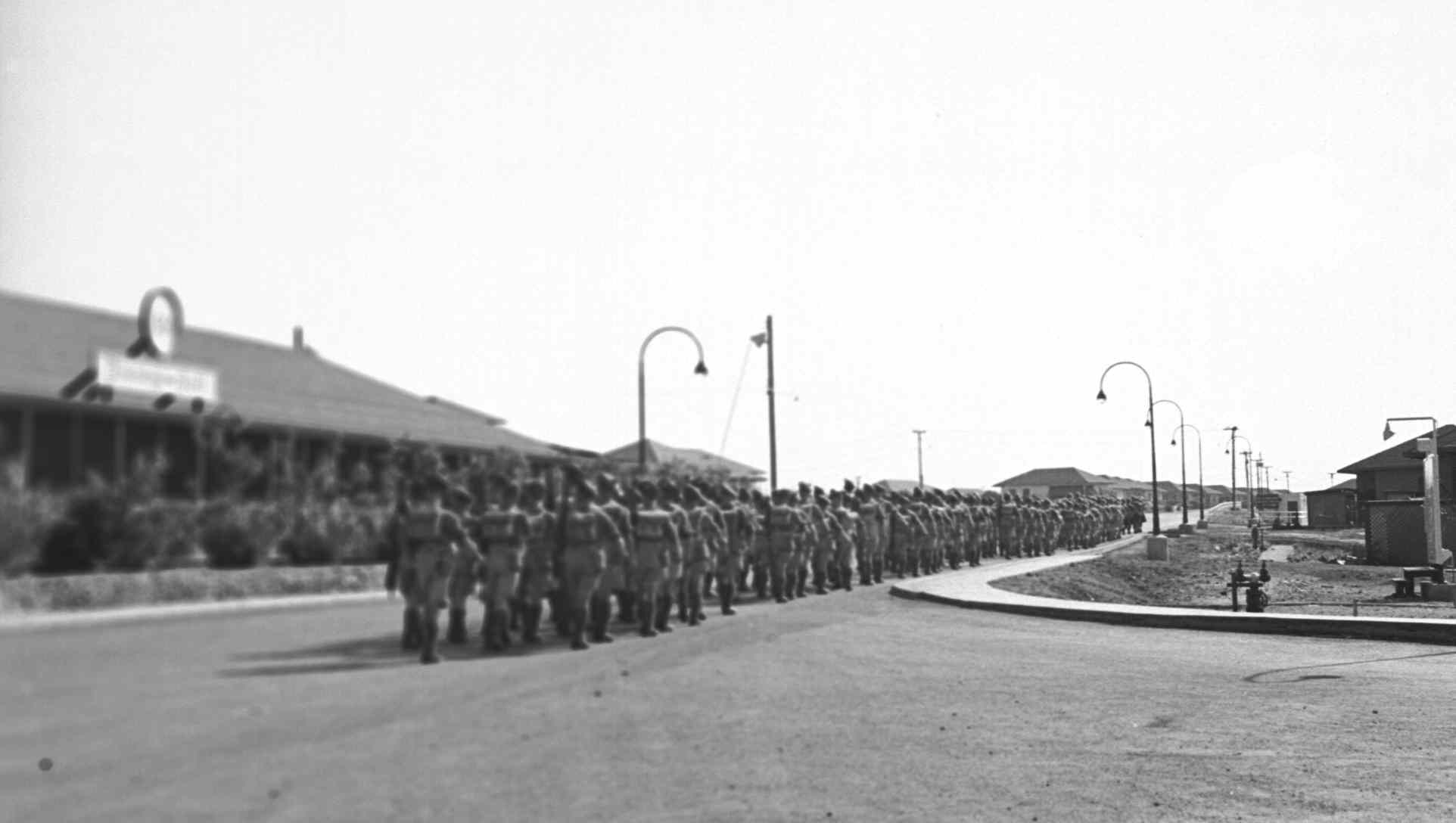 TROOPS MARCHING TOWARDS THE COLONY IN FRONT OF THE ESSO DINING HALL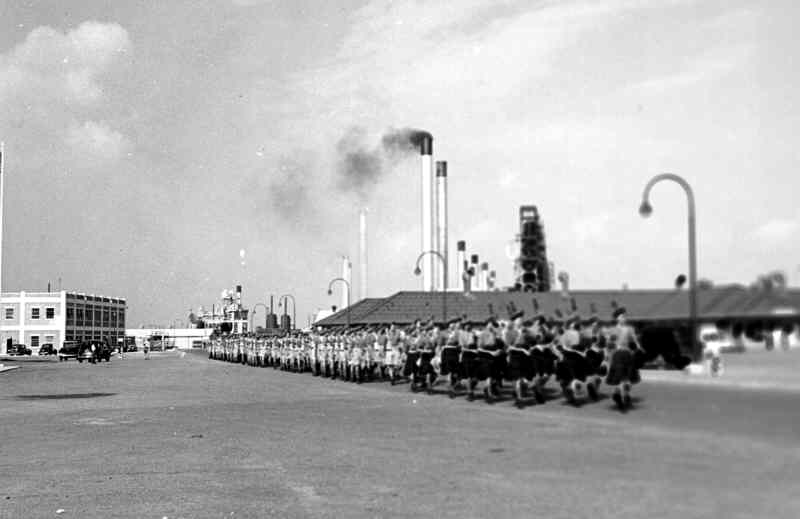 THE FRONT OF THE COLUMN, THAT IS THE ESSO DINING HALL BEHIND THE TROOPS.