THE ARUBA DRIVES LICENSE
AND
LAGO LICENSE PLATE
Drivers License # 2 issued to Captain Beaujon. The first license was issued 1916, Captain Beaujon was born in 1879.
The last drivers license held by Captain Beaujon. Supplied by his grandson Richard.
CLICK ON CAPTAIN BEAUJON'S LICENSE TO GO TO BEAUJON FAMILY PAGE.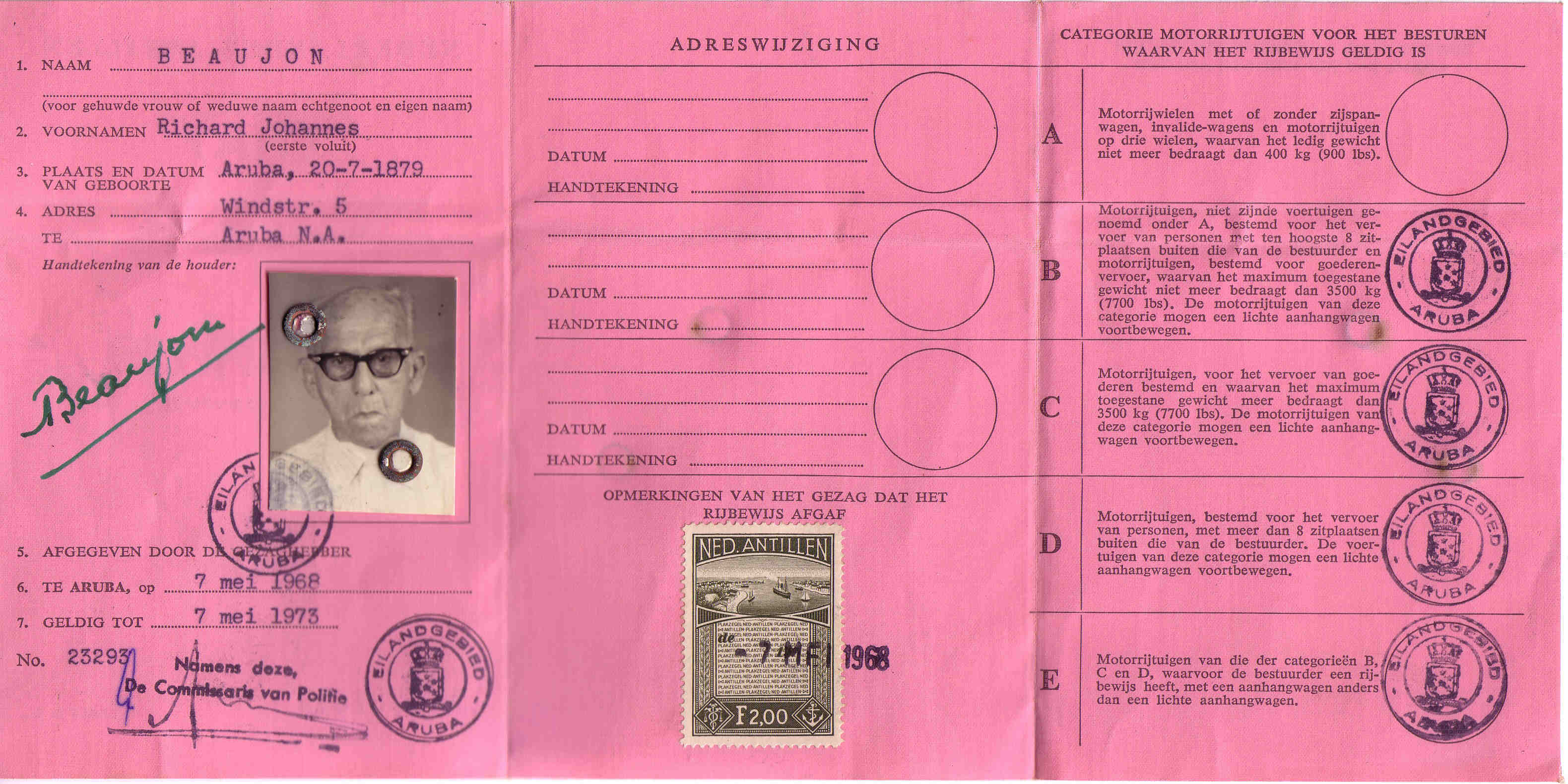 What every boy and I am sure every girl, could not wait to get, unfortunately you had to be 18 years old to drive in Aruba, so many went off to college before they got a license. I have noticed in the Lago publication about Residential and Community Information, Dated April 1, 1963 that a special drivers permit could be obtained at age 16 for use only within the Lago Concession. (Link to Section)
CLICK ON LICENSE TO GO TO SPITZER'S FAMILY PAGE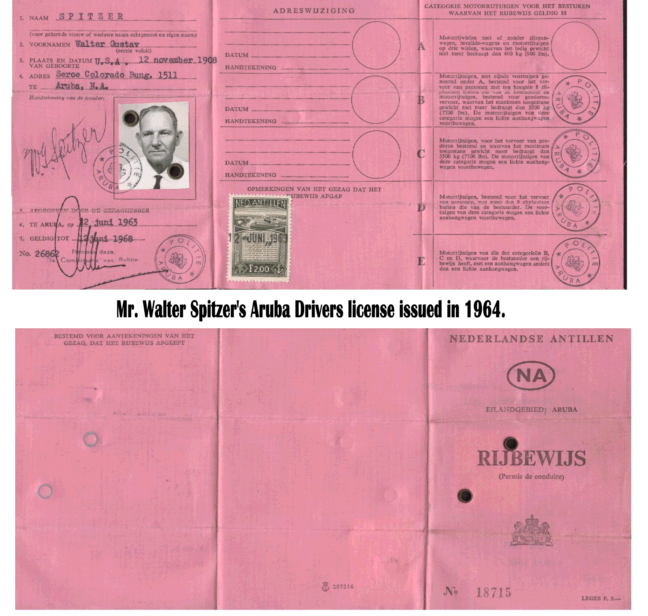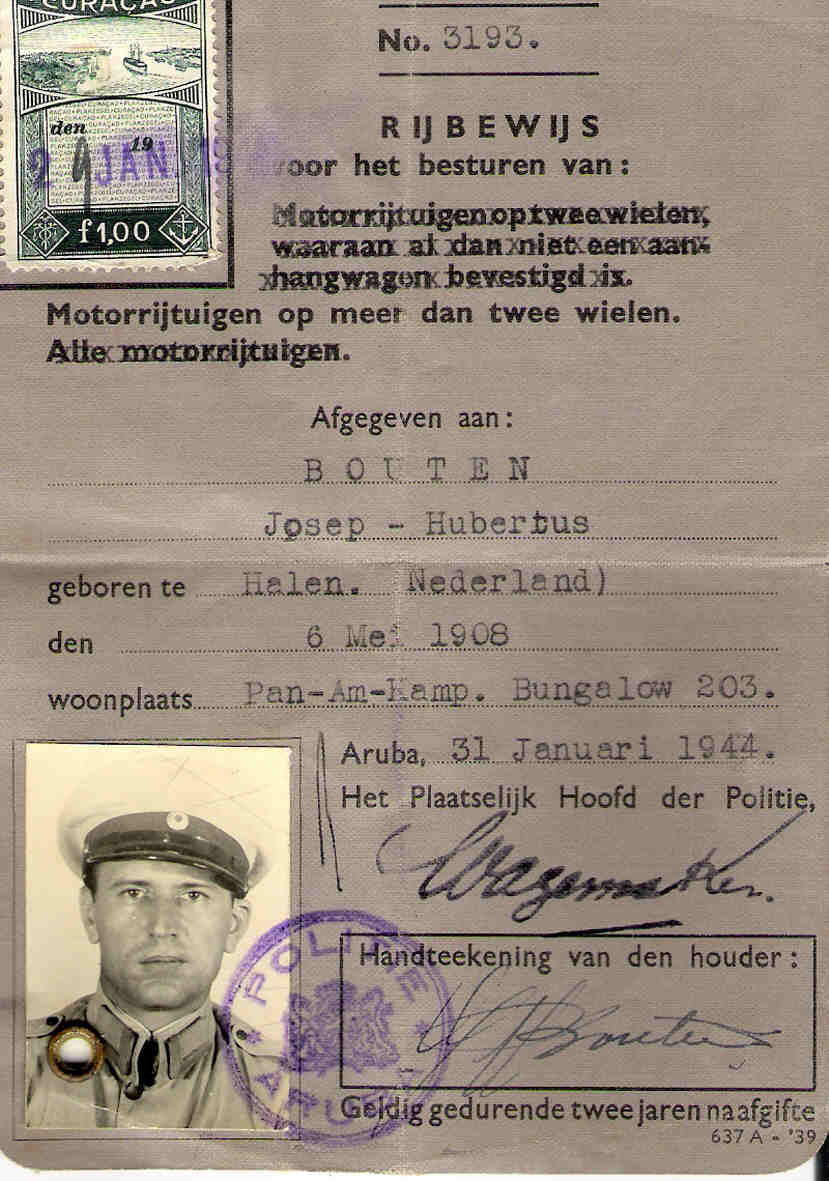 The drivers license above was sent in by Camiel Schlangen, he is 29 years old and lives in the Netherlands. This Aruba drivers license was issued to his grandfather.
Hi Danny, Can you use this ?
My first drivers license !
When you turned 18 you could take the drivers test, and hopefully, get your license ! What a great day that was- - -then my Mom & Dad let me drive by myself to the Esso Jr. Club and be a big shot !! ... Al .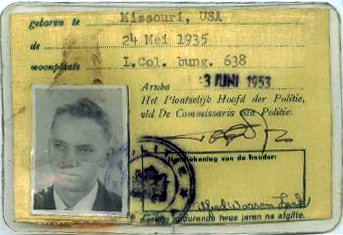 From the looks of the licenses that have been sent in there were many different forms used over the years.
I also find it interesting to note that Mr. Spitzer's license, issued in 1964 show he lived in Sero Colorado, Josep Hubertus, the Dutch policeman shows he lived in Pan-Am-Kamp. and Al's says L.Col. which was short for Lago Colony. Does anyone know what the area was called before Lago got the concession?
LAGO LICENSE PLATE
THIS IS HOW IT STARTED, I POSTED THIS ON THE OPENING PAGE, IT ONLY TOOK A FEW DAYS
LOOKING FOR
ESSO - LAGO - CONCESSION ONLY LICENSE PLATE. ISSUED BY LAGO FOR VEHICLES THAT DID NOT GO OUTSIDE THE CONCESSION. CAN YOU REMEMBER WHAT THESE LICENSE PLATES LOOKED LIKE? ONLY NEED A DIGITAL PHOTO OR SCAN OF THE PLATE, NOT THE PLATE, I WHAT TO POST THE PHOTO ON THE WEB SITE FOR ALL TO SEE. CAN ANYONE HELP ME?
Well, Charlie's Bar in San Nicholaas and Dolfi Kock in Aruba came to the rescue. Dolfi found the plate and got permission from Charlie Brouns III to photograph the plate, here it is.
CLICK ON THE PLATE TO GO AND SEE CHARLIE'S BAR WEB SITE AND PAY A VISIT TO THE BAR WHEN IN ARUBA, IT IS LOADED WITH LAGO MEMORABILIA.

http://www.charliesbararuba.com/gallery/gallery.htm
DRIVERS LICENSE FOR LOUIS LOPEZ
Issued in 1947
Submitted by Vic Lopez, Louis' grandson