LAGO MEMORABILIA FROM THE BEAUJON FAMILY
The Beaujon's were an Aruba family, may of their family members worked for Lago and his Grandfather, Captain Beaujon was very instrumental in getting the early pioneers to select Aruba for the oil transshipment port.
The following email, 1928 Gate Pass for Lago, ships manifest and Lake Tanker arrival schedule, were sent by Richard Beaujon. Richard lives in Aruba and his father, J. Beaujon worked for Lago as did other members of his family. The following email will help explain his family. Rudy Beaujon worked with my dad in the Instrument Department.
Thanks for your email. Rudy Beaujon is another member of the family Beaujon. He work at Lago a long time, but left to go live in the USA. He passed away on Feb. 12 1972 and was married to Sally McNeal Waite Funk, they have two children. Sarah Jane Logan Beaujon married to Harold Conrad Fleischer, III and living in Staunton, VA. The second child Jonathan Andrew Beaujon married Cheryl Ann Maria Barnhart, living in Rockville, MD.
My fathers name is Jan van der Biest Beaujon married to Henrietta Ismay B. de Veer. My father passed away in 1962 and mother in Jan. 2002. My father worked at Lago in the Electrical Department and left to work at that time to Electra which became Elmar later on.
My grandfather is Richard Johannes Beaujon, know as Captain Beaujon pilot at Lago in 1927.
He is the man that has guided Mr. John Oswald Boyd director of the British Equatorial Oil Company, William Clark and Robert Rodger superintendent of the same company to Aruba, who were met by Dudu Eman and John G. Eman, who were informed before hand by Capt. Beaujon what this three English gentlemen were looking for. Since they were in Curacao looking for a good place for bunkering oil tankers, but most of the good bays in Curacao was already taken by Shell and the other bays were to small.
On September 13 1924 arrived the first tanker the "Inverampton" with oil out of Venezuela for Lago Oil and Transport Company, since they had bought out the British Equatorial Oil Co. Capt Rodger who stayed in Aruba until about 1939 was a good friend of my grandfather Capt. Beaujon, I still have letters he wrote to my grandfather.
On the next occasion I will try to scan some old Lago gate passes they used in beginning of Lago
When ever I have some time I will try sending you more information, perhaps you already have, but maybe you can use. Regards
Lago Gate Pass from 1928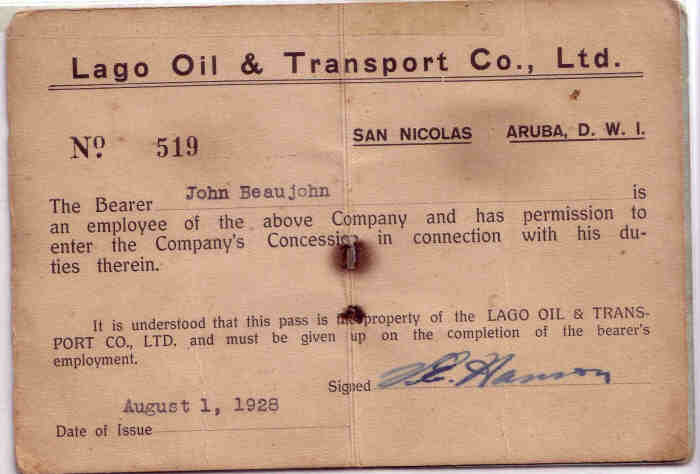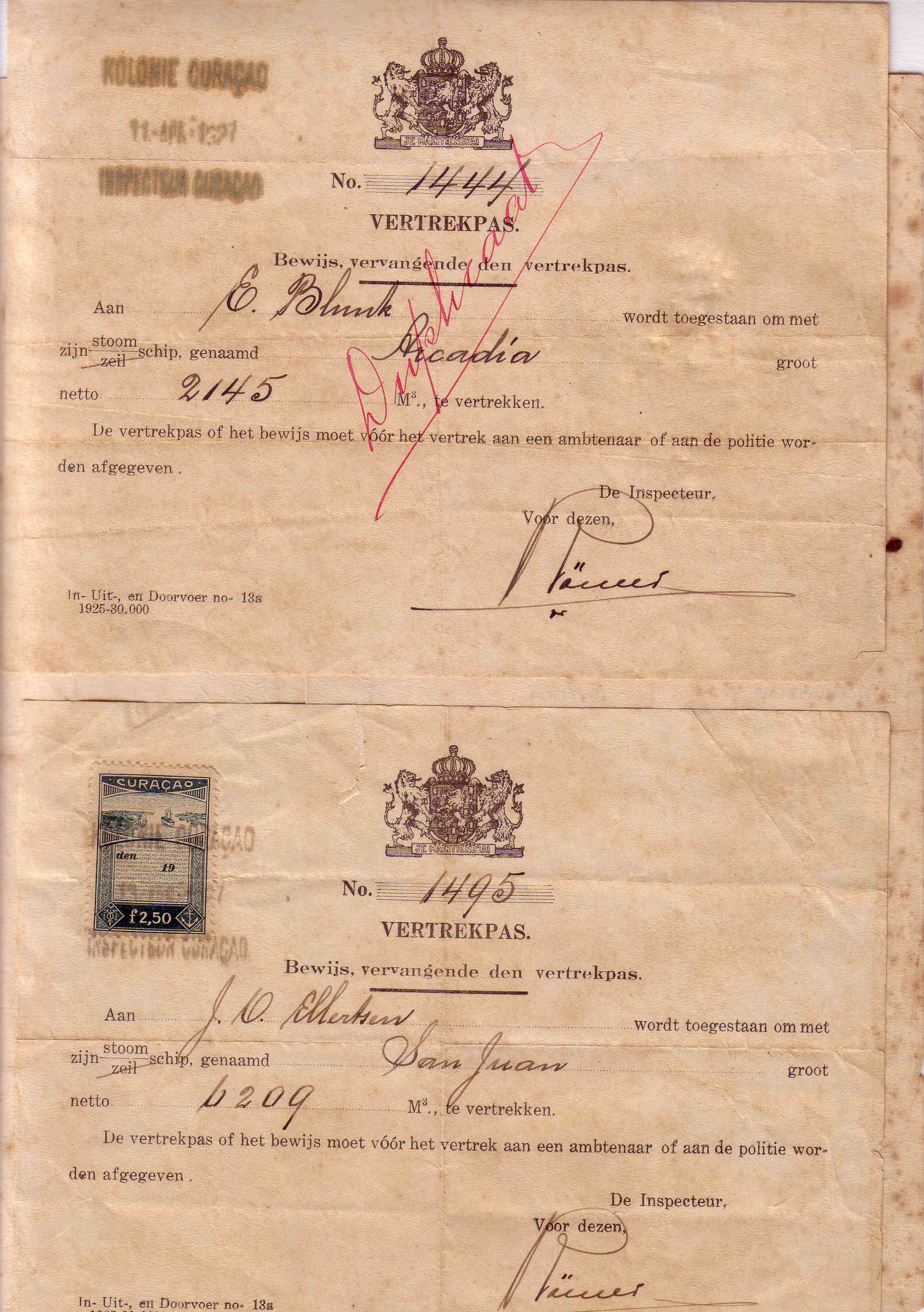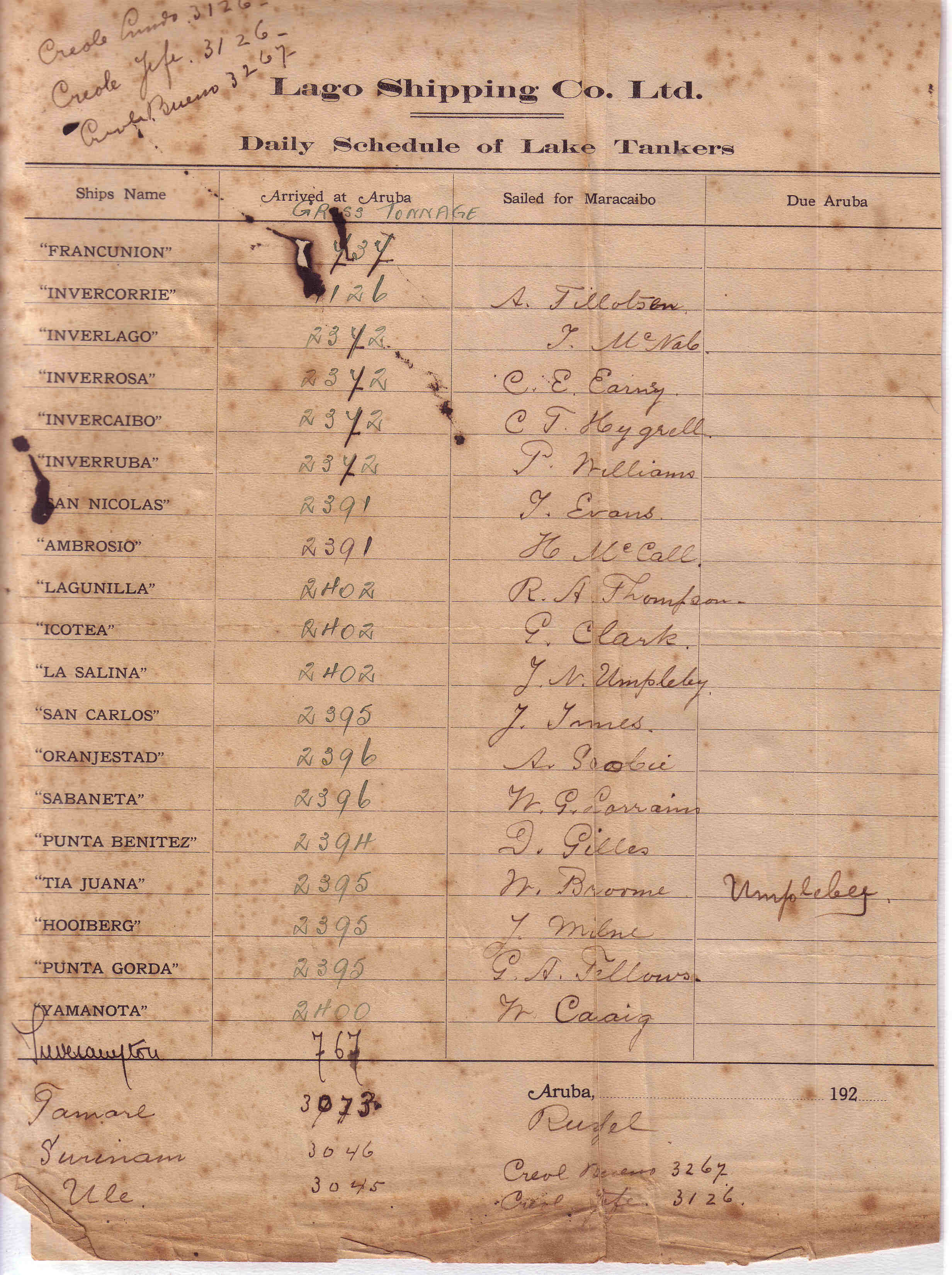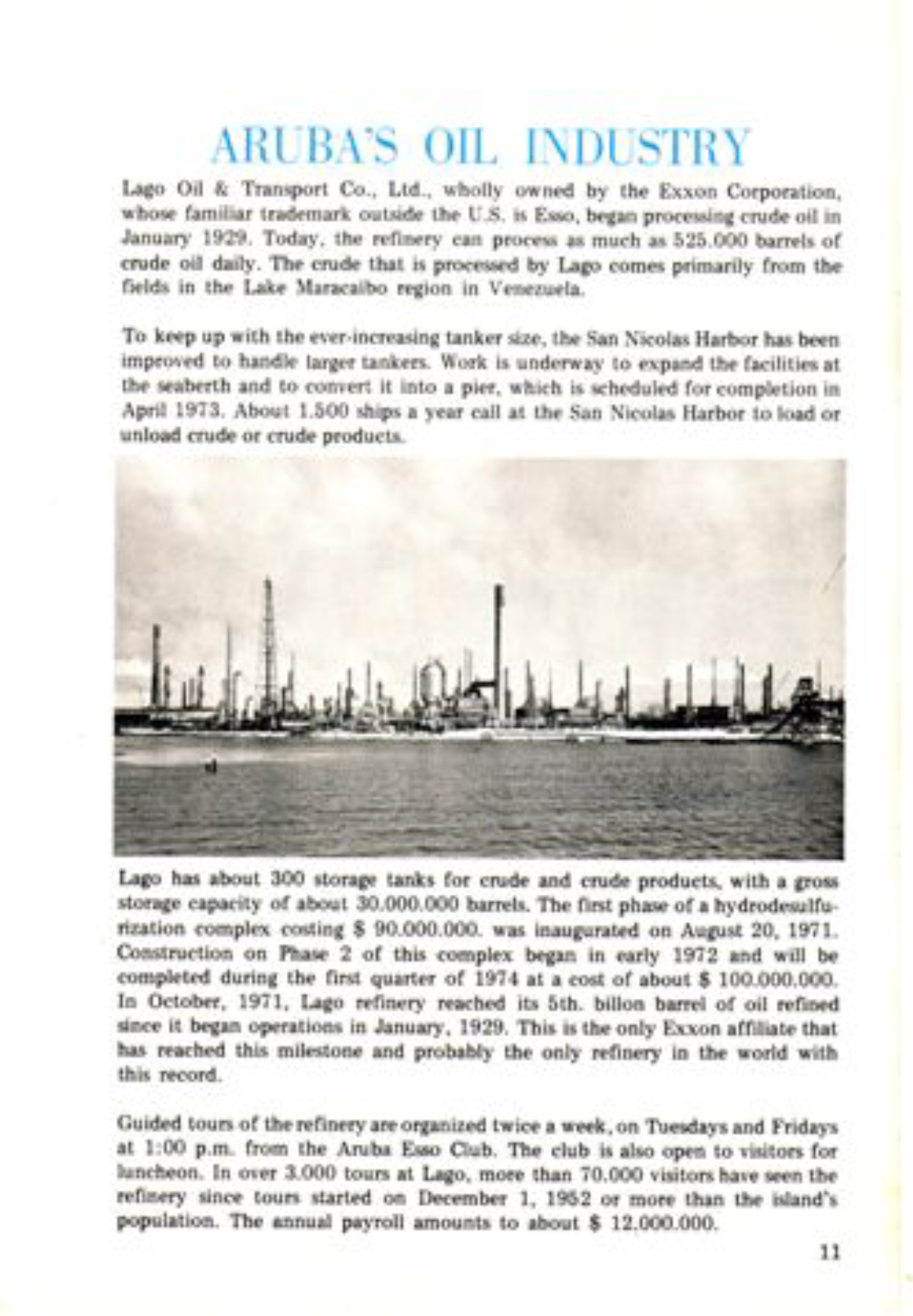 This following e-mail from Richard explains the photograph that follows. This was a part of Palm Beach, owned by Richard's grandfather, Captain Beaujon. The property was just to the north of the Palm Beach Club. The Palm Beach Club had a wonderful raft with a slide and I remember swimming out to the raft and going down the slide. To get to the property you left Oranjstead on a dirt road, then there was a gate. After opening the gate you drove through a grove of palm trees to the cunucu house and the beach. Dan.
Here picture of me at our old cunucu house in Palm Beach, were you, me and lots of other friends have past our summer vacation for many years. Just to mention some, Krottnauers, Kilpatrick, (Bruce), Demuary, etc. The YMCA used to have this place for two weeks every year with vacation.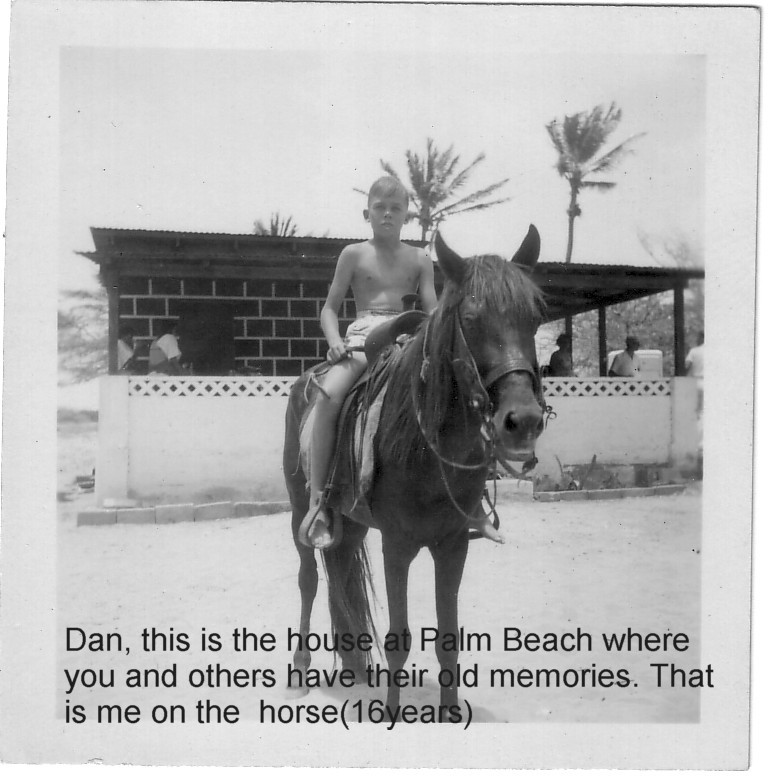 More wonderful things from Richard Beaujon's family collection.
Captain Beaujon's, Richard's Grandfather, first and last Aruba Drivers License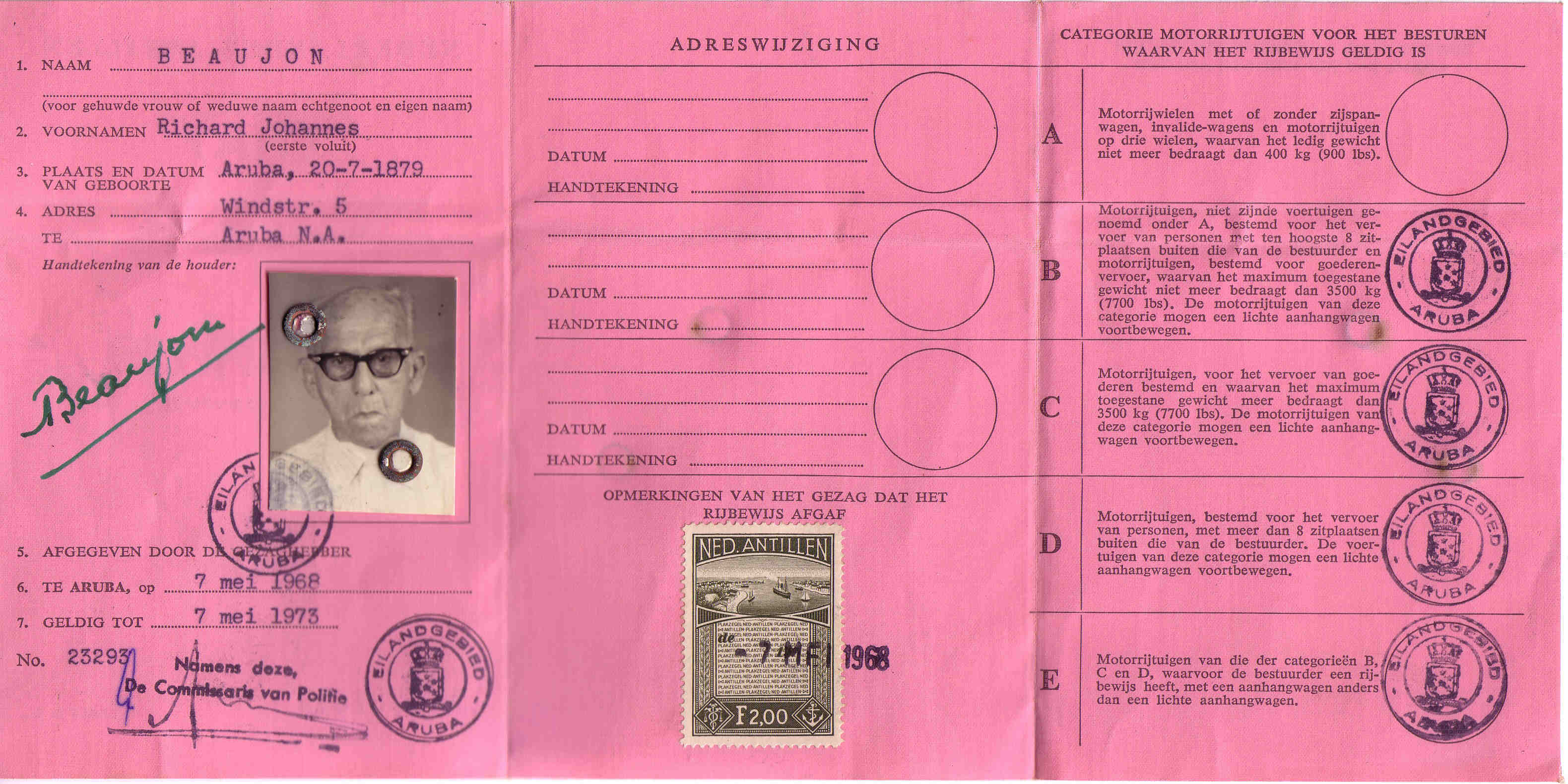 Very early photos of Lago


Views from Aruba's past.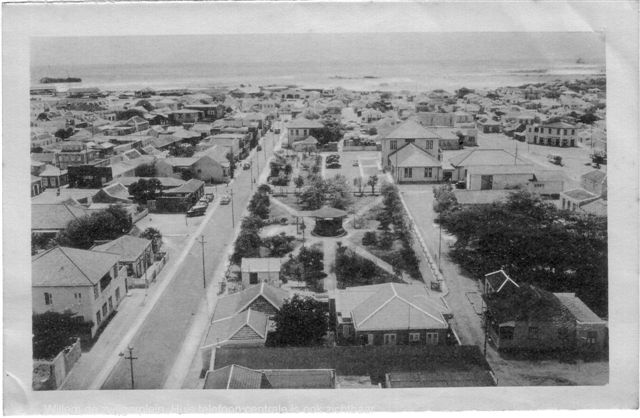 This Aruba picture was taken around 1940. The street you see is the John G. Emanstraat and way back harbor of Aruba at that time. The park is the "Willem de Zwijger Park where the school children used to go sing for the Queens on her birthday. The small house on the left of the Park facing J.G. Emanstraat was the telephone central.
On top right of the park is the Justice office. This pictures was taken from the water tower right in front of my parents house
LAGO GATE BADGES USED BY HIS DAD, PHOTO ON RIGHT IS FRONT OF THE BADGE, ON THE LEFT IS THE BACK OF THE BADGE.


THE PHOTO ON THE RIGHT IS THE FRONT OF THE BADGE WITH MR. J. BEAUJON'S PHOTO AND NUMBER.
THE PHOTO ON THE LEFT IS THE BACK OF THE SAME BADGE WITH LAGO OIL & TRANSPORT CO. LTD. STAMPED ON THE METAL BACK ALONG WITH A BADGE NUMBER.
OVER THE YEARS MANY DIFFERENT BADGES AND PASSES WERE USED FOR ID TO GAIN ENTRANCE TO THE REFINERY. CLICK HERE TO SEE OTHER BADGES AND THEN RETURN.
THIS WAS TO SHOW MR. J. BEAUJON HAD COMPLETED THE NECESSARY TRAINING TO BE A WAR JOB INSTRUCTOR
DOES ANYONE KNOW WHAT THIS TRAINING CONSISTED OF?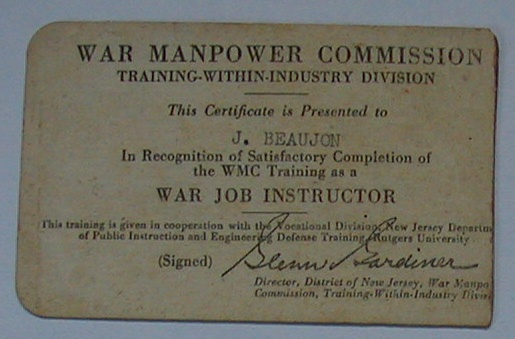 ANOTHER OF MR. J. BEAUJON'S BADGE TO ENTER LAGO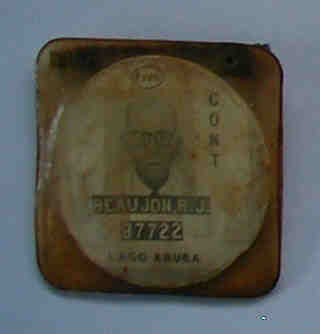 THIS IS AN INTERESTING LETTER TO MR. BEAUJON FROM MR. J. J. HORIGAN, SIGNED BY MR. TEAGLE, ABOUT THE LAGO PENSION PLAN.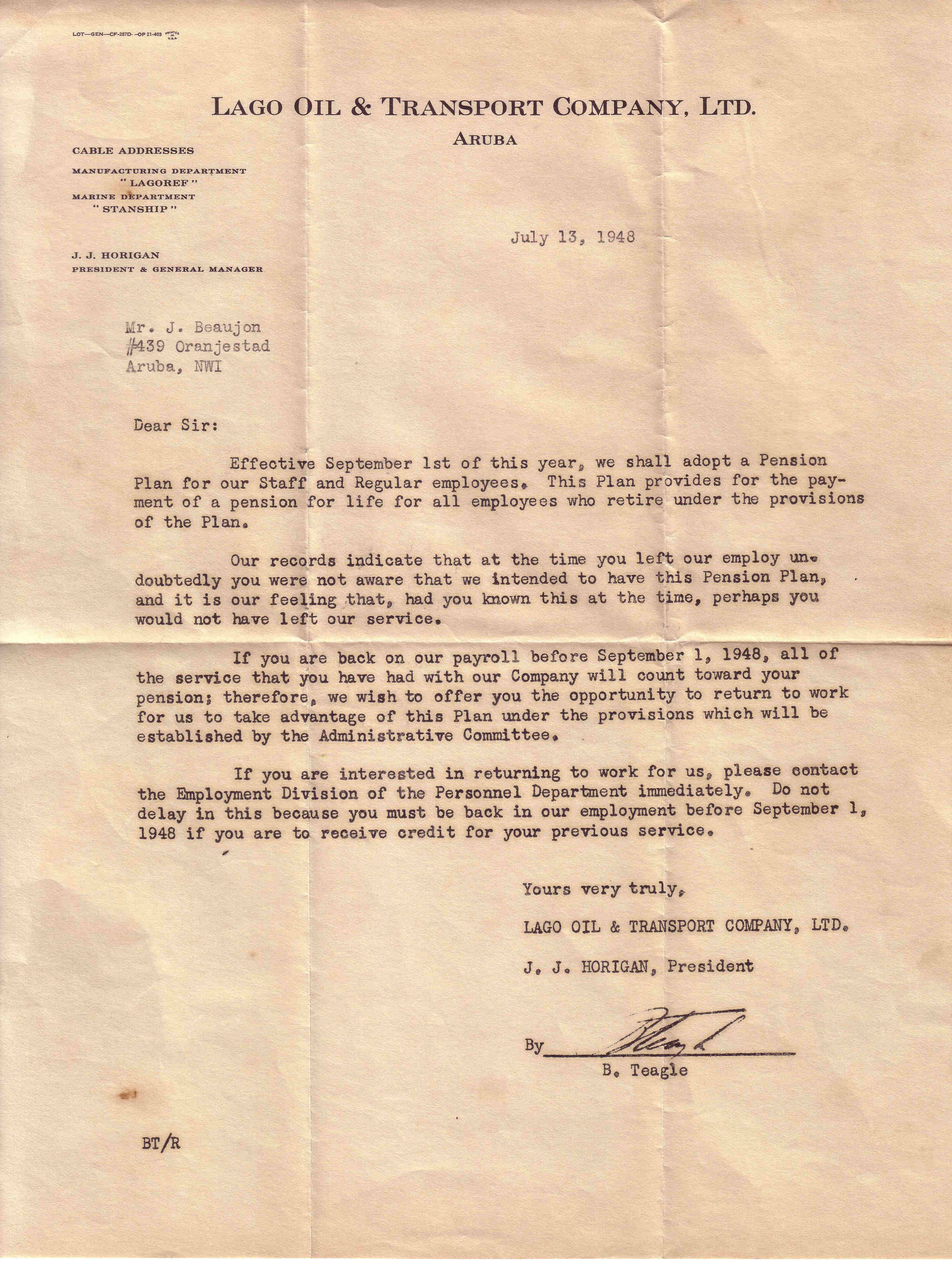 ANOTHER INTERESTING PHOTOGRAPH FROM RICHARD IS THIS PHOTO OF THE ARUBA SOCCER TEAM IN 1908.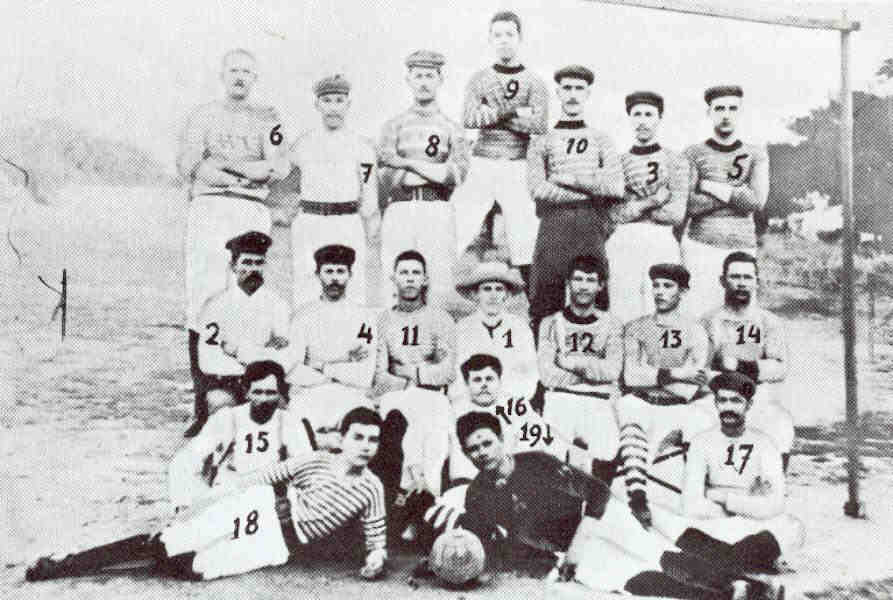 Het eerste voetbalelftal op Aruba, opgericht in 1908 door dominee G.J. Eybers (midden met de hoed op). 1. dominee G.J. Eybers, 2. Bobo Arends, 3. L.O. Lampe, 4. R.J. Beaujon, 5. Eddie de Veer, 6. Hensie Beaujon, 7. Gabriel Oduber, 8. Janchi Arends, 9. J. Oduber, 10. K. Peiliker, 11. Harmon Eman, 12. Federico Oduber, 13. Gooi Oduber, 14. Gilbert Arends, 15. F.J. Beaujon, 16. F. Laclé, 17. F.J. Olivet, 18. Jeffy de Veer en 19. C. Wever.
The first soccer team in Aruba formed in 1908 by dominee G.J. Eybers (in the middle, wearing a hat). 1. dominee G.J. Eybers, 2. Bobo Arends, 3. L.O. Lampe, 4. R.J. Beaujon, 5. Eddie de Veer, 6. Hensie Beaujon, 7. Gabriel Oduber, 8. Janchi Arends, 9. J. Oduber, 10. K. Peiliker, 11. Harmon Eman, 12. Federico Oduber, 13. Gooi Oduber, 14. Gilbert Arends, 15. F.J. Beaujon, 16. F. Laclé, 17. F.J. Olivet, 18. Jeffy de Veer and 19. C. Wever.
Bron: "Aruba in oude ansichten" door J. Hartog (1986)
PAGE OF LOG BOOK RECORDING THE SAILINGS, ARRIVALS AND DEPARTURES OF TANKERS INTO LAGO IN 1927
CLICK ON THE PHOTO TO ENLARGE. WHEN YOU HAVE LOOKED AT THE ENLARGED PHOTO CLICK ON IT TO RETURN HERE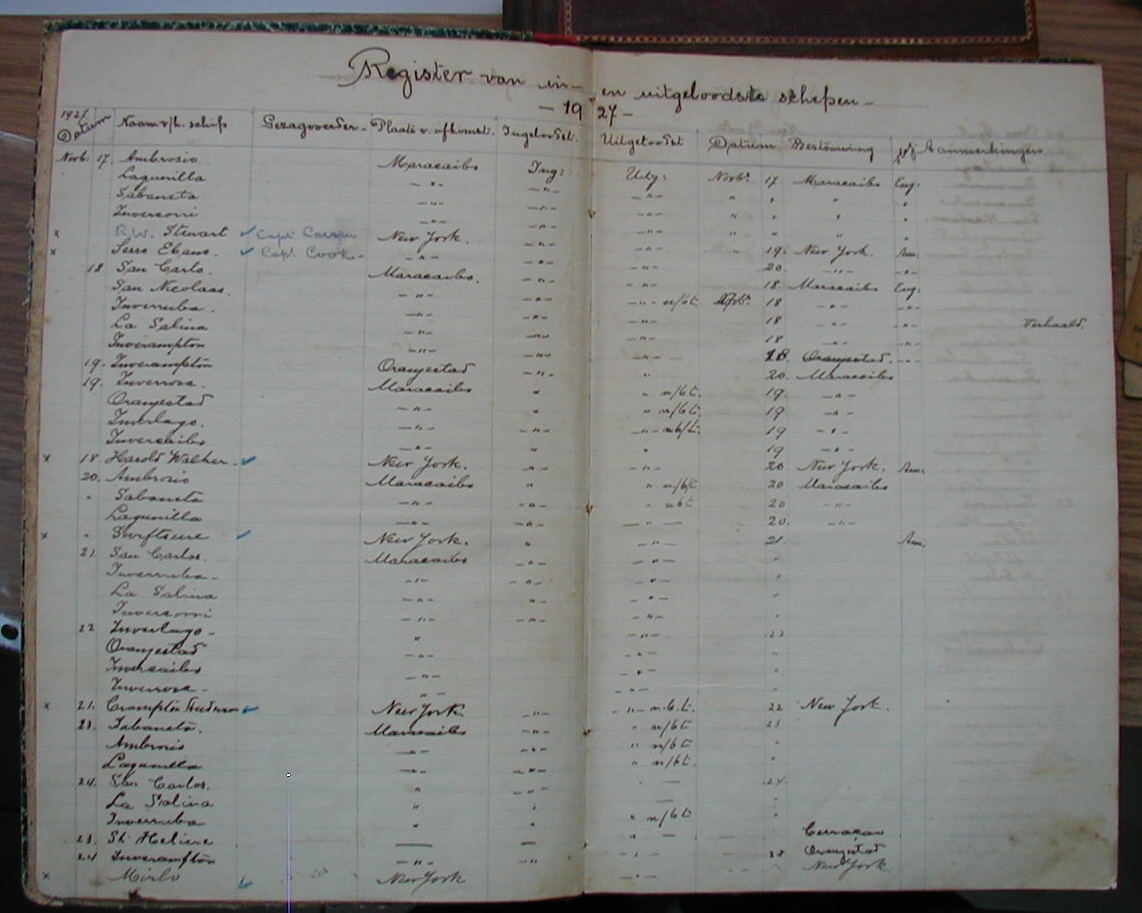 The letter below states that Capt. Beaujon will hire all skilled and un-skilled labor on behalf of Lago.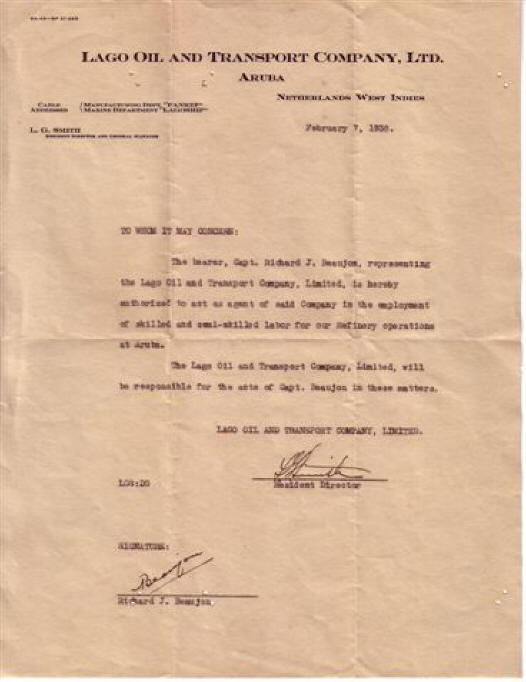 The government document below is where the governor let my grandfather know that they are very sorry that he has refuse the Queens decoration for the jobs well done by him, one of which is bringing Lago to Aruba.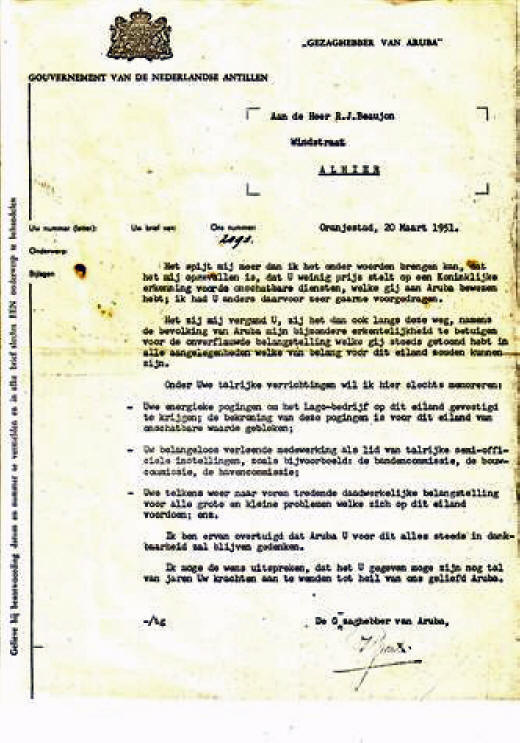 I am sorry the two documents are not clearer but if clearer copies can be obtained I will post them on the web site.