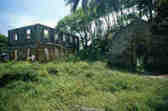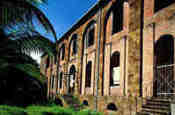 ESCAPE FROM DEVIL'S ISLAND
ANOTHER UNTOLD STORY FROM ARUBA
Bill Moyer sent me the following photos of the escapees from Devil's Island and the boat. Along with the photo Bill wrote the following: "...the escapees from Devil's Island were outfitted by people from Aruba and sent on their way." ..... "As my Dad told me the story, people were so helpful that when the boat first left, it was overloaded and sank! It then had to be re-floated (or replaced, I forget which) and they set off again, with more freeboard, this time successfully." Bill Moyer.
PHOTOS BELOW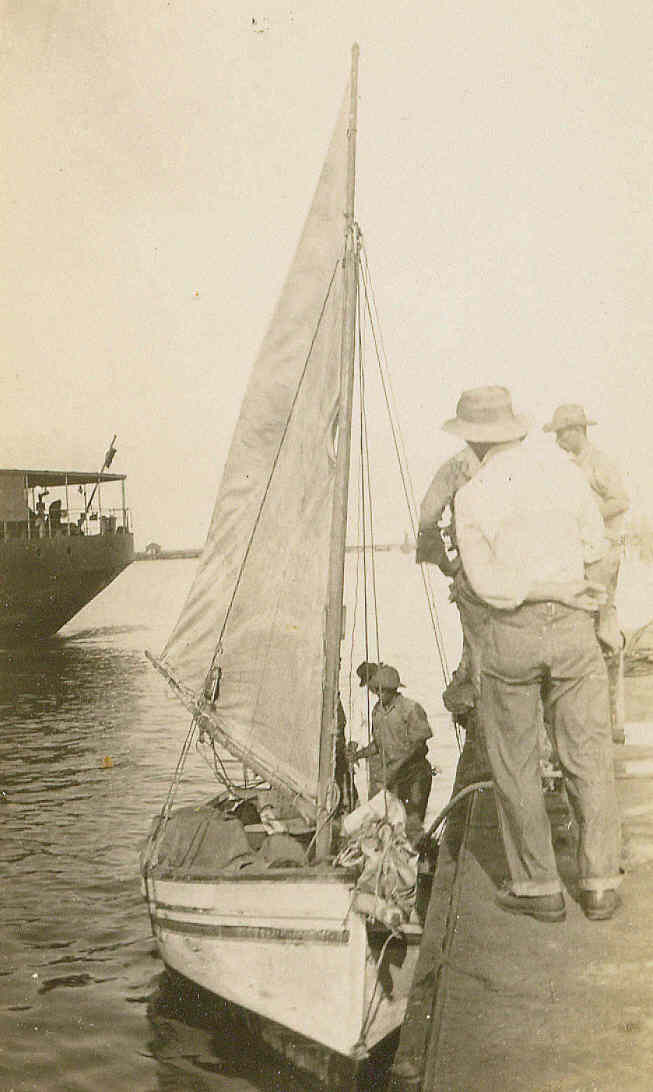 Escapee's boat in San Nicholas harbor, see stern of tanker to left. Photo from Bill Moyer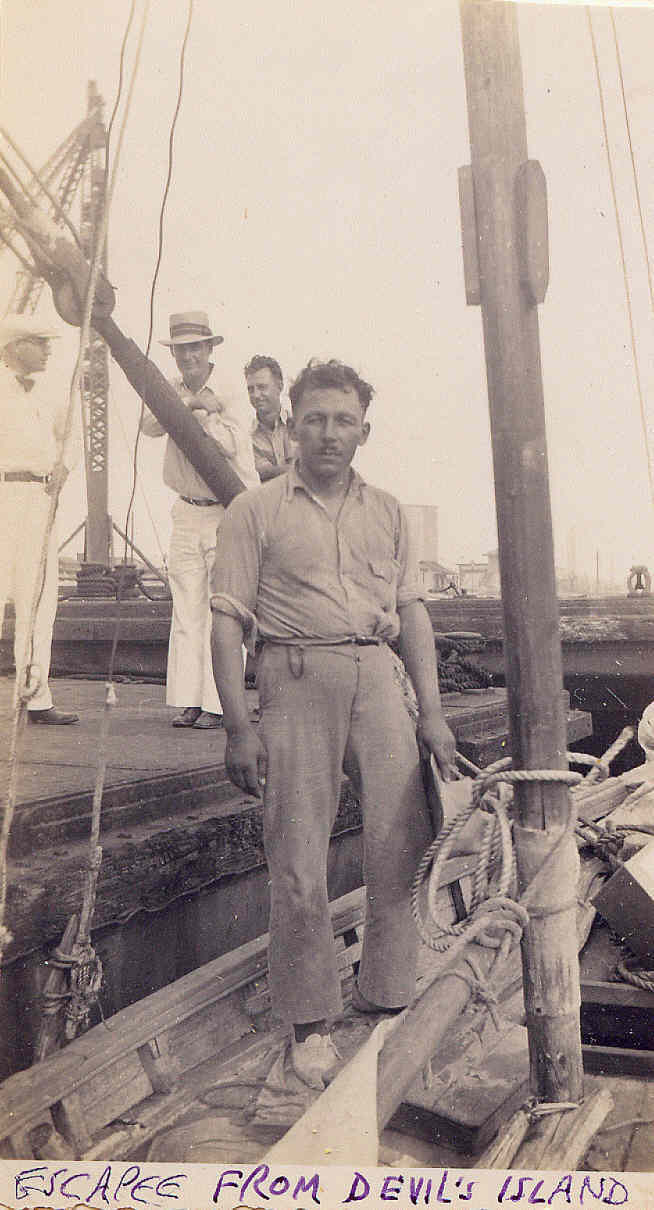 It is about 1,000 miles from Devil's Island to Aruba, small boat for such a trip. (Could this be Papillion???)
Blowup of the man in the picture above.

This photo was taken in early 1930's

Lets say 1934.

Could it be the same man?

Age 25?

A photo of Henri Charriere, author of Papillon from the back of the book jacket.

Book copywriter in 1969, picture not dated, so maybe it was taken 1968.

If this is the same man he would be around 60 in the photo. Maybe...it is him.

Your comments.
I think it is the same man, look at the eyes and the ears. Your comments. (note butterfly on Mr. Charriere's chest. I blew up the left hand photo but saw no butterfly, maybe he got it later, or it is under his shirt. Papillon is French for butterfly)
BUT I WAS WRONG! SEE THE STORY FROM "THE LAMP" BELOW.
Danny, his ears, eyes, forehead, set of his mouth, and chin ......

I think it may be one and the same .....!

especially after 35 years and aging a bit ....

good work, Al Leak
Thanks, Dan. Yes, the guy looks like "Papillion" to me, but then I have a gestalt in that direction so may be wrong. I was amazed at how well the Esso News came out and how interesting its articles were, looking back to 1949. Bill Moyer.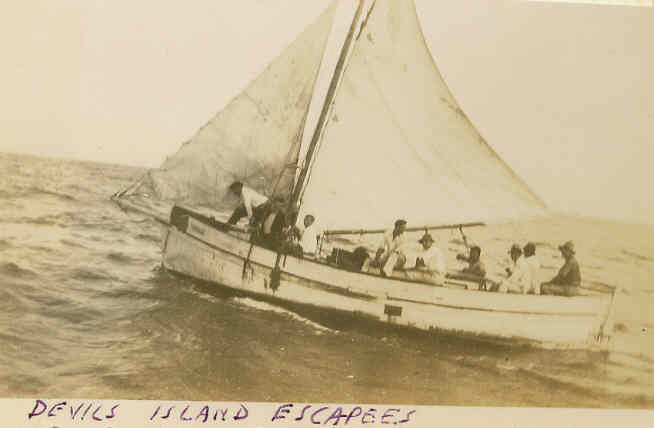 Looks like 9 men in that boat to me! Small boat, big sea!
After receiving this from Bill, I then wrote the following to Larry Riggs and this was his reply.
Lago Bulletin Board
From: Dan Jensen - Class of '58
E-mail: dje9537459@austin.rr.com

Larry: Bill Moyer is going to be sending me some photos his dad took in Aruba, 1929/35, as well as other photos. In the photos are some of the escapees from Devil's Island that landed in Aruba. I am not sure of the time period but it seems that as the Dutch Government would not give them asylum a collection was taken up for them, I believe primarily by Lagoites, they were outfitted with a new boat and supplies and sent on their way. Would you please put out a request on your Bulletin Board for those who know the story to write it up so I can add the story to the photos. It was before my time but I am sure there are some out there who knows the story. Thanks and Best Regards. Dan
---
Larry's notes: Very interesting. This is the first I've heard of the escape. Accurate or not (see caveat below) this would make an interesting story. If you have anything to offer please copy to me as well. Thanks.
Caveat: Devil's Island was phased out between 1938 and 1951 (see Devil's Island, below) allowing most prisoners to travel wherever they desired as long as they could pay their own way. Many traveled to neighboring islands in the Caribbean and took up residence providing they were given asylum. Those who came to Aruba may have been part of that release program. Possibly Aruba and the implied "escapees" fell into the category of nonacceptance (asylum denied as indicated in Dan's note above) ergo forcing them to leave for other parts of the Caribbean on a newly donated boat by sympathetic Lagoites. If, however, the dates of the photos Dan will be receiving from Bill Moyer are verifiable as taken between 1929 and 1935 then the "escapee" picture looms ever larger. Just a thought.
Google Search: Devils Island, Fr. Île du Diable, the smallest and southernmost of the Îles du Salut, in the Caribbean Sea off French Guiana. A penal colony founded in 1852, it was used largely for political prisoners, the most celebrated of whom was Alfred Dreyfus. Although conditions were probably not as sordid as in other prison camps in French Guiana, the island's name became synonymous with the horrors of the system. The penal colonies were phased out between 1938 and 1951.
The following was sent to me by Lura (Fields) Ward, soon after Larry sent out the request for information. If anyone has more to add please sent it on to me and Larry, so I can include it in the web site.
This is the story of the Devil's Island escapees as was told to me by my uncle, Doug Peebles, who worked for Chi Bridge. This would have happened probably in the very early 1930s. The boat the escapees had was old and in poor condition and not far from BA Beach the mast broke and they drifted with the tide into the Beach. Somehow word spread and several Lago men went down to the Beach to help, one of which was my uncle. They managed to get all the men ashore but the government would not allow them to stay in Aruba so the Lago men either helped them repair their boat or helped them get a new one, provisioned them, and sent them on their way. Some time later, one of the Lago men received a letter of thanks for all the Lago men had done.
My father also spoke of the Devil's Island escapees but never said much about it so I don't know what his version of the event would have been. Lura Ward.
Then I received this from Al Leak.
Hi Danny & Larry & Bill, one of my favorite books is:"Papillon" written by Henri Charriere .

I have a copy of it here before me, On page 137 there is a chapter about the escapees landing on the island of Curacao . Then on the next page - 138, the storyline mentions that they had landed on Dutch territory: Bonaire, Curacao or Aruba. The story goes on to say that when they sailed away from Curacao, they fetched up in Rio Hacha, Columbia. The time period appears to be Dec. 1933 or Jan. 1934 .

So, these may not have been the escapees that landed in Aruba - - - but the storyline is very interesting.....Perhaps Bill Moyers Dad has the pictures with a date on them..Very interesting reading ......

in 1973 the movie came out with Steve McQueen playing the French thief Henri Charriere ( Papillon) & Dustin Hoffman played Louis Dega. It probably won an Oscar, although I don't know for sure ... best regards to you 3 ol' friends. Al Leak .
I sent an email to Ed Hillstead, he is an old timer, and asking him if he knew anything about the escapees, this was his reply.
Dan thanks for thinking of me. Just had my 98th BD on the 12th and am still driving and in good health.
I'm sorry I can't give you a story on the escapees. I remember that they came to the Island but I never did
know any of the details. Don't even remember what year it was. I was probably working too many hours at the time
Ed The red highlight is my doing, Dan Jensen.
And this from Bruce Kilpatrick
I saw your message to Larry Riggs asking for info on the escapees from Devil's island who landed in Aruba. I was told long ago by someone in Aruba that the escapees did land in Aruba and were given some food and water, but were sent out to sea again, where they were intercepted by a French ship and so returned to captivity. How true that may be, I don't know. An interesting account of Devil's island was presented many years ago in a popular French novel, Papillon, which you may recall. The protagonist of that story escaped from Devil's Island in a small boat with a few other convicts and made their way to Curacao, but were sent away , as undesirables. From Curacao, they went to Venezuela and settled there. It was a good yarn, supposedly based on fact, and probably accurately reflected conditions and events in that infamous place.

Bruce Kilpatrick
4/14/2006 Last week I emailed the Dutch Newspaper in Aruba, Amigoe and asked the reporter Janna Coops to do a story about the escape from Devil's Island with the hope of finding out more about the story. Apparently she has done the story however I have not seen it and could not find it on the newspaper's web site, however I did get the following email about the story. This is the same newspaper that did the story about this Lago Colony web site about a year ago, you can see that story by going to the newspaper story link on the left.
Now I have a copy of the newspaper article, thanks to Richard Beaujon in Aruba. Berry Schendstok, Class of 1955, translated the story in the Dutch newspaper, see the translation following the newspaper clipping. Thanks Berry.
THE DEVIL'S ISLAND ESCAPEES
In 1934 or thereabouts, escapees from the French penal colony of "Devil's Island" are alleged to have visited Aruba. This according to a letter to AMIGOE from webmaster Dan Jensen, who maintains a website about the Lago Colony. Jensen is attempting to reconstruct the evacuees' story and hopes that inhabitants of Aruba can help him.
The escapees had survived a difficult and long journey. Devil's Island is more than 1000 kilometers away, situated off of the coast of French Guyana. After their long journey, the escapees were unable to obtain asylum on Aruba. In an act of compassion, employees of the Lago collected money for the escapees so that they could continue their voyage in their repaired vessel. One of the escapees possibly could have been Henri Charrière, better known as Papillon. Henri Charrière wrote a book about his many adventures as a prisoner and as a "master escape-artist". Thius book, also named Papillon, was made into a film in 1973 with Steve McQueen and Dustin Hoffman in the titel roles.
Jensen is looking for more information about the Devil Island escapees' arrival on Aruba and hopes that especially older inhabitants of Aruba can provide him tips about this episode.
Jensen is an American who lived in The Colony during his entire youth, from 1938 until 1957, the year in which his Father took retirement. His Father was an engineer at the refinery. Jensen grew up during the golden age of the refinery. When he himself retired in 2004, he started his website about this American colony on Aruba. His website is a work in progress. More and more people are discovering it and are sending him old photographs of Aruba and of the Colony.
You can find the website at
www.logo-colony.com
. For information and photographs on the subject of the devil's island escapees, click on the link "Devil Island's Escape". Jensen can be contacted by way of the website; just click on "guest book and contact".
TRANSLATED BY BERRY SCHENDSTOK 4-29-2006
Dear Dan,
I was pleased to read about you in Amigo De Korsou (Internet edition)
I was born on the Island of Curacao in the early 50s.
I left the island in 1971.
I also read about the escapes of Devils Island and about your interest in these men.
As far as I know Henri Charriere or Papillon, as we know him for the book,
has onetime landed in the Eastern part of Curacao on a raft and almost starving.
He then was found and nursed by a Dr. Willem Maal MD, who happened to be a Freemason.
Dr. Willem Maal MD. also happened to be the owner of the Eastern Part of Curacao.
He did escape many times from Devils Island.
In 1943? He was brought back to Devils Island and escaped 1944 for the last time.
I bear no knowledge of what happened between the years of leaving Curacao end WO 2.
My father also was a Freemason, so this is where I get my information from.
I hope as was of a little help to you.
Bill Laging
The article also appeared in the Internet edition of the newspaper and that is where Bill Laging found the story. You can visit the page and see the article, also in Dutch, by clicking on the link below.
AGAIN, LURA WARD CAME UP WITH WHAT MAY BE THE "COMPLETE" STORY AS FAR AS THE ARUBA CONNECTION IS CONCERNED. SHE WAS CLEANING OUT A CLOSET AND FOUND THE FOLLOWING ARTICLE WHICH WAS PRINTED IN "THE LAMP" THE PUBLICATION OF STANDARD OIL OF NEW JERSEY. UNFORTUNATELY THE DATE OF THE PUBLICATION IS NOT KNOW. I BELIEVE THE DATE OF EARLY 1930's IS PROBABLY CORRECT. THE LAKE TANKER IN THE BACK OF ONE OF THE PHOTOS WOULD SUPPORT THAT DATE. THE ARTICLE DOES PROVE THAT THE PHOTO IS NOT OF HENRI CHARRIERE, THE AUTHOR OF PAPILLON, BUT A "CAPT." DUVERNAY, THE LEADER OF THIS GROUP OF ESCAPEES. IT WOULD BE INTERESTING TO KNOW HOW THE MEN MADE OUT IN THE END, BUT THAT WE WILL PROBABLY NEVER KNOW.
IF YOU ARE LIKE ME AND HAVE TROUBLE WITH THE SMALL TEXT, CLICK ON THE FIRST PAGE AND GO TO A LARGER COPY.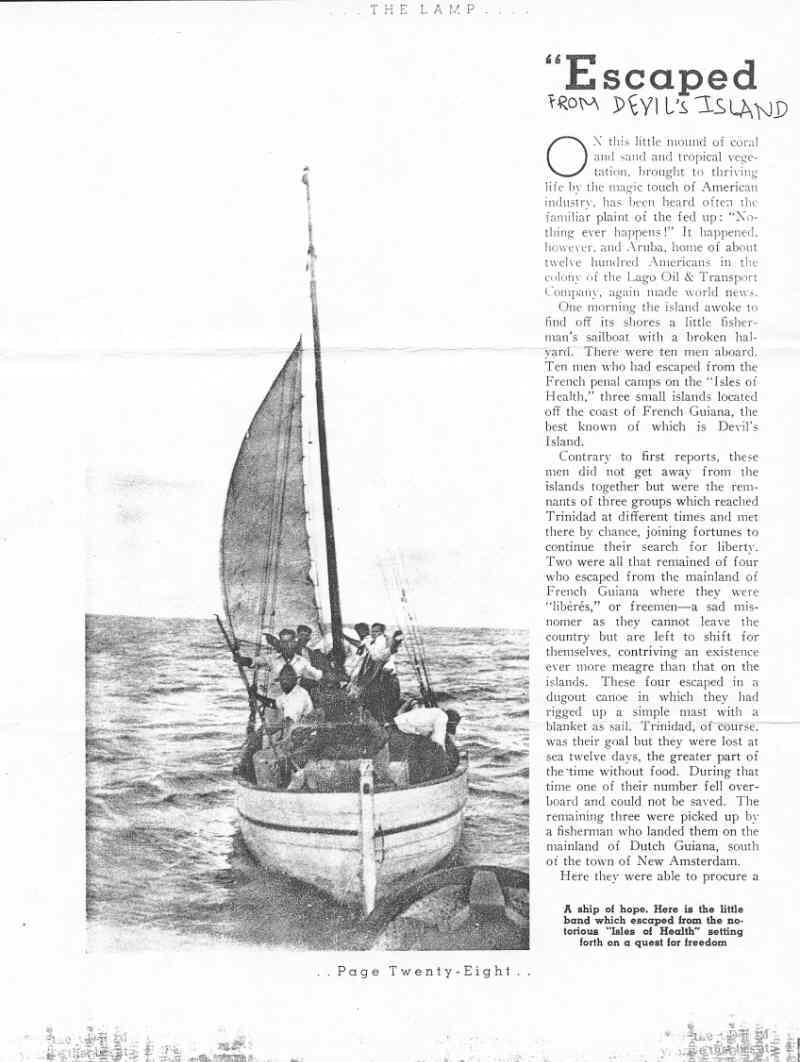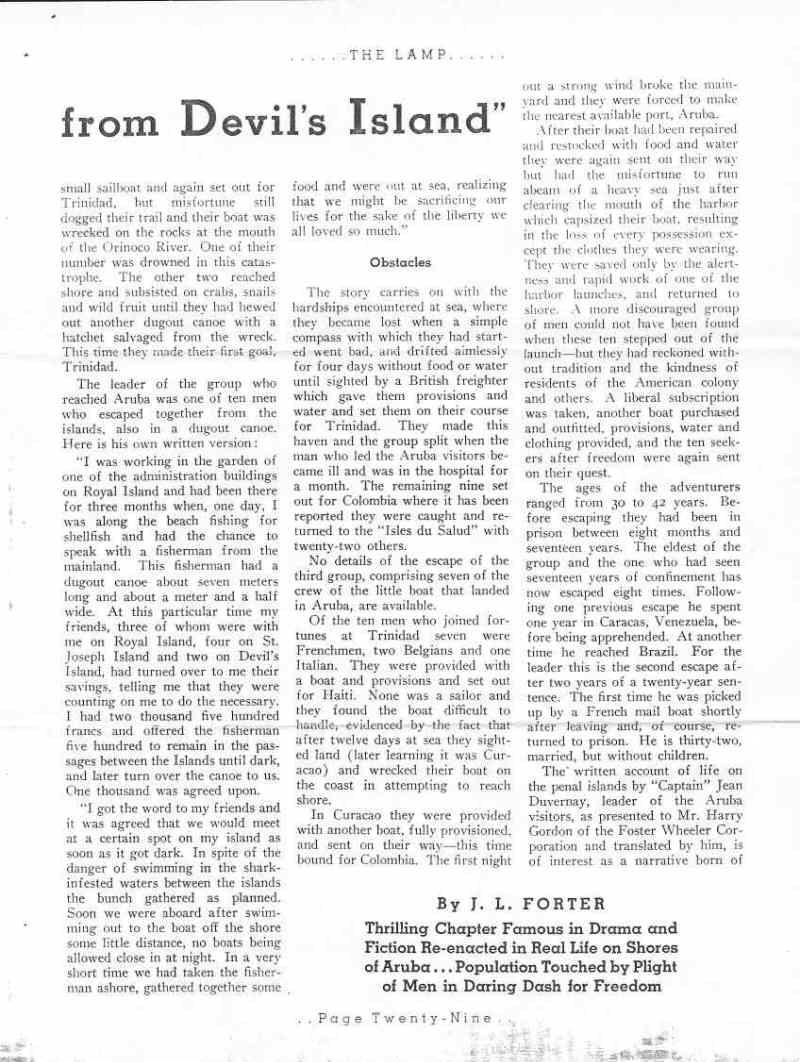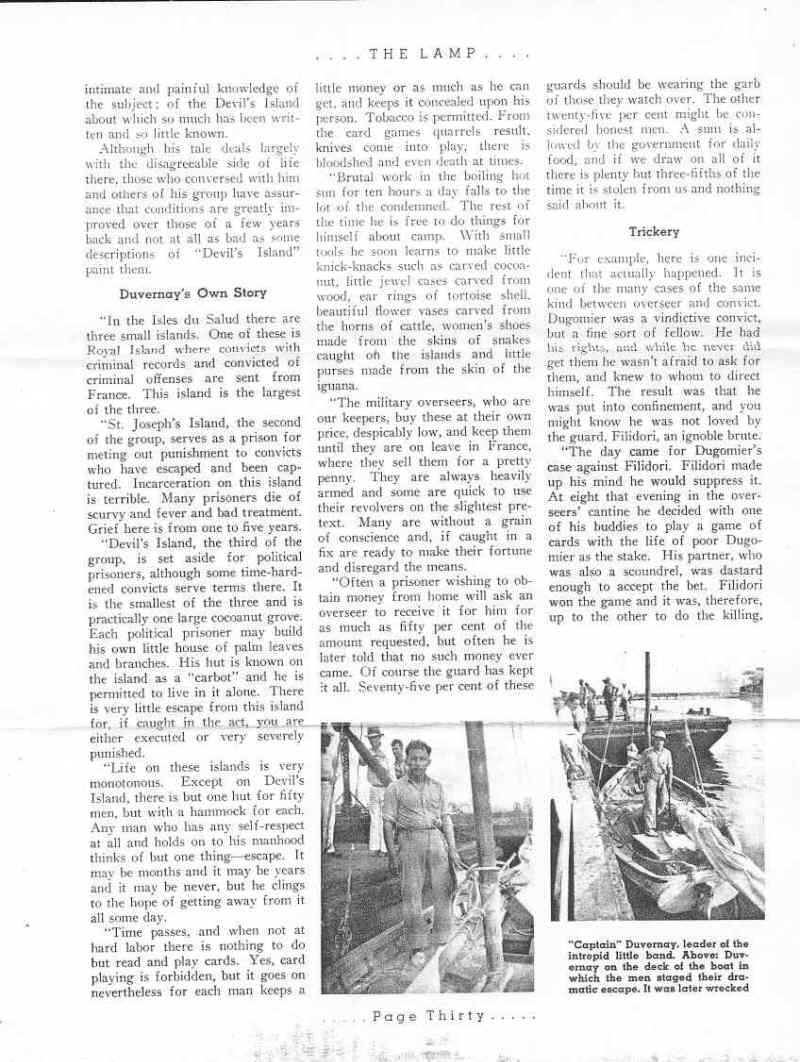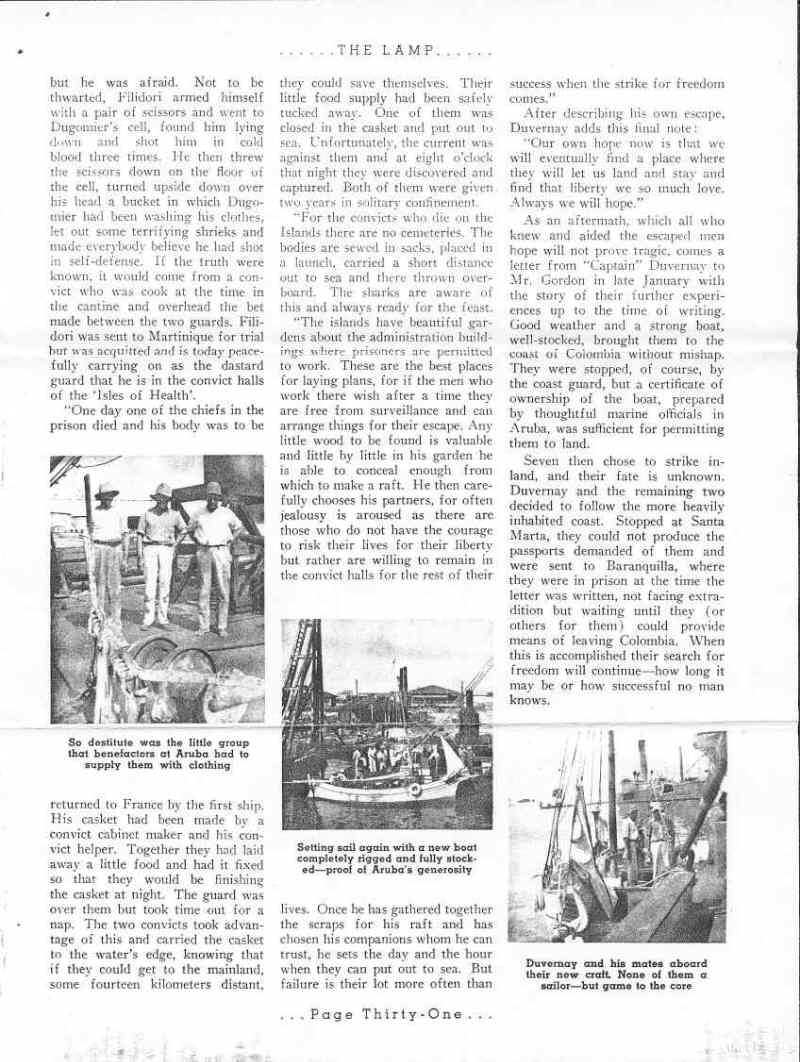 I ALSO RECEIVED THESE TWO EMAILS FROM CURACAO ABOUT THE STORY AFTER THE ARTICLE APPEARED IN THE DUTCH NEWSPAPER, Amigoe
.
Wilemstad, April 16, 2006
Hi Mr. Jensen
As far I can recall Henri was not in Aruba but on Curacao in 1934 according to his second book called BANCO
If you want to know more please let me know.
Mr. Jensen.
A very interesting and informative site:
Regarding the escapees from Devil's island I would like to inform the following:
The most famous group of escapees, including Henri Charierre aka "Papillon" landed on Curacao, more exactly at Awa Blancu / ( " Hambrak"), on the aptly named "Duivelsklip" plantation on the Eastern part of the island. This part of the Maal properties of "Oostpunt" on Curacao, ( consisting of 5 plantations). This group was detained by my grandfather, dr. Willem (Willy) Pieter Maal, owner of the properties at that time, after they were observed entering a house on the site, and "ransacking" it.
This is partially also described by Charierre in the book Papillon, except that in most issues I have seen, he is called dr. Naal.
Dr. Maal delivered the "escapees" to the authorities, and later aided them financially in acquiring a vessel to continue their journey.
If memory serves me, this is also mentioned in his book.
Much of my knowledge is from first hand accounts of my Great Aunt, who met these escapees when dr. Willy Maal stopped at the main entrance of the property with them, on the way to the Police Substation. I was told ( she passed away in 1996 at 93), that neither she nor my grandfather trusted nor felt at ease around these people, and that the my grandfather said that the leader, Charierre, clearly seemed to be a criminal and that the fact that my grandfather was armed ( as he always was) induced the men to comply to being taken to town. My great aunt described them as "unsavory characters" and she was worried when her brother took them to town. However, my Grandfather, always armed, and in the civil guard, felt secure he could handle anything.
Of course, in the book "Papillon", the author clearly professes his innocence as well as his honesty. His account of "merely checking the currency he found in a shack on the property to see what country they were in" is not totally truthful from what I heard of those involved.
Also, a bit of embellishment on his part, in describing how dr. Maal kissed the ring of the bishop when he came into a room. "Rubbish" said my grandmother. " Never". ( We Maals are "notoriously" protestant !)
In any case, over the years, various writers have approached us to gain access to the properties,a dn to try and retrace the route of this group. It is an interesting story. Years later, I met a Dutchman who worked for a bank and, ho told me that in the 60's,he had met Charierre, who told him that if he were to see dr. Maal in Curacao, to please give his regards.
I was not aware that this group, or any other Devil's Island escapees landed on Aruba, but while Charierre never mentioned this, I believe it is possible that others did.
I hope this info has been useful to you
Willy Maal
Plantage Klein Sint Joris
Curacao 4-20-2006
Today, August 16, 2006 I received this and the photos from Alexander Miller.
Dear Dan,
I came across your web site while researching my late father's naval career. He served as a ship's officer with Esso tankers from around 1928 until 1942 and was based in Aruba. Like many men of his generation, he spoke very little about his time at sea and I'm only sorry I didn't press him more for information. I know that he ended his time with Esso serving on the Esso Panama as First Mate having come through the ranks. Some of his earlier ships were the Punta Corda and San Carlos. He came home to Belfast in 1942 to his new wife ( whom he had not seen for two years) and to meet for the first time, his 18 month old son. He then signed up with BP Tankers and served with them until his retirement in 1970.
The point of interest is that in our photograph album at home for as long as I can remember, were two photos of escaped convicts from Devil's Island. Dad thought one of them might be Papillon when his best selling book was published, but could not be sure. He had written on the back of the photo ' Aruba - two of the convicts and part of a third who made a bid for freedom from Devil's Island'. Dad remembered that they were treated as celebrities in the town and when he asked them if he could take their photograph, they happily posed for him. You can imagine my shock at seeing almost identical pictures on your web site. This is a remarkable coincidence that two sets of photographs should emerge considering these events took place over 70 years ago. The article written in The Lamp at the time would seem to rule out Papillon, but considering his alleged unreliability and tendency to stray from the truth, anything is possible.
For your interest, I have attached my father's photos. His name was James A G Millar. They will not add much to the information already to hand, but it is interesting to think that my father and whoever took the other snaps were probably present in Aruba harbor at the same time all those years ago. Its a small world !
By the way, congratulations on a very detailed and informative web site. If you know anyone who could help me with my research, I would be very grateful.
Best Regards,
Alex. Millar
BELFAST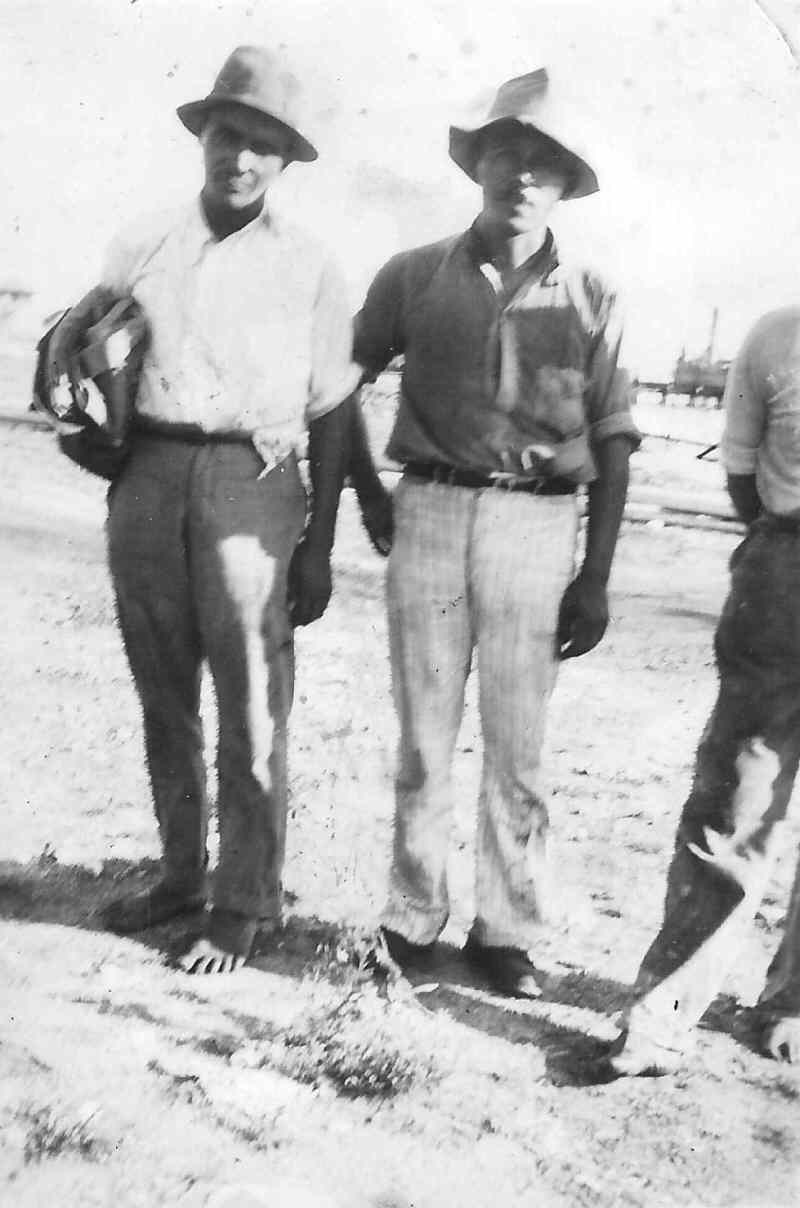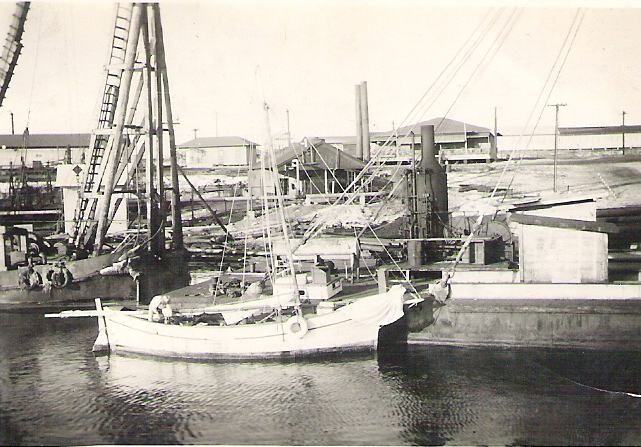 Hello Dan,
Happy New Year. 2007
I was doing a search for "Henri Charriere" (Papillon) and stumbled upon your web site with its photos of Devils Island escapees. People were wondering if any of the men in the photos were the famous "Papillon".
In his book, Charriere makes mention several times that he was missing the thumb of his left hand. All the men in all the photographs have left thumbs where the hand is visible.
Also, when the book first was published in about 1968 it was a great best-seller all over the world. At that time there were many former prisoners and former guards still living who were THERE in the prison at the time Charriere claims to have had his many adventures and escapes. All of the old-timers seemed to agree that if such multiple escapes and dramatic fights and other events had taken place, Papillon would have been a very famous prisoner. None of them remembered him at all and cast doubts about the accuracy of his book. Charriere responded by saying that it was accurate as he remembered it, but that he didn't "go into that hell with a typewriter."
Charriere claimed to have made several escapes, one of them of almost a year duration when he claimed to have lived with some indians on the coast of Venesuela or Colombia before being re-captured and returned to the prison. When the French government finally opened the archives of the prison in the mid-1980s, historians and journalists carefully looked over the prison records and discovered that the whole book was esentially fiction. The only two things that they could verify about Charriere's story were: he was given a life sentence for murder in 1928, and, he did escape in 1944 (or 1945, I forget which). It appears he made the rest of it up. This would mean that he is not in those photos from the 1930s.
He also wrote a sequel to "Papillon" called "Banco", about his life after the escape. He lived in Carracas, Venesuela and continued in his life of crime. Bank robbery, safe cracking, tax evasion and so on. The man was a crook and apparently incapable of being honest. Why some people still take his book "Papillon" at face value is a mystery to me.
I'll give him credit, though, he was a good writer and spun a great tale of adventure.
If this sheds a little light on the mystery of the photographs, fine. If not... well, no harm done, I guess.
Sincerely,
Frederick Borg
Florida, USA
Today, June 19, 2007, I received more photos from Vic Lopez of escapees from Devil's Island and who landed in Aruba. These photos were sent to his father when he was working on the "Our Stories" project.
The date on the photographs is 193?. Some of the guys look pretty tough while others look like Yachts men out for a leisure Sunday sail.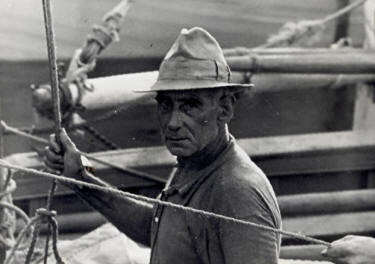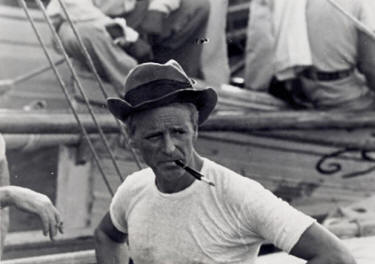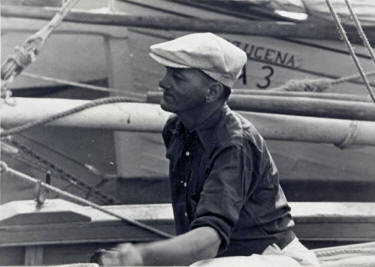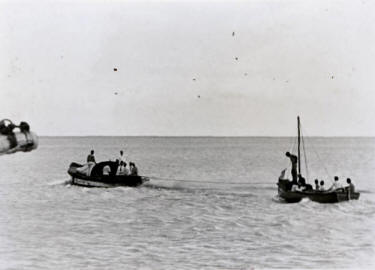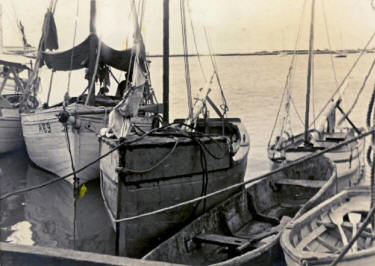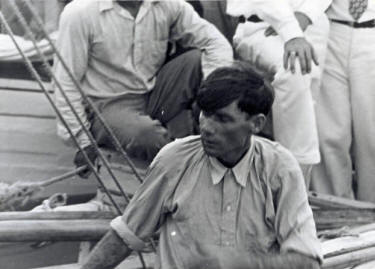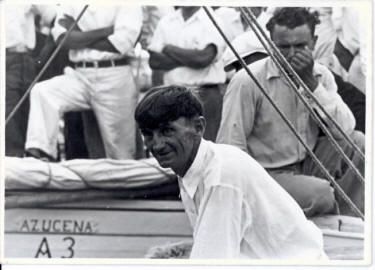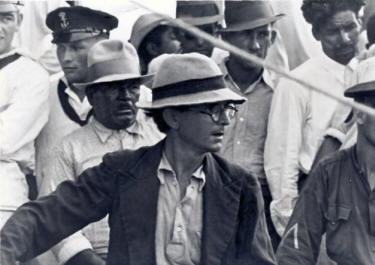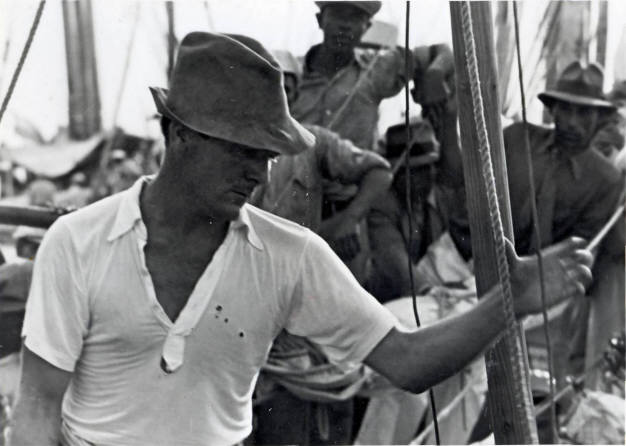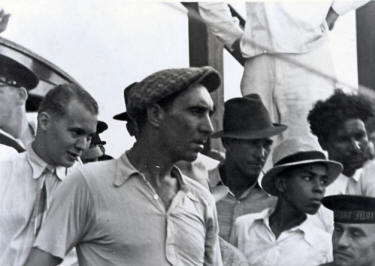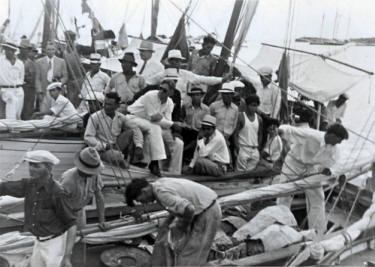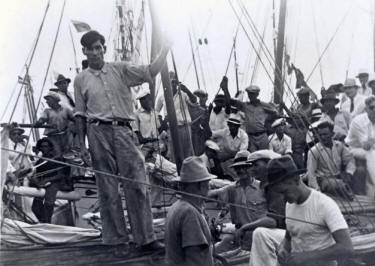 ON JULY 21, 2010 I RECEIVED AN EMAIL FROM IAN MARINO ABOUT HIS TAKE ON THE MAN WHO CAME TO ARUBA WITH THE GROUP ESCAPED FROM DEVILS ISLAND AND PAPILLION BEING THE SAME MAN. AFTER TAKING A GOOD LOOK AT THE PHOTO OF PAPILLION HOLDING HIS HAT IN HIS LEFT HAND AND IT LOOK LIKE THAT GUY HAS A THUMB SO IT PROBABLY IS NOT PAPILLION.
DAN JENSEN
Hi Dan
Great site!
After reading both his books and being the nosey, curious person that I am I have been interested in Papi's life ever since.
This sort of curiosity led me to actually make a book on escapee and career criminal Iceberg Slim ( Iceberg Slim The Lost Interviews) not long ago, however my interest in Papi is just leisure and curiosity. What I don't like is often these icons are dismissed as mostly fictional, or outright liars, with only a journalist's word to go from. Whatever the press or Wikipedia says people believe. And they are often wrong.
One key thing the page seems not to mention is Henri had always his left thumb missing. He says how this was done early in his life before his imprisonment in the book Banco. Looking at photos of him, it is not crystal clear but seems his thumb is definitely missing beyond the joint to my eyes. Photos enclosed. Also see the video on youtube where he is in the film set prison, the thumb seems smaller and missing when hugging Steve.

http://www.youtube.com/watch?v=YoG0zA6h9FA&feature=related
THE FOLLOWING ADDED BY DAN JENSEN
CLICK BELOW TO SEE ANOTHER VIDEO OF STEVE MCQUEEN AND PAPILLION ON YOUTUBE



BACK TO IAN'S EMAIL

I was therefore sad to see the man in the zoomed picture has a left thumb in the second, photo. Especially when that photo looks very very like him, I agree.
I enclose 2 pics of him back in France in case you haven't see them too.

Let me know your thoughts!

Ian

England
THE FOLLOWING PHOTOS WERE SUBMITTED BY IAN, THE THUMB ON THE LEFT HAND OF PAPILLION IS SAID TO BE MISSING, IT LOOKS TO ME LIKE THE RIGHT THUMB IS MISSING.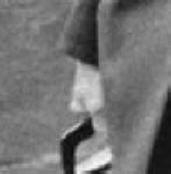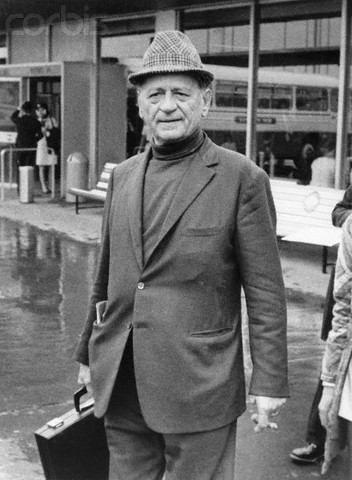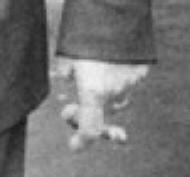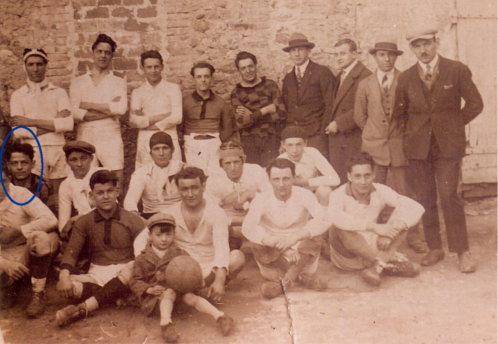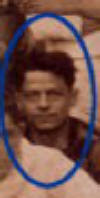 THIS IS A COPY OF THE PHOTO OF THE MAN WHO CAME TO ARUBA, FROM THE TOP OF THIS PAGE, NO BLOWUP OF HIS LEFT HAND. IS NEEDED TO SEE THE MAN STILL HAS HIS LEFT THUMB, THEREFORE IT IS NOT PAPILLION. DAN JENSEN

IF THIS IS NOT PAPILLION, WHO IS HE AND WHO ARE THE OTHERS, I WONDER IF THERE IS ANYONE IN FRANCE WHO RECOGNIZERS ANY OF THE MEN?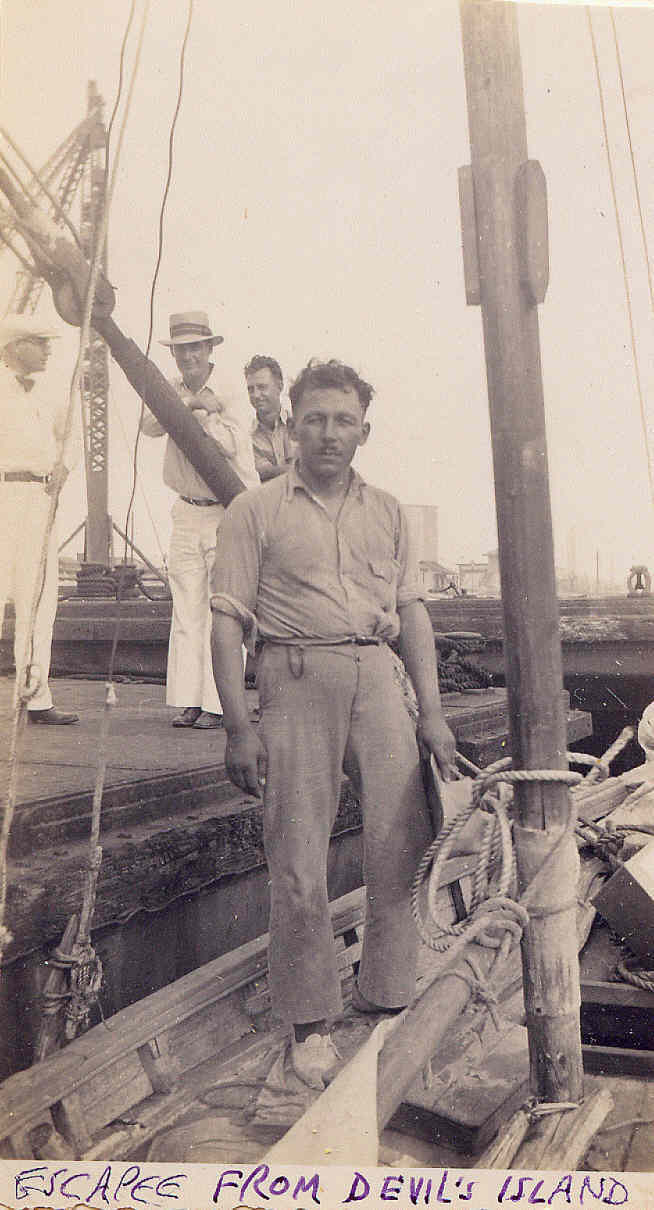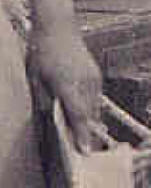 I LOOK FORWARD TO HEARING FROM OTHERS WHO MAY KNOW MORE ABOUT THE STORY.