COLORADO POINT APARTMENTS
FIRST TWO PHOTO BY WALT SPITZER
THE SPITZER FAMILY, LIKE MANY OTHER FAMILIES, ARRIVED IN ARUBA RIGHT AFTER WORLD WAR II. AT THAT TIME THERE WAS A GREAT HOUSING SHORTAGE IN LAGO COLONY. THE FIRST THREE MONTHS THEY STAYED IN THE EVANS FAMILY'S BUNGALOW WHILE THE EVANS WERE ON VACATION. THE FOLLOWING ARE TWO VIEWS OF THE EVAN'S BUNGALOW.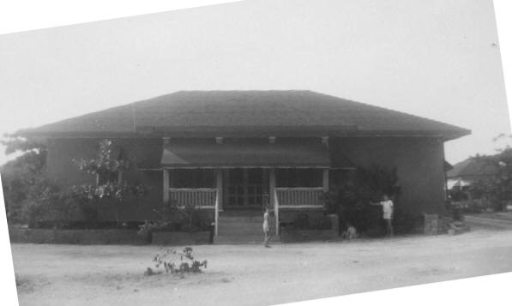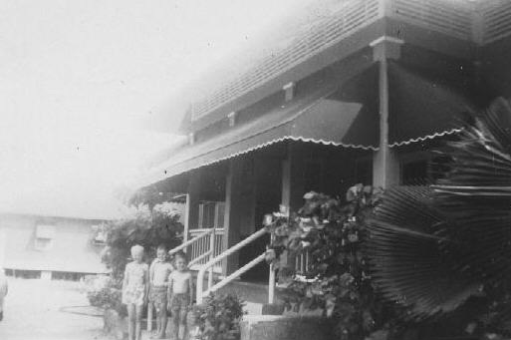 WHEN THE EVANS FAMILY RETURNED TO ARUBA THE SPITZER MOVED TO COLORADO POINT. BUILT AS TEMPORARY HOUSING FOR U.S. ARMY TROOPS IN WW-II THESE WOOD STRUCTURES SERVED AS HOME TO MANY LAGO FAMILIES UNTIL THE NEW HOUSES WERE BUILT. RIGHT AFTER THE WAR THERE WAS A HOUSING SHORTAGE IN LAGO COLONY.
THE PHOTO BELOW OF THE COLORADO POINT APARTMENTS WAS TAKEN FROM THE 1949 PAN-O-RAM ANNUAL.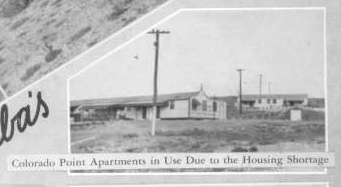 THE SAME PHOTO AS ABOVE, AFTER CROPPING AND CLEANING IT UP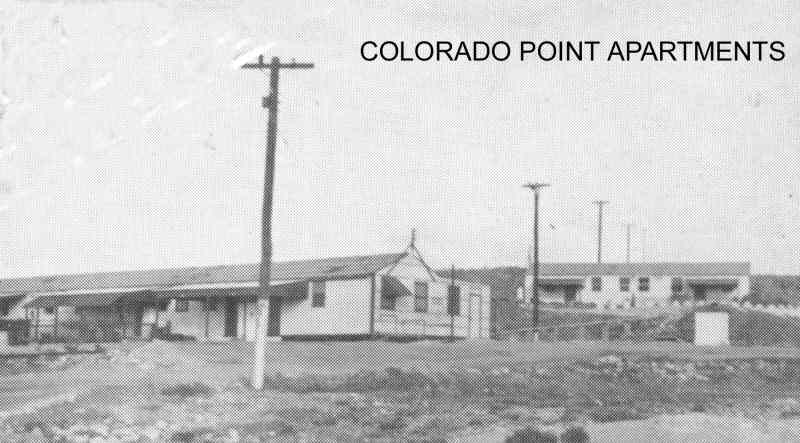 THE PHOTO BELOW IS ART SPITZER WITH THE MARIE, THE LADY WHO WORKED FOR THE FAMILY, IN THE BACK OF UNIT 7A AT COLORADO POINT. AS SOON AS THE NEW HOUSES WERE COMPLETED THE SPITZER'S MOVED INTO A NEW HOUSE.
CLICK ON THE PHOTO BELOW TO SEE THE INTERIOR OF A NEW HOUSE.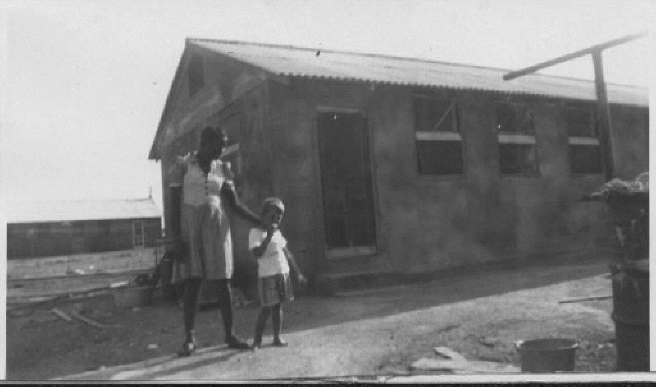 COLORADO POINT APARTMENTS, IN COLOR