WORLD WAR II MEMORIES FROM ARUBA
by: Duke Richey
Bill Moyer sent me an e-mail, it is produced in full below. This is interesting information about the World War II attack on Aruba related from Duke Richey, who was old enough to remember the attack in some detail. Based on what Duke writes in his reply to Bill Moyer he must now be 88 years old.
Dan Jensen,

February 28, 2009.
---
Dan:
I asked Duke Richey to write his memories of the U.S. Air Force in Aruba during World War II. He replied with this wonderful letter. I hope you can put it on your website for others to share, because it's classic material.
Regards: Bill (Moyer)
---
DUKE RICHEY GRADUATED HIGH SCHOOL IN THE CLASS OF 1949 SO HE WAS AROUND ELEVEN OR TWELVE YEARS OLD IN 1943. QUITE AN EXPERIENCE FOR A BOY THAT AGE. HE LOOKS THAT AGE IN THE PHOTO.
---
---
Dear Bill:
So nice to hear from you. I hope I can give you some background on the Army Air Force in Aruba that will be of interest to you and others. Let me start with the night of the attack. The first thing I remember of that night, was Pete Leonard and Edmond Polick going up and down the streets yelling, "Turn out your lights. We are under attack." I remember looking out our front door and the whole sky was lit up from the fires of the burning tankers that were just off shore.
The US Army had just arrived at Aruba and the 155 mm shore guns had not yet been set up on Colorado Point. Fortunately, the Army Air Force had arrived earlier. This contingent consisted of three A-20s. There were no lights on the runway at Dakota Field, so people lined the field with their car lights so the planes could take off. If is had not been for the A-20s, the submarines could have sat out there and lobbed shells into the refinery all night. As it was, a few did fall into the tank farm located behind the 400 block of houses.
The pilots of those three planes were Lt. Lazenbe, Lt. Ford, and Lt. Ming. The bombardier of one of those planes was Lt. James O'Connor. The operations officer of the group was Lt. Rollie. A short time later, my dad took me to Dakota Field and I met these officers. They were attached to the 59th attack squadron.
Soon after the attack, the 12th bombardment squadron arrived in Aruba under the command of Major Eisenhart (I believe the major was from Kearny, NB). The planes in this unit were two-engine B-18Bs. At about the same time a contingent of the 32nd pursuit squadron arrived in their P-39 Aerocobras. The commanding officer of this group was Capt. Charles E. Ramsey. I became very close to Capt. Ramsey and he more or less took me under his wing and became my mentor.
I was quite enamored with the Air Force, so I started going out to Dakota Field every Saturday. Claude Dixon worked for White Construction on the base. He would pick me up at 6:00 a.m., give me a ride to the base, and then bring me home when he got off work. As I became better known to the officers of the 12th and 32nd, they gave me my own room and I stayed on the base Saturdays and Sundays. They would take me home Sunday evening and my mom would always have something special for them to eat.
They subsequently put me in a uniform as a 2nd Lt. In time I was promoted to the rank of major. I still have the printed orders showing my promotion to major. I also have papers showing I was checked out for proficiency in a B-18B. As time went on, they would send a jeep to pick me up after school and take me to the base where I would spend the weekend. During the summer when school was out, I spent practically the whole summer on the base.
Over this time, I believe I flew in every kind of military plane that landed at Dakota Field. Some of these planes were the A-20 Havoc, the P-39 Aerocobra, the B-18B, the C-47, the PBY-ABV, the AT6 Trainer, the BT-13 Trainer, and the Navy Hell Cat. The Navy had three fixed landing gear planes at the base. Two of the pilots of those planes were Ensigns Franklin and Chamberlin.
I had complete run of the base and could go wherever I desired. I went on practice bombing runs in the B-18B where we dropped 500 pounders on the scuttled ship off Palm Beach. They even let me drop some bombs using the secret Norton bomb sight. At the time the Norton was so secret that upon landing, it was removed from the plane and stored in a very secure place. When I flew with Capt. Ramsey in the P-39, I sat on his lap, since it was a single person plane. He would have me duck down as we taxied to take off so no one would see me. We practiced dive bombing on the scuttled ship with 500 pounders and would attain a speed of close to 500 MPH in the dive. I remember the tremendous pressure as we pulled out of the dive. I don't know how he took that pressure with me sitting on his lap. I was very close to Capt. Ramsey and was fortunate to meet him again when he was stationed at Riverside, CA in about 1956.
I first revealed my experience at Dakota Field to Roy Burbage and Bill Moyer at the Oklahoma City Reunion. While experiencing the above, I was told not to talk about what I was doing and I never did. After the war was over, I didn't think anyone would be interested, or would even believe me, if I did tell my story.
In 1943 my family left on vacation. Orders had been cut, which I still have, for me to report to the air base in Casper, WY. I thought that what I had done was okay in Aruba, but would not be welcome at the Casper Air Base, so I did not follow orders. After we returned to Aruba, Capt. Ramsey took me to the PX and removed my major's oak leaves and pinned a 2nd Lt.'s bar on my collar. He said I was being demoted for not following orders. I really believe he did that because, at the time, he did not want the ranking officer in the 32nd to be a twelve year old. It was while I was in Casper that the P-39 crashed. The pilot had just recently been assigned to the 32nd, so I had not met him.
There were two base commanders at Dakota Field. The first was Lt. Colonel Dorney. He was subsequently replaced by Lt. Colonel Truett.
I have a diary dated December 25, 1942 that contains signatures and addresses of the officers who celebrated Christmas at our house on that long ago day. Here is a list in case you might recognize any one of them.
Lt. James O'Conner, Vermillion, SD; Lt. E. L. Monday, Roanoke, VA; Lt. William R. Court, Landsow, PA; Lt. William H. McStephen, Columbia, MS; Lt. Wayne P. Sage, Lucerne, PA; Lt. Woodall, Meridian, MS; Lt. Harvey N. Jevsking, Pittsburg, PA ; Lt. Robert Wheeler, Washington, D.C.; Capt. Charles Harnett, Washington, D.C.; Lt. Daniel McLean, San Antonio, TX; Capt. Lloyd Jordan, Niagara Falls, NY; Capt. William Smith, Salinas, CA; Lt. N.D. (Meatball) Meadowcroft, Santa Monica, CA; Capt. Harry Halberstadt, Terre Haute, IN; Ensign William Hammer USN, West Palm Beach, FL; Lt. Virgil H. Roan, Dallas TX; Lt. Louis Grillo, Syracuse, NY; Capt. Charles E. Ramsey, Greensboro AL; David A Silverman, Monticello, NY.
This was a very special time in my life and it gives me great pleasure to share these memories with you after all these years. It was also a significant time in the history of Aruba. Best wishes to all. You are often in my thoughts.
Bill, I hope this is what you wanted. There is a lot more I could say, but it is only recalled in bits and pieces over time. Thanks for the piece on the Caliche Pit and the Big Docks. It brings back many fond memories.
With best regards,
Duke
---
THE FOLLOWING ARE LETTERS AND PHOTOS CONFIRMING THE DUKE'S STORY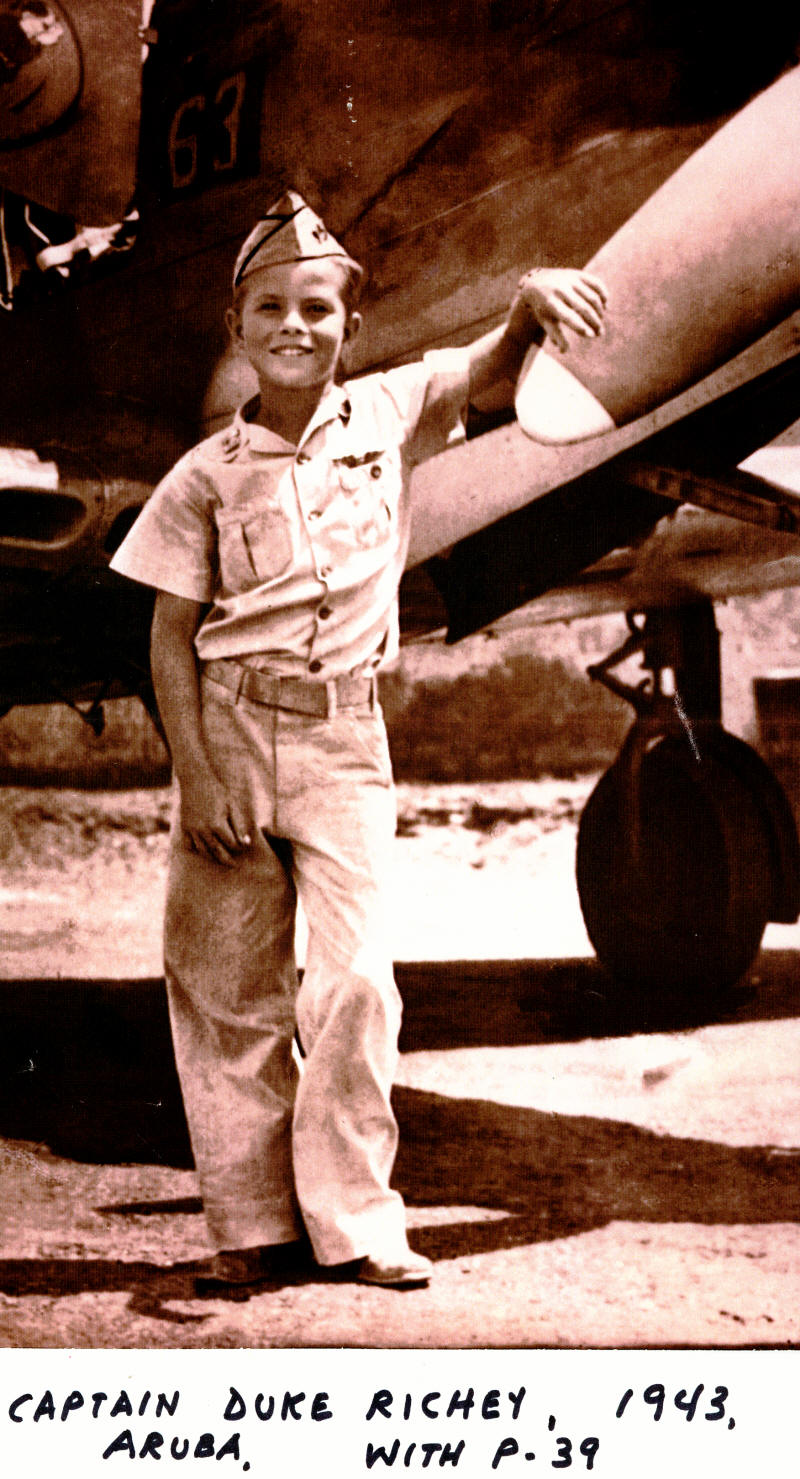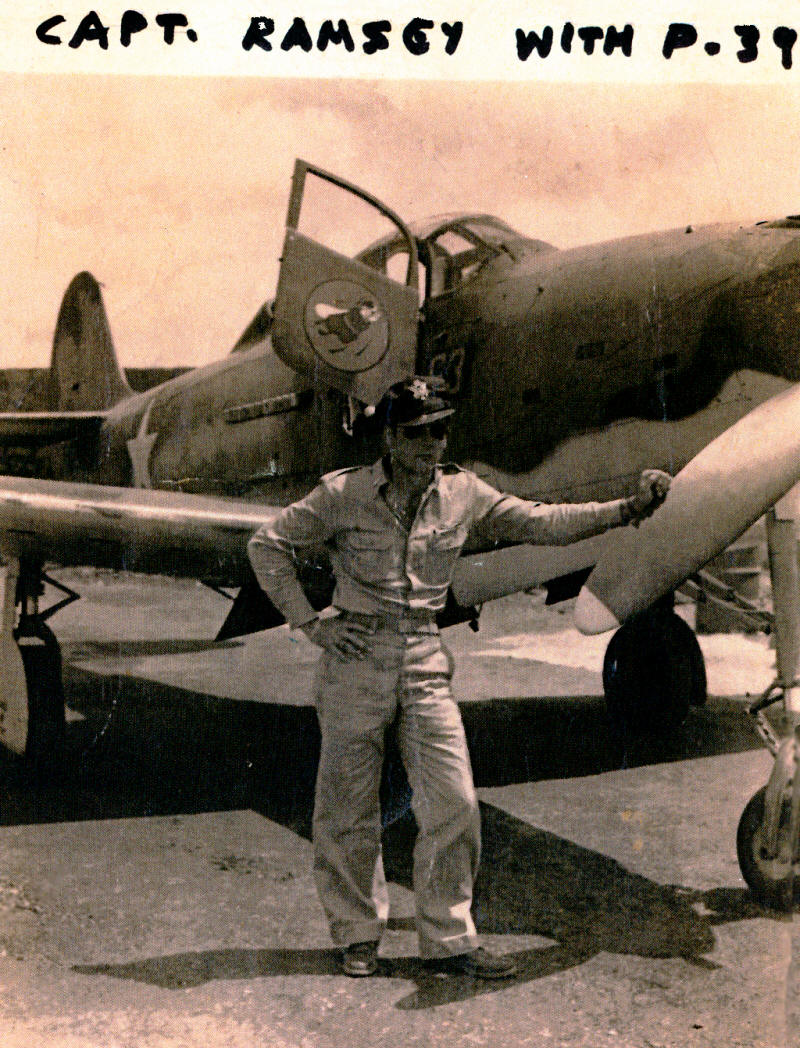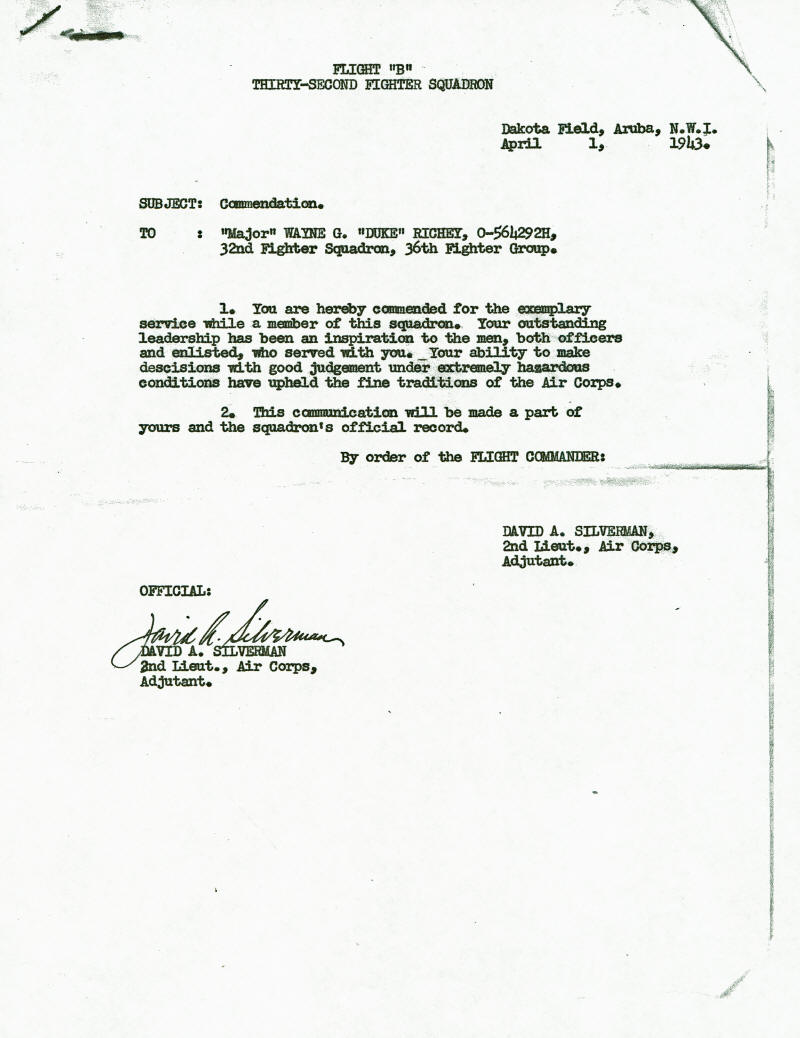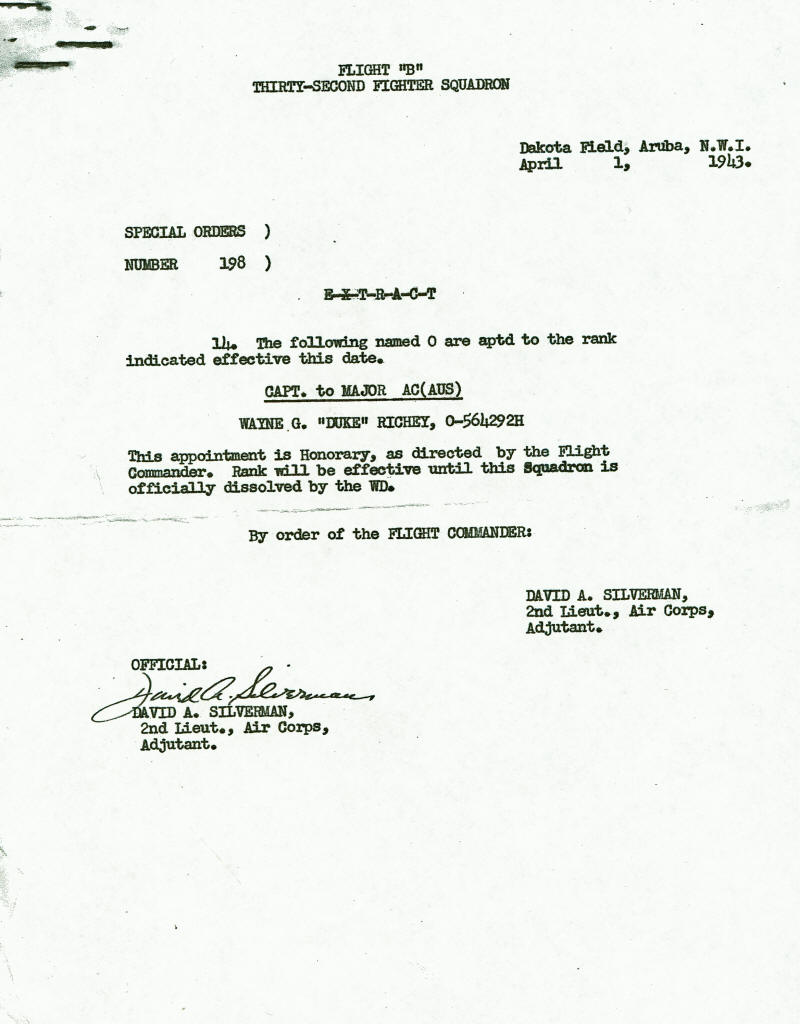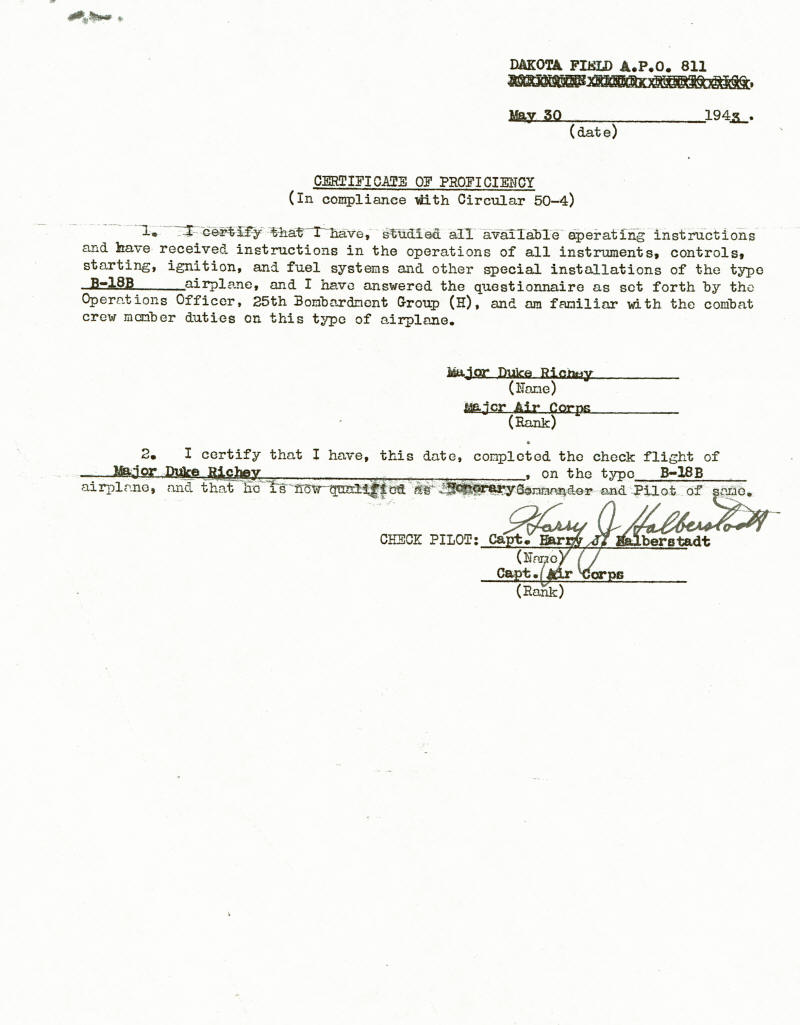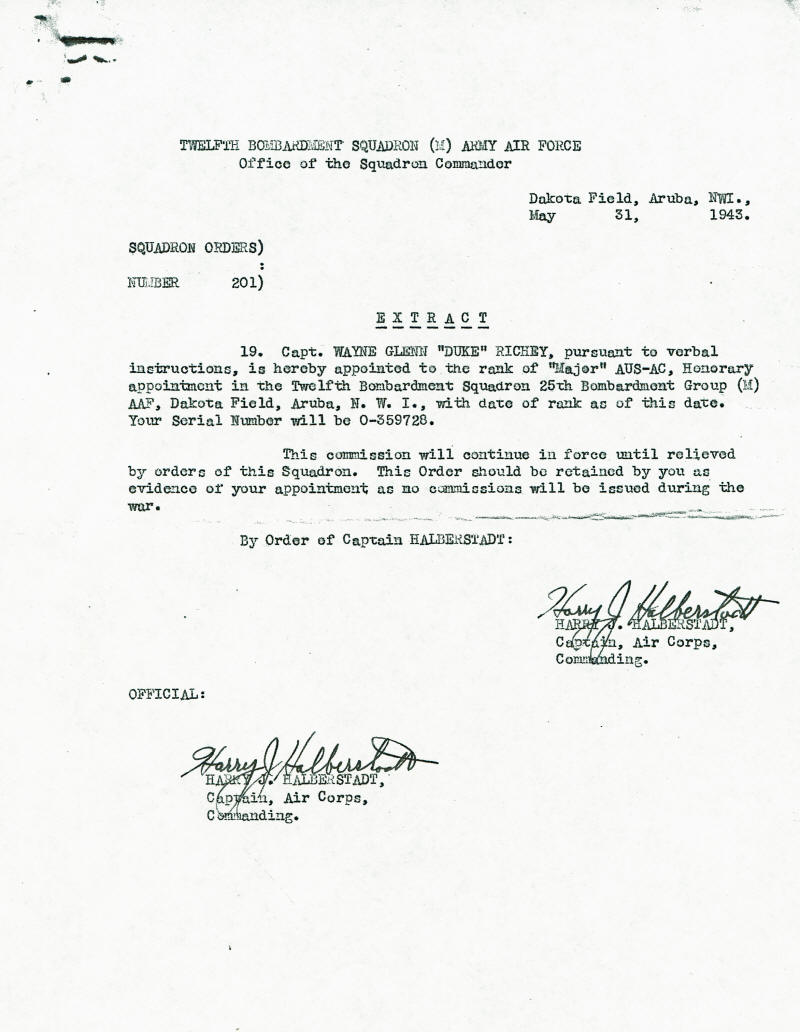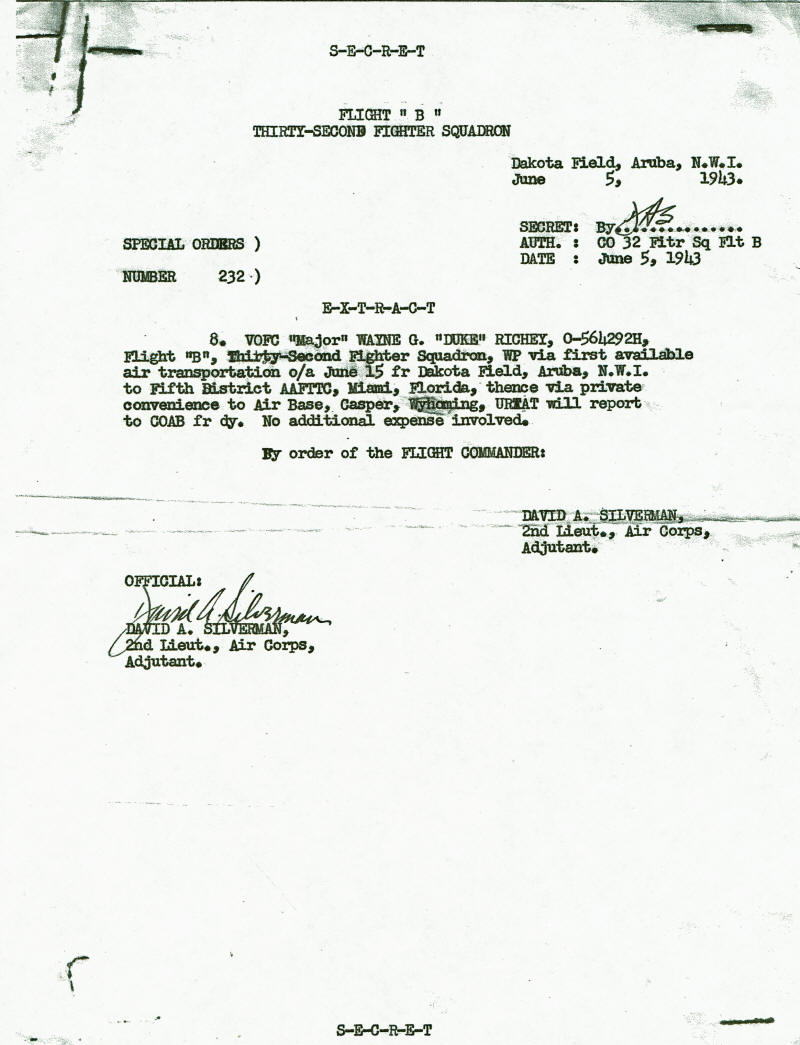 PHOTOS FROM JOE SERAROLI AND HIS DAD IN WW-II