SITE USAGE - MAY 2011
These charts, which are generated by the server provider, indicated how much the site is being used, the number of hits the site receives each month, the amount of material that is view and much more information.
The first chart, the bar graft shows the number of hits in green, the number of files viewed in blue and the number of pages viewed in light blue. The yellow and orange bars indicated the sites and the visitors. The red bars are the amount of information, in KBytes that were viewed. This chart covers the past year, 2009/2010.
As new charts are provided by the server company who hostess the site I will post them on this page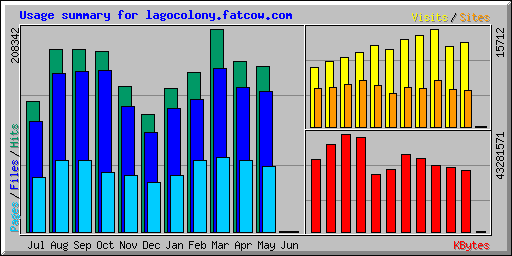 This next chart provides the same information in numbers.
Summary by Month

Month

Daily Avg

Monthly Totals

Hits

Files

Pages

Visits

Sites

KBytes

Visits

Pages

Files

Hits

185

156

112

26

36

24718

26

112

156

185

5465

4651

2182

436

5864

27198517

13529

67661

144189

169437

5825

4955

2435

428

6063

28370266

12841

73059

148662

174754

6720

5402

2463

506

7417

29439302

15712

76377

167483

208342

5858

4839

2636

521

6231

32612673

14601

73830

135499

164027

4763

4085

1859

454

6322

34317420

14080

57658

126657

147678

3875

3294

1641

401

5344

27539411

12440

50901

102137

120132

4987

4307

1929

435

6639

25560495

13050

57891

129232

149617

5991

5331

1984

383

7516

41618214

11875

61521

165262

185743

6258

5478

2448

373

6870

43281571

11197

73447

164341

187751

6043

5241

2356

339

6272

38672802

10517

73047

162485

187337

4326

3666

1803

306

6199

32024868

9516

55906

113657

134108

Totals

360660257

139384

721410

1559760

1829111