RETURN TO THE LAGO HIGH SCHOOL HOME PAGE
THE WATER TANKS
They stored the fresh water for the Colony but they were also the Billboards for each Senior Class.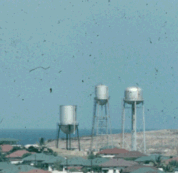 Every year the water tanks got painted by the seniors. Always at night and I, for one having made the trip, can tell you it was pretty scary, the wind blowing and it was much higher when you got up there than it looked from the ground.
Hello from Pam (Mathiasen) Wade ~ Class of '56
Hi Larry: In response to your email of 10/22/05 where some of our male classmates laid claim to having painted '56 on the water tower. I have checked with Deanna Chapman to verify my memory of a group of us girls painting '56 on the water tower back in our high school days. She remembers as well. Now I don't remember whether it was before the boys, after them, or what the time frame was, but do give the girls (at that time) some credit!!!!!!!!! I know that Dee and I were there; I'm not sure about the others. I'm trying to find out who else was along on this escapade.
Take care.
Pam
Larry's note: Pam, I bow before you. I personally had no idea that you girls ventured out in the dark of night to ascend to that scary height to proudly leave the mark of the class of 1956 painted on the side of said mentioned water tank. Good show!!
The photo below was sent in by Pam, she will try and get a better scan and see if the '56 show up on a higher resolution scan.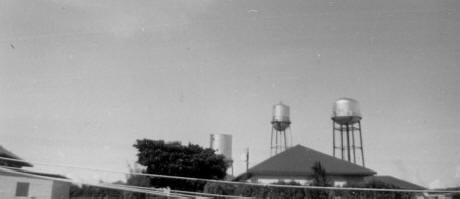 RETURN TO THE HIGH SCHOOL PAGE