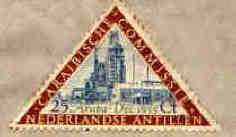 LAGO POST OFFICE
and
MAGAZINE STAND
The first photograph comes from the scrapbook purchased on EBay. On the back of this photo it indicates that this was the first Post Office in Lago Colony. Bachelors Quarters can be seen in the background. The photograph is not dated but the photos were from the period 1938 to 1942. The cars in front of the Bachelors Quarters put it in that time period.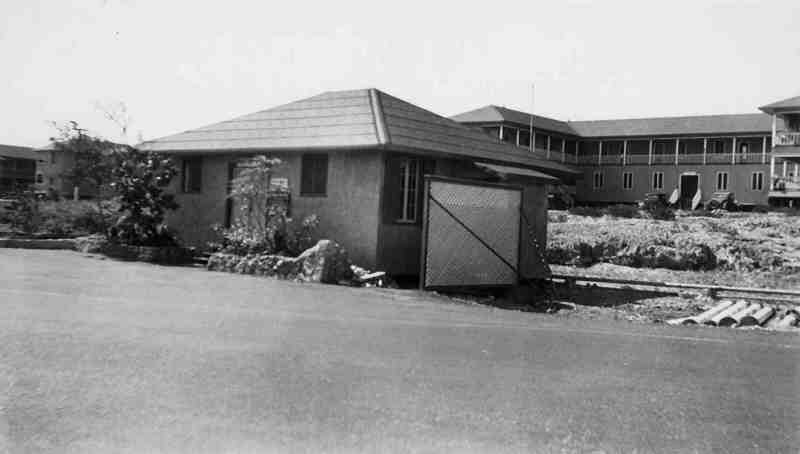 The next photos are of the Post Office I remember.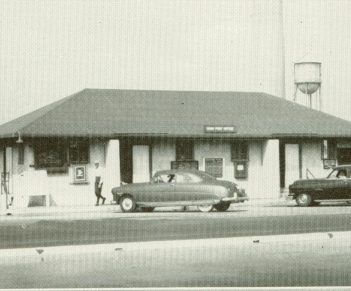 Hi Danny, you had asked for a picture of the Post Office - - found one here.... My Dad's 1952 Desoto is on the right, and the Massey's Hudson is the other car - - - the young man in the picture is Dennis Hynd, a classmate of mine in the class of '53. Al Leak.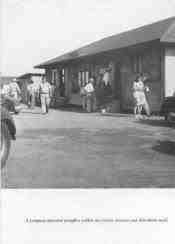 Lago had their own Post Office where employees each had a mail box and they could purchase stamps and mail letters, as well as packages. The postage stamps used were Dutch. Mail was put in boxes two times a day, so most employees checked the mail both at noon and on the way home after work. It was a busy place during these shift changes. There was no home delivery of mail.
THE MAGAZINE STAND
At one time there was a magazine stand next to the post office that was owned the Norcom's and operated by Mrs. Norcom. The magazine stand can be seen in the photo above, it is a wood structure with a almost flat roof and located to the left side of the Post Office, as you faced the Post Office. Here you could purchase magazines from the store or have a subscripting and the magazine was delivered to the employee's home. The home delivery were made by boys from the High School. This was a private business run by the employee's wife. When the Norcom's left Aruba they sold the magazine stand to Mrs. Wade. She moved the business to a rented space in both the Old Esso Club and then in the New Esso Club when it opened. The Magazine Stand at the Post Office was removed. The photos of the Magazine Stand were provided by Stan Norcom.