THE PINK CONCRETE
AND CAST IRON SEWER PIPES
Electrical lines that were not on poles were laid on the surface of the coral, it was to costly to try and trench the coral with jack hammers. These cable were in conduit protected by pink concrete, to designate that they had live wires inside the concrete.
These concrete lines as well as the above ground sewer pipes were the "pathways" used by the kids of Lago Colony. Every kid could "walk the pipes" and most knew where the pink concrete led to and used it as a pathway. Both the cast iron sewer pipes and pink concrete were much cooler than the asphalt roads. Well, maybe not cool, but cooler than the roads, they were still hot but could be walked barefooted, the roads could not be walked on in bare feet, no matter how much callus you had on the bottom of your feet.
The photo below taken by Steve Fremgen in 2005 shows the "pink concrete" above the Little Lagoon, leading to the Maga Cora wells.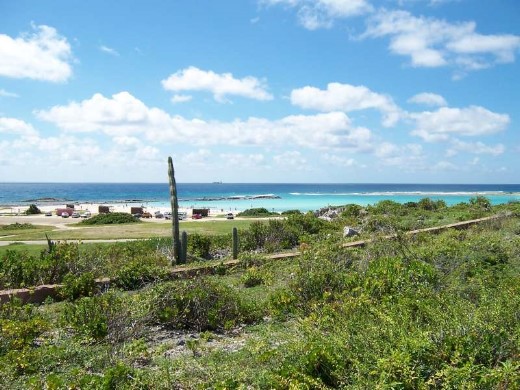 A close-up of the "pink concrete".
In this photo, on the right hand side, the sewer pipe can be seen going from the T-Dock to the Big Dock. These sewer pipes ran all over the Colony. Photo by Stan Norcom.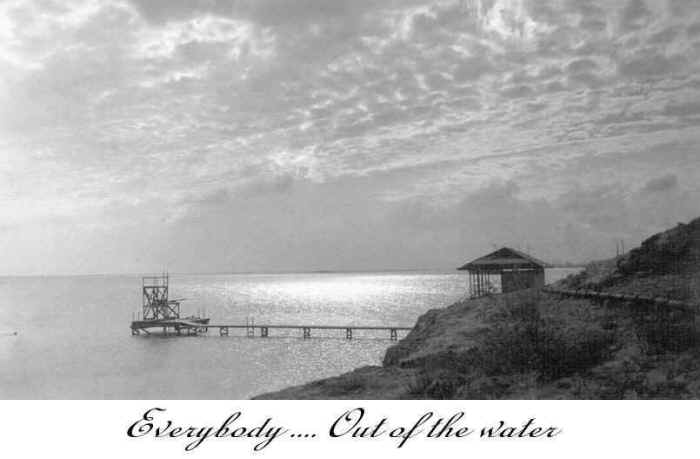 THIS PHOTO WAS SUPPLIED BY BILL MOYER