LAGO COLONY
VIEWS OF LAGO COLONY IN THE 1940's & 1950's
LOWER PHOTO: AERIAL VIEW LOOKING WEST, COLORADO POINT IN FOREGROUND, LAGO COLONY, CENTRAL MIDDLE; TANK FARM, BACK GROUND RIGHT AND THE REFINERY, CENTER, WITH SAN NICHOLAS IN THE BACKGROUND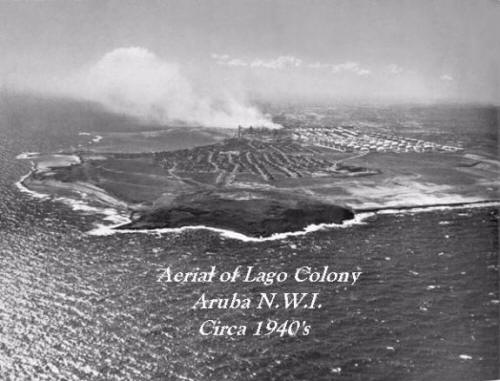 AN VIEW OF THE COLONY TAKEN FROM THE AIR OVERLOOKING THE HOSPITAL
CLICK ON PHOTO TO GO TO LARGER PHOTO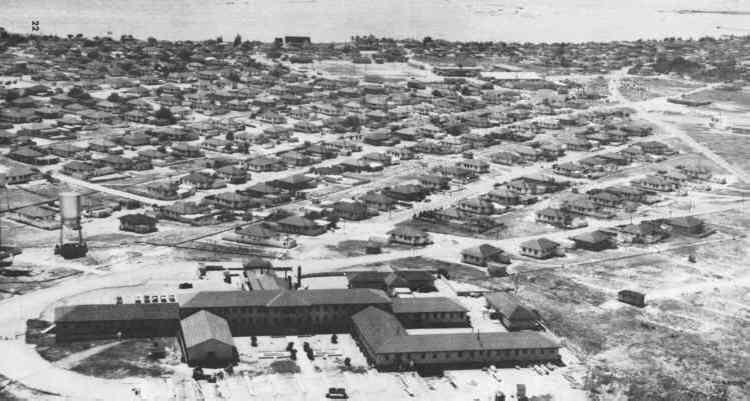 The following three photos are photographs of photograph, taken by Dr. Gene Williams in the office of Mr. Henry Caffi, in Lago Heights in May of 2005. I do not know the year the original photos were taken. In one I think you can see the new jail at the old airport.
Mr. Caffi was the Public Relations Director of Lago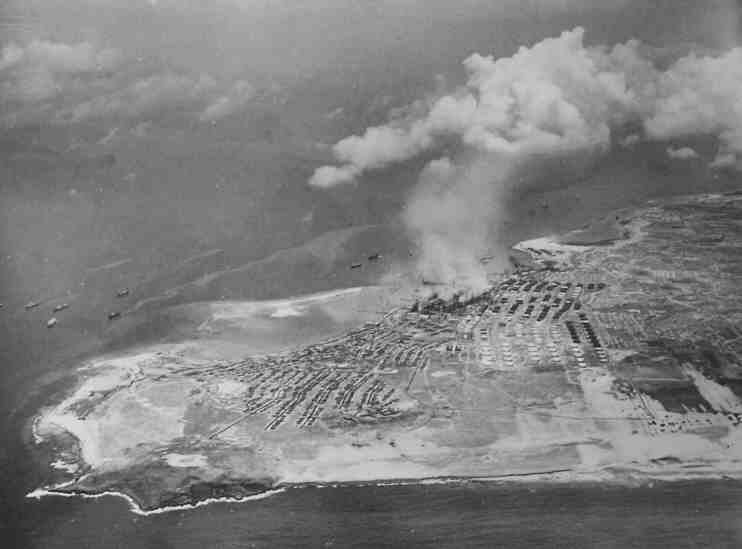 This photograph give you a good view of Aruba and Venezuela in the background, it is interesting to see how really close they are from this view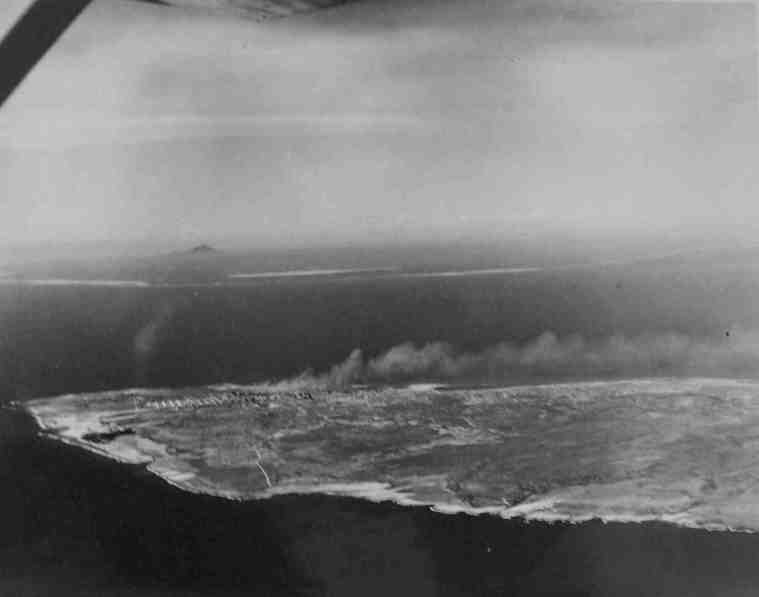 LOWER PHOTO: CIRCA 1950's ,HOUSES IN LAGO COLONY ON THE LOWER ROAD, SMOKE STACK FOR # 2 POWER HOUSE WITH THE CAT CRACKER BEHIND AND LEFT OF THE SMOKE STACK. THE FRESH WATER TANK SERVED THE REFINERY NEED. WATER TANKS TO SERVE THE COLONY WERE LOCATED ON HOSPITAL HILL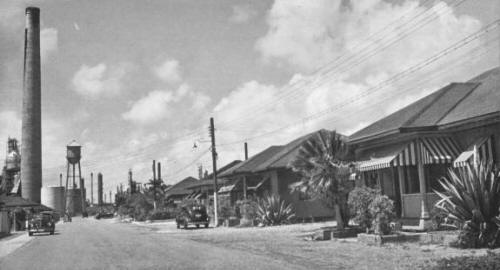 A TYPICAL HOUSE IN LAGO COLONY IN THE 50's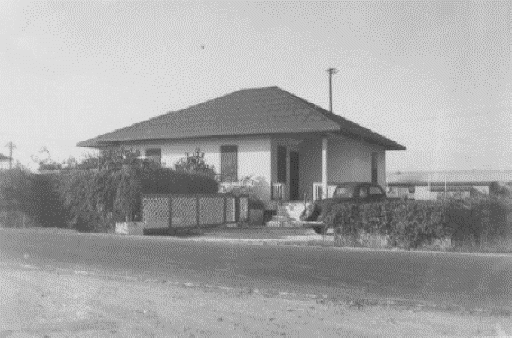 ANOTHER VIEW OF THE SAME HOUSE
ANOTHER TYPICAL BUNGALOW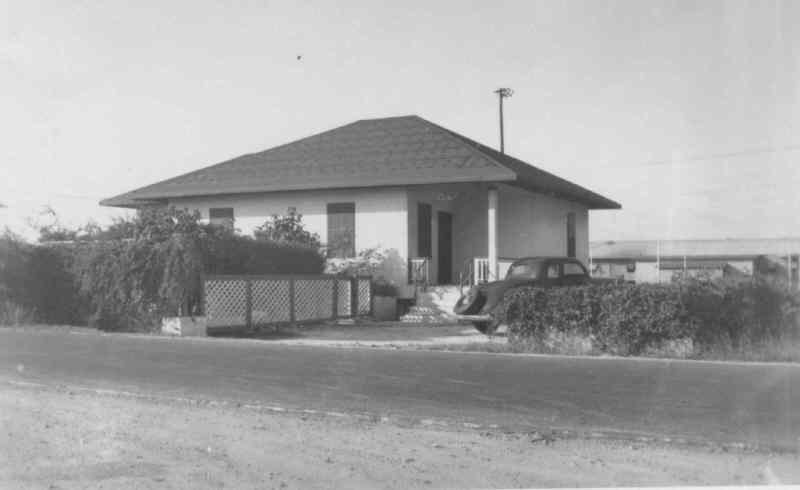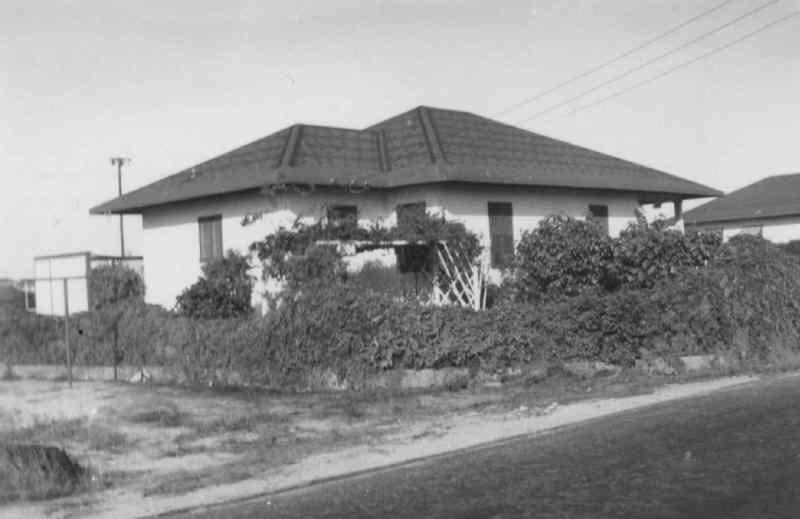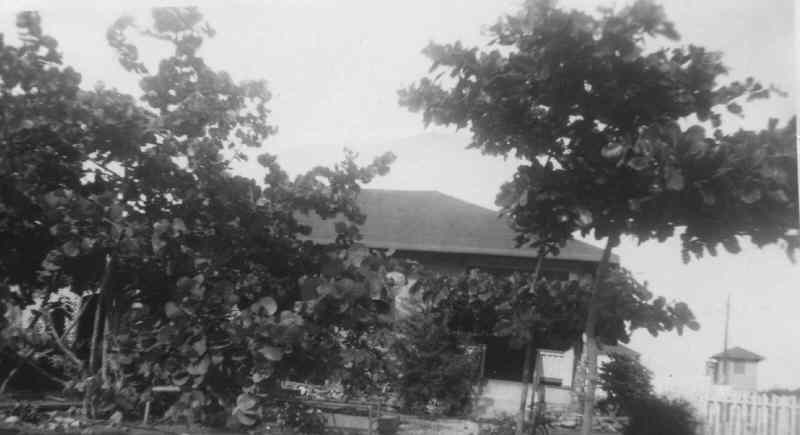 BUNGALOW 385, WHERE THE FLETCHER'S LIVED FROM 1947 TO 1957
CLICK ON PHOTO SEE BUNGALOW 385 PAGE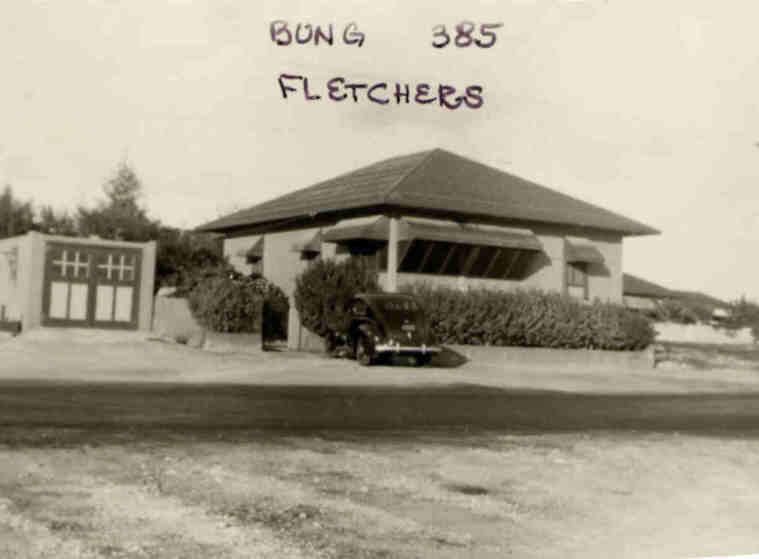 BUILDING IN THE COLONY, THIS PHOTO IS DATED ON THE BACK, JULY 9, 1946. THERE IS NO DESCRIPTION AS TO WHERE IT WAS TAKEN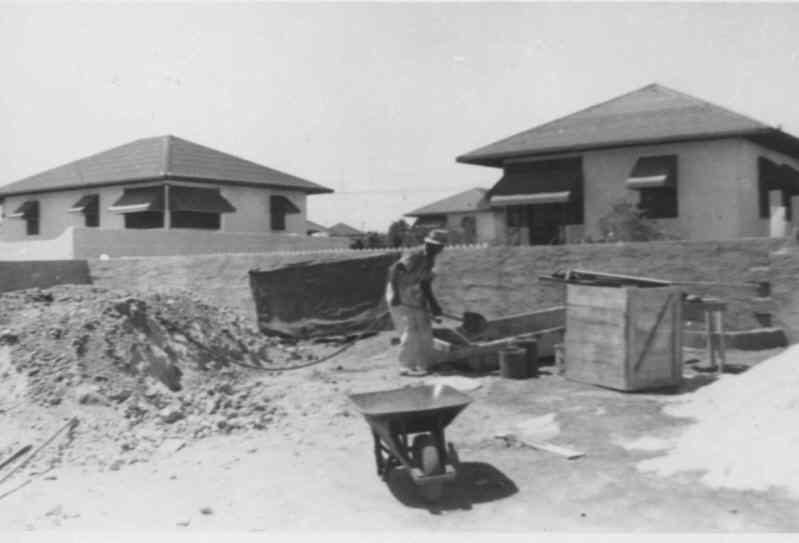 BUNGALOW 601, TAKEN BY HOMER. NOTE THE WATER LINE RUN ON TOP OF THE CORAL. ALL WATER PIPES RAN ON TOP OF THE CORAL SO IN THE MIDDLE OF THE DAY THE COLD WATER WAS VERY-VERY HOT, HEATED BY THE SUN. THAT IS A GREAT OLD PACKARD. IT IS A 1936 PACKARD SUPER 8, HOMER SAID IT HAD A MILE LONG HOOD AND POWER BREAKS. HE LATER BUILT A PATIO AND GARAGE WHERE THE CAR WAS PARKED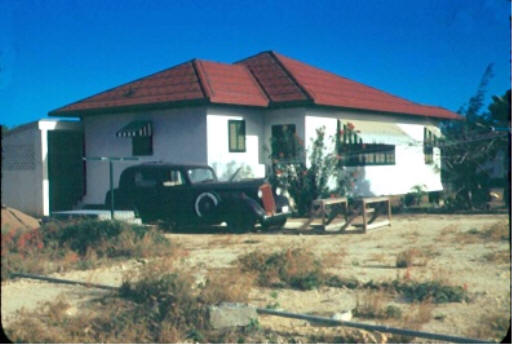 LOWER PHOTO: LAGO COLONY, CIRCA 1950's; ROGER'S BEACH AND "T" DOCK. THE NEW ESSO CLUB IS UNDER CONSTRUCTION IN BACKGROUND, SEE THE CRANE BOOM IN CENTER-BACK OF THE PHOTO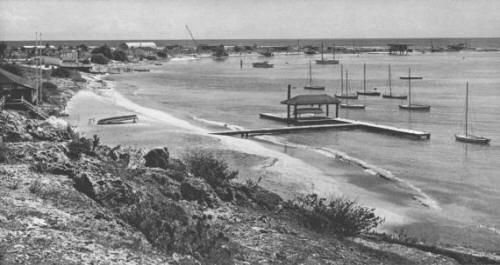 Later, the snipes you see in the above photograph were replaced by Sailfish and still later by Sunfish.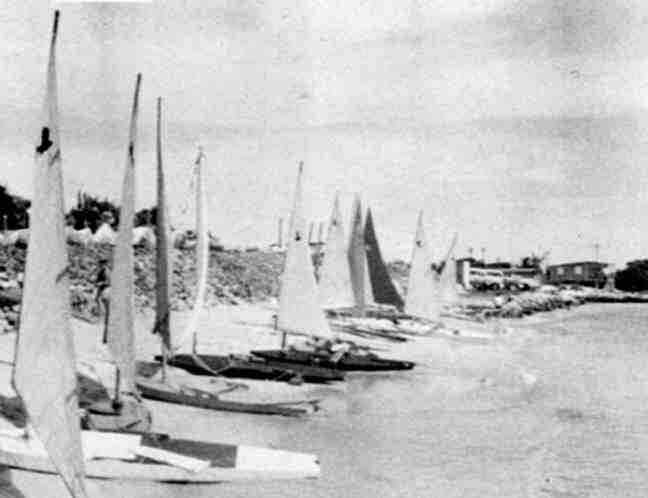 In the photo below, Bill Cann, with sunglasses, he was US Army personnel, Kamma Jensen and unknown person at the building above the T Dock during World War II. The ledge Bill is propped against is the opening to the bar where beer and drinks were sold. For Club Tickets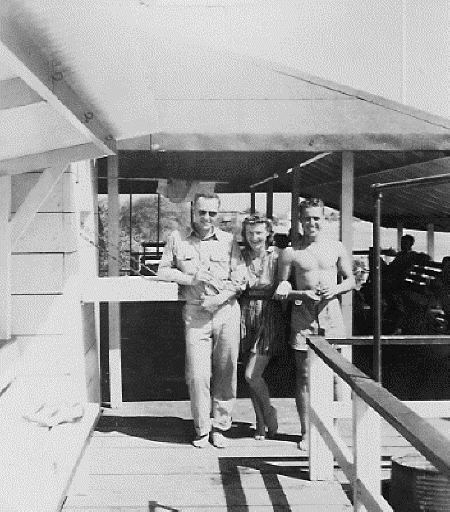 THE PHOTO BELOW IS FROM THE DON BLAIR COLLECTION, IT SHOWS THE BUILDING ON THE CLIFF ABOVE THE T-DOCK, THE SAME BUILDING AS SHOW IN THE PHOTO ABOVE.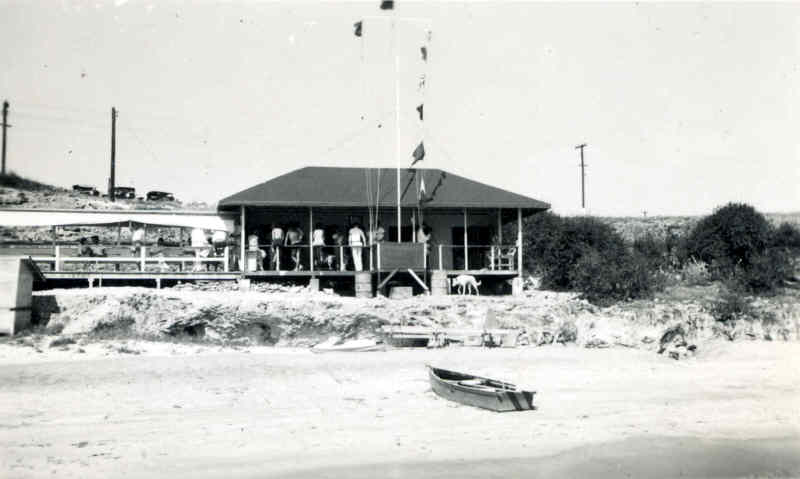 THE MARINE RUNWAY FOR PULLING BOATS OUT OF THE WATER TO WORK ON THEM. THIS WAS JUST EAST OF THE T-DOCK. THE RED ROOF OF THE STRUCTURE AT THE T-DOCK CAN BE SEEN IN THE CENTER-RIGHT OF THE PHOTOGRAPH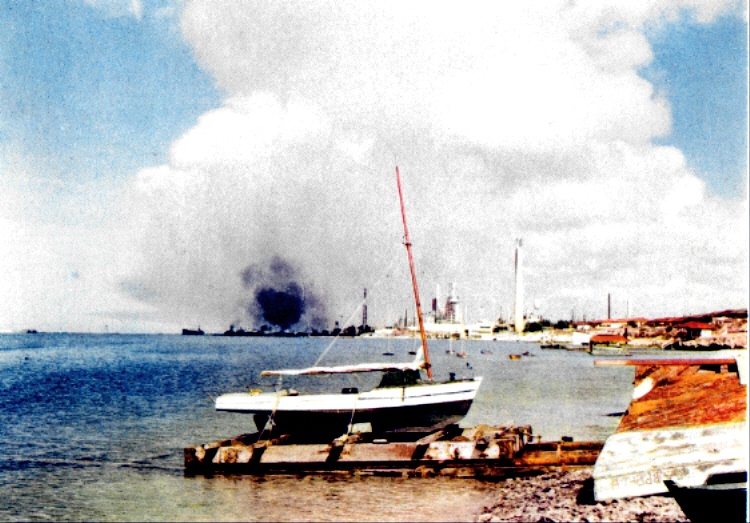 The photo below sent in by Susanne Wirth (Gravendijk), it was sent to her by Doug Fraser, and taken from Colorado Point. It shows the Colorado Point Apartments, Butch Hudson's house which was Saybolt housing, the Sea View Apartments, New Houses, the Colony older houses with the red roofs and the refinery in the background