GROUP PHOTOS
I MADE EACH GROUP WITH A DIFFERENT COLOR SO AS TO DISTINGUISH THE GROUPS. I ALSO ADDED A HORIZONTAL LINE BETWEEN EACH GROUP.
THE SEA SCOUTS
SEA SCOUTS IN 1955 - PHOTO FROM STAN NORCOM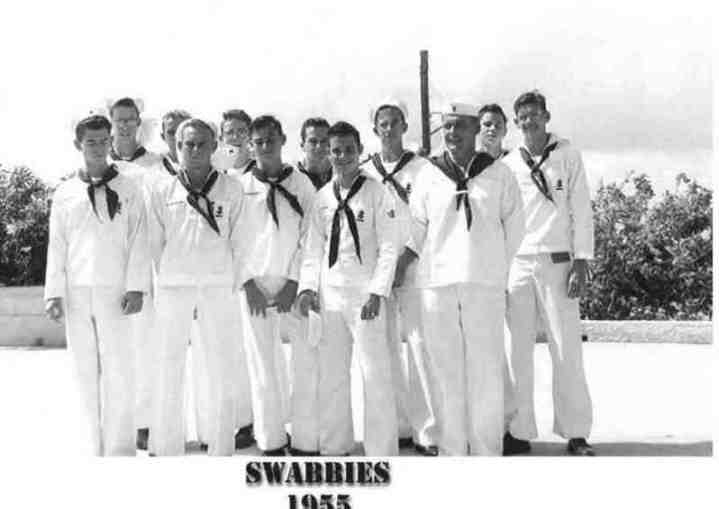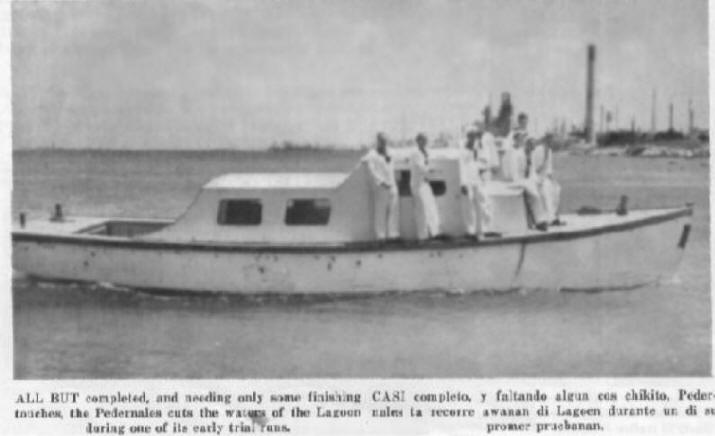 SEA SCOUTS BOAT WITH GROUP TIED TO DOCK, DATE UNKNOWN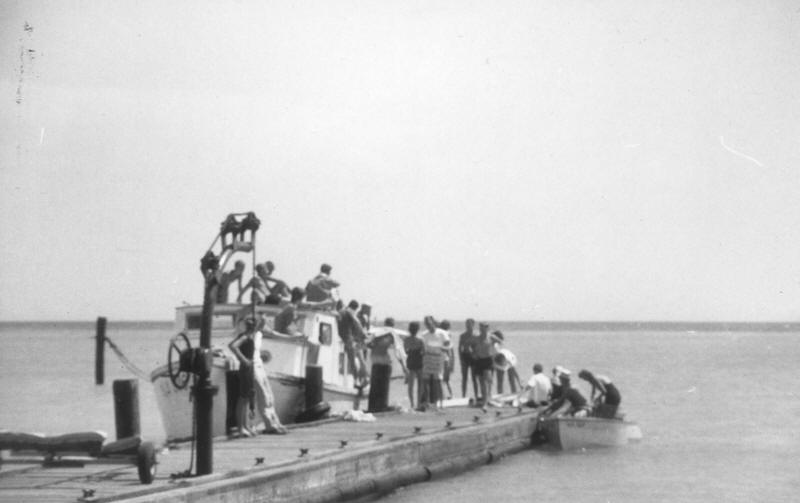 ---
THE FOLLOWING GROUP PHOTOS ARE FROM THE EBay SCRAPBOOK.
CLICK ON THE FIRST PHOTOGRAPH TO SEE WHAT IS WRITTEN ON THE BACK OF HE PHOTO.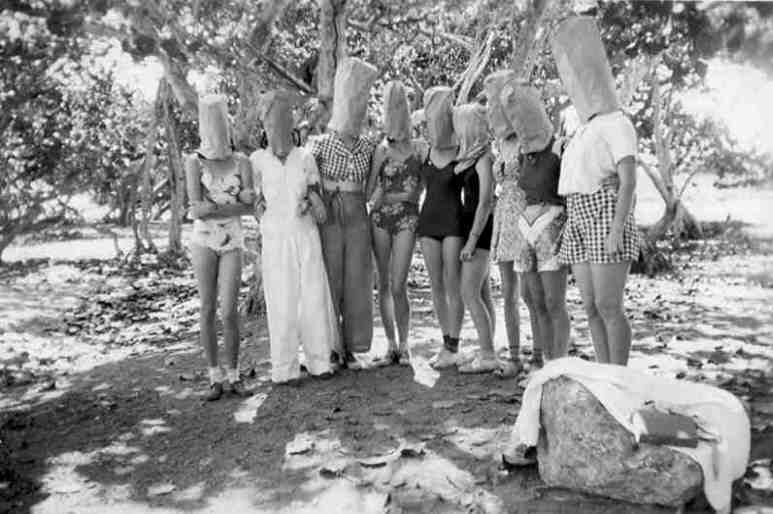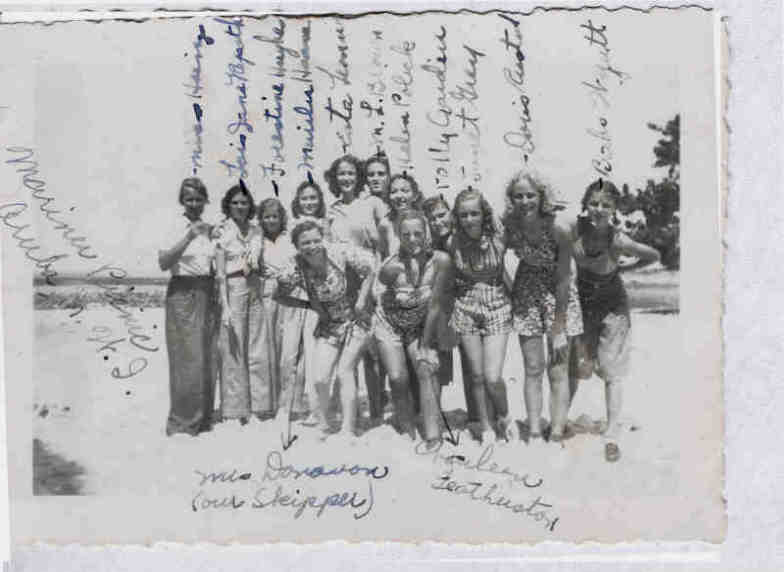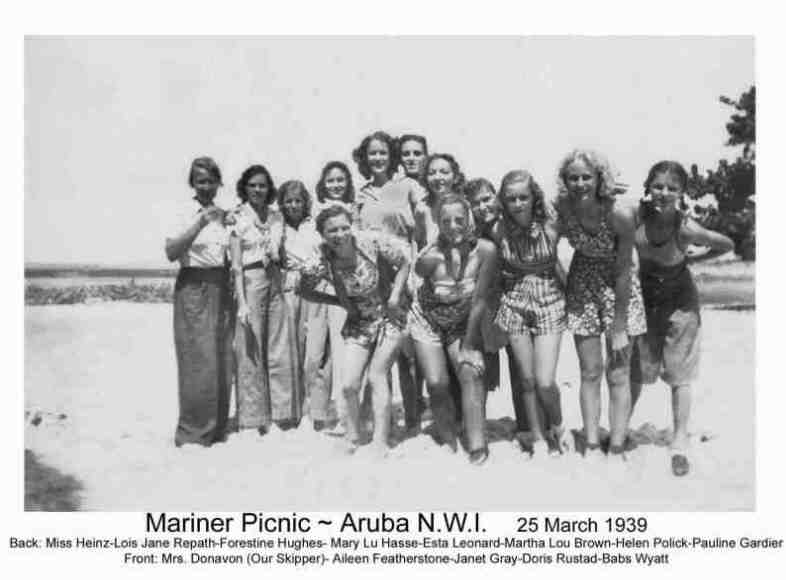 ---
GIRLS ON AN OUTING
The girls on an outing into the cunucu, probably around 1955 or 1956. Photo submitted by
Pam (Mathiasen) Wade.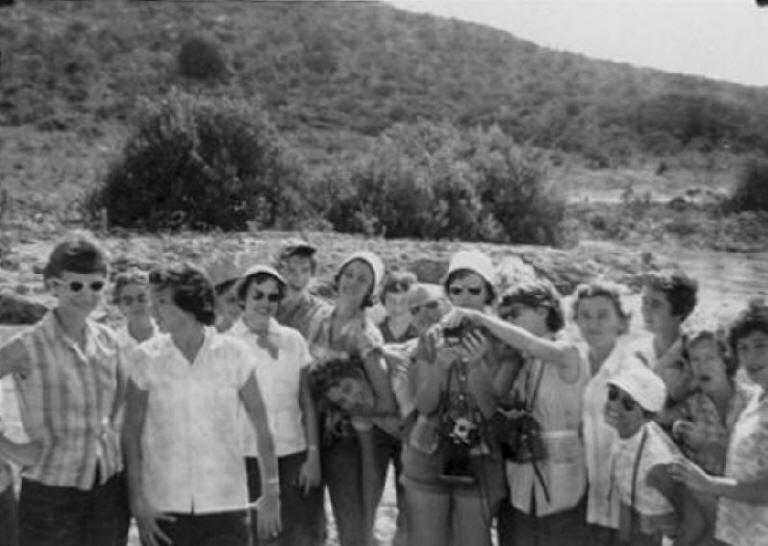 Left to Right: Pat Osborne, Teacher, Kay Borbonus, Ann Nixon (hidden), Alice Eaton, Janet Opdyke, Paula Massey, Jane Tucker, Maureen Daly (hidden), Mary Wilson (in headlock), Patty Pakozdi, Mary Ellen Straub (face is hidden and I'm not totally sure about this), Sharon Pace, Terry Richey, Loesje Koopman, Marjie Faunce, Elaine Gruenberg. Thanks Pam.
---
GIRL SCOUT TROOP SUPPLIED BY MITSY RAE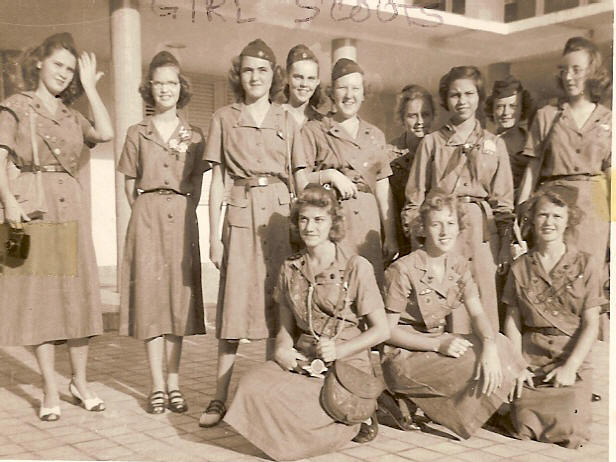 Left to right, standing: Rose Ann Moyer, Kay Norris, Sharon Carroll, Gloria Fulton, Mary Kidd, Elna Harris (?), Nancy Koopman, Thea Perrin, Aileen Mac Reynolds. Front row: Grace Macrini, Yvonne Hagendoorn, Nettie Gregersen
---
MARINERS - 1956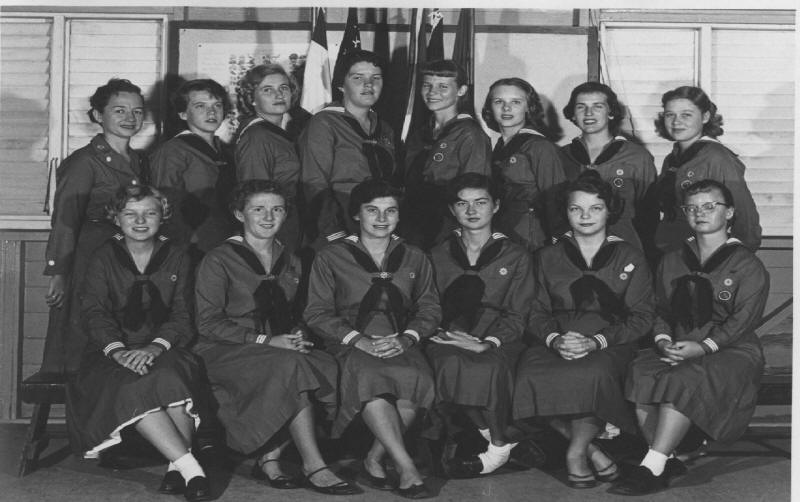 ---
A PARTY AT THE SPITZER'S HOUSE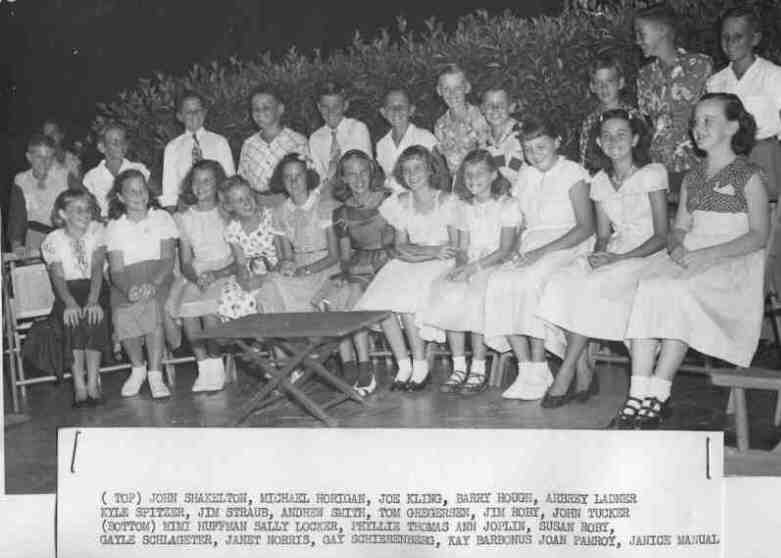 CLICK ON PHOTO ABOVE TO SEE LARGER VIEW
---
WHILE I WAS IN ARUBA BRENDA (ENGLE) WILMES GAVE ME THE PHOTO BELOW. THANKS BRENDA.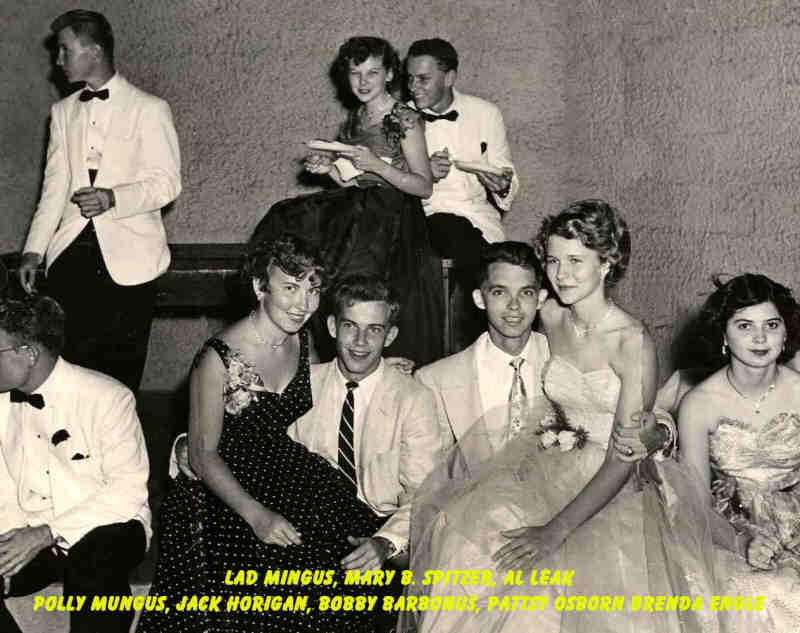 ---
A GROUP PHOTO TAKEN IN THE JENSEN'S PATIO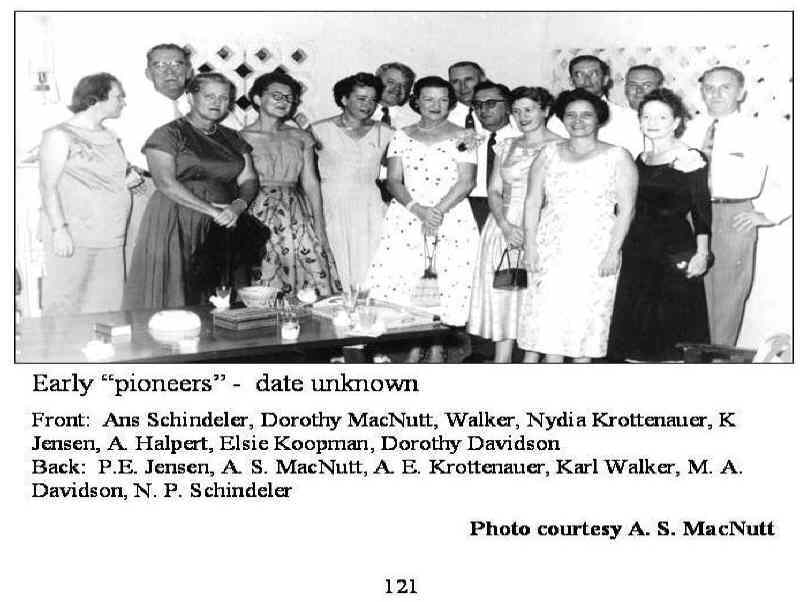 Dan,
That picture (the one above) was included in "The Lago Colony Legend – Our Stories", third edition, page 121 wherein the source of the photo and the identities of the subjects is noted. Sorry for the quality. I aimed to get the picture on the page, figuring it would be same as original scan.
Vic Lopez
---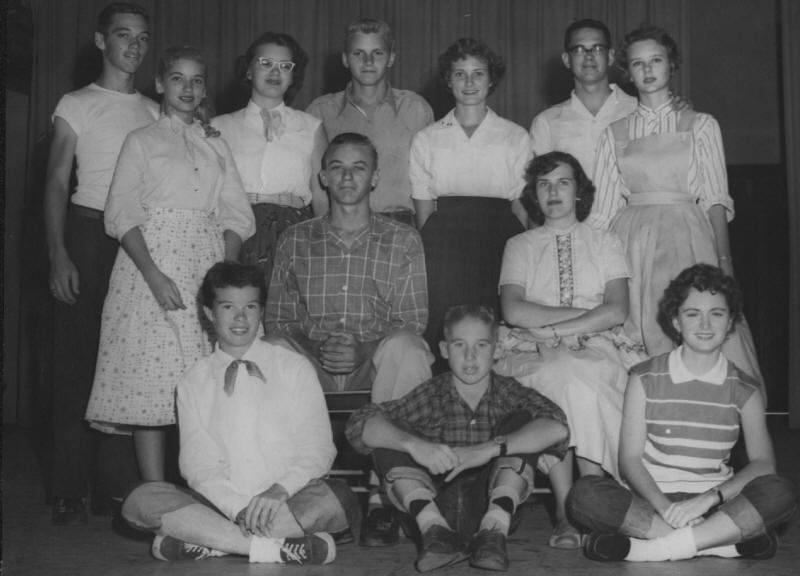 Standing, left to right: Tom Gregersen, Inez Koster, Kay Barbonus, Bill White, Hazel Marvick, Dan Lynch, Gayle Schlageter.
In chairs: John Tucker, Alice Eaton. On the floor: Sidney DeWeese, Emile Robertson, Linda Reynolds.
---
JUNIOR CHURCH - 1954
CLICK ON PHOTO TO SEE LARGER COPY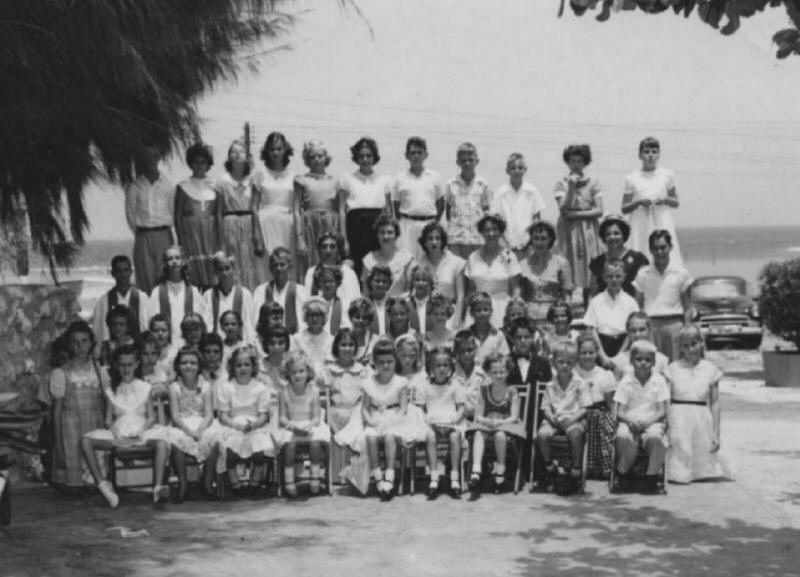 ---
CANTEEN PICNIC - DOS PLAYAS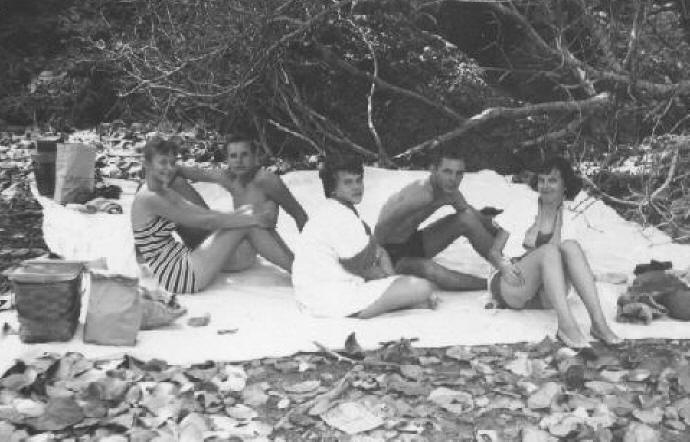 ---
QUEEN JULIANA'S VISIT, OCTOBER 1955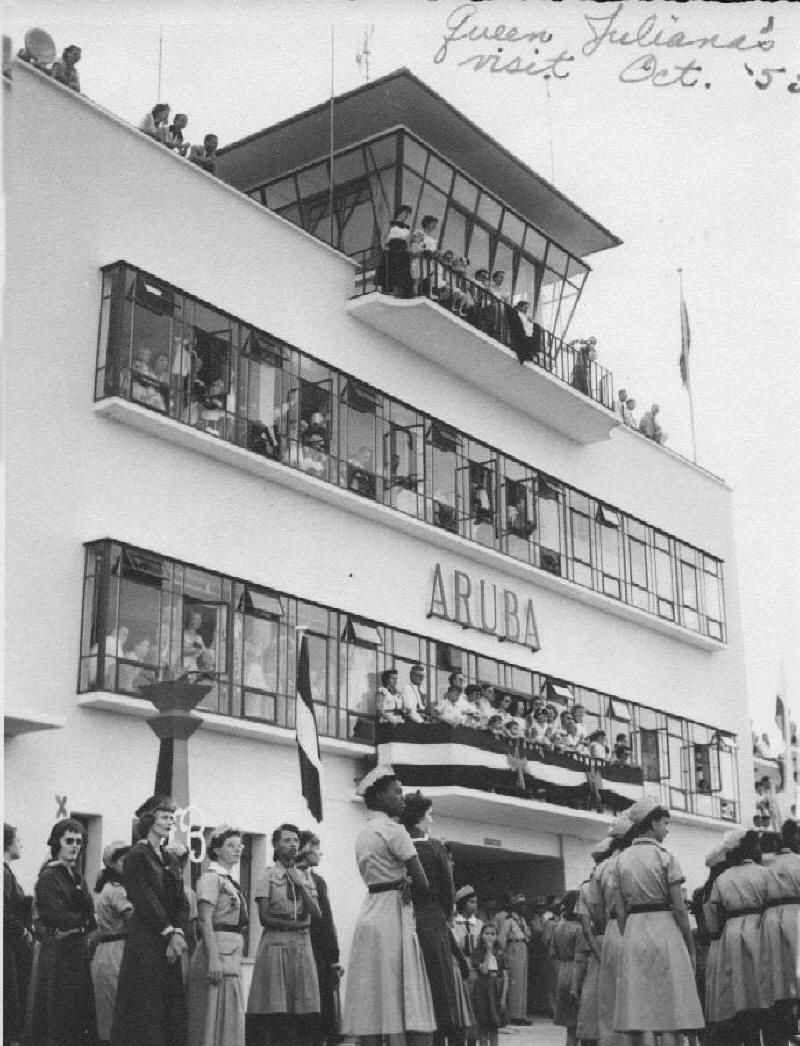 ---
ARUBA AND CURACAO WOMAN'S GOLF TEAM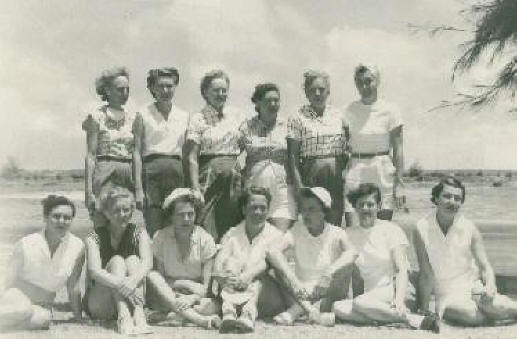 Danny, I found an old picture of the Aruba Ladies Golf Team, and also the Curacao Ladies Team. In the back row left to right ..... the Aruba Ladies :
Winnie Leak, Barbara Adams, Gladys Stephens, Billie Wilson, Frances Uhr and Chickie Keating. Front Row : Curacao Team, Gwen Fosbrook, W. Mater, Betty Rouenwens, Rea Werdt, Maria van Dan ..? ,Vivian Westbury and Renita Nicole.
The 1st hole is on the right side of the picture, and directly in back of my Mother you can see the practice sand green.
There is no date on the picture, but I would guess the early 1950's. ... hope u can use this in your albums, keep up the good work - Al Leak .
---
THE TWO PHOTOS ABOVE WERE SUBMITTED BY BRYAN McCALL.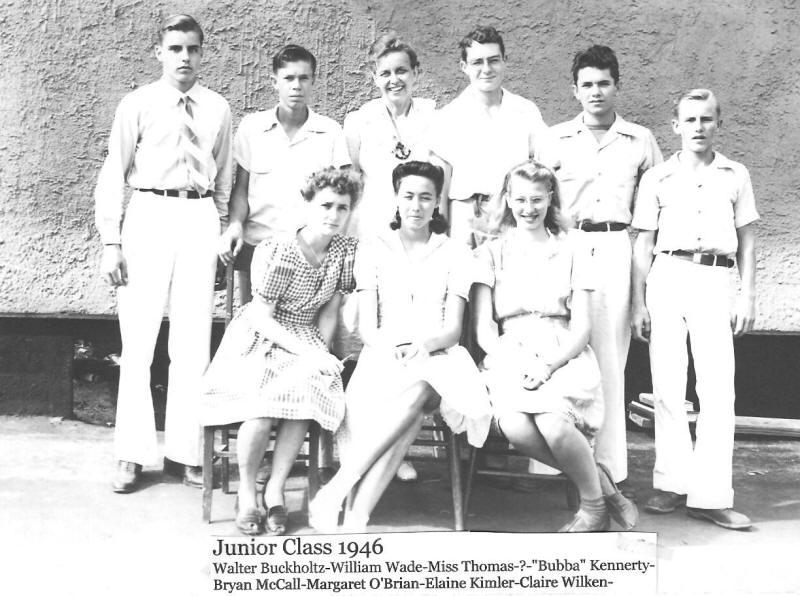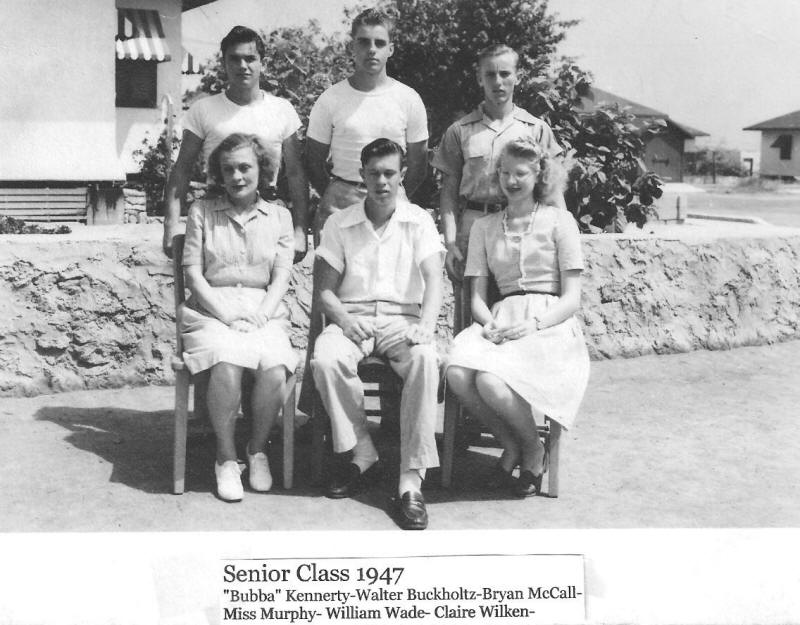 ---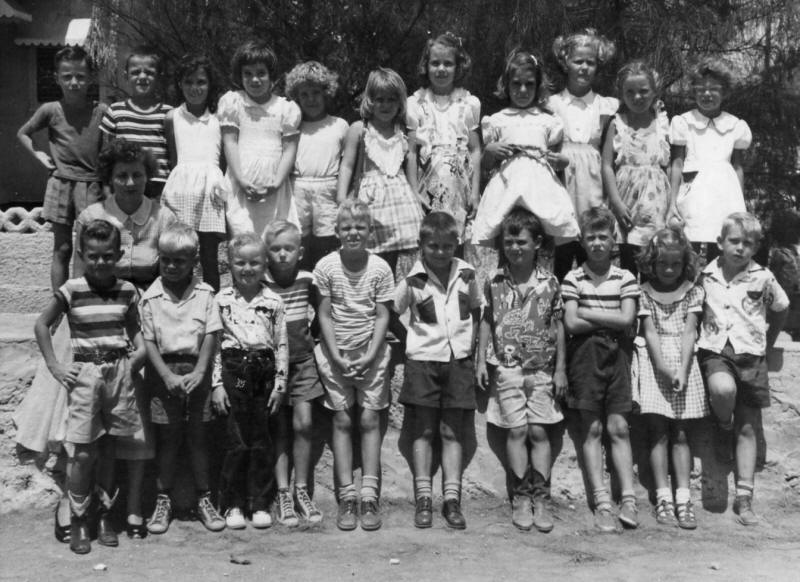 MYSTERY PHOTO? CAN ANY ONE TELL ME WHAT CLASS THIS IS, WHO IS THE TEACHER. CLICK ON THE PHOTO TO GO TO A LARGER COPY, THEN CLICK ON THAT COPY TO RETURN. THIRD FROM RIGHT, FIRST ROE, JIM CRAIG.
Well, Steve Fremgen & John Thompson sent this in:
Top row left to right: Bobby Johnson, Steve Opdyke, Trish Hendrickson, Cindy Redfoot, Ginny Zanner, Joyce Rogers, Mary Ann Proterra, Joan Kux, Wanda Turfboer, Gloria Jopling & Linnea Stanley
Teacher, between rows: RUBY MCCLAIN
Bottom row: Jimmy Lymon, Bill Ewart, Godfrey Frey, Tom Burbage, Henry Becks, John Scott, John Thompson, Jim Craig, Gail Janson and John Daley
---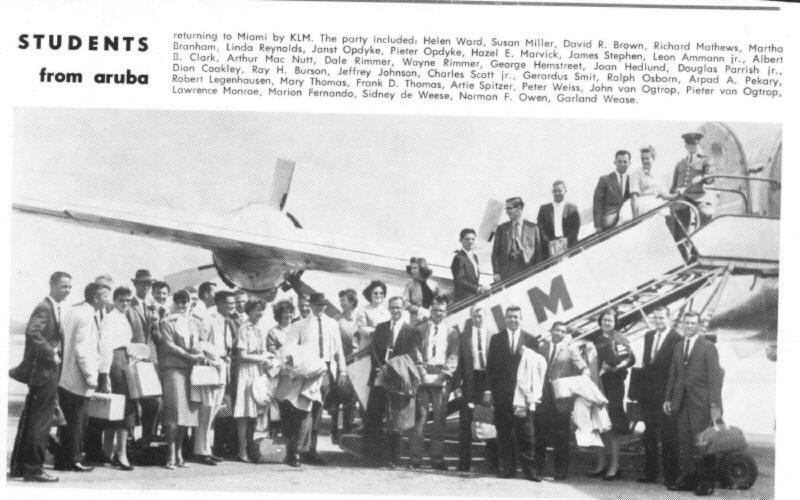 PHOTO OF COLLEGE STUDENTS BOARDING KLM TO RETURN TO SCHOOL. CLICK ON THE PHOTO TO GO TO A LARGER VIEW OF THE SAME PHOTOS
---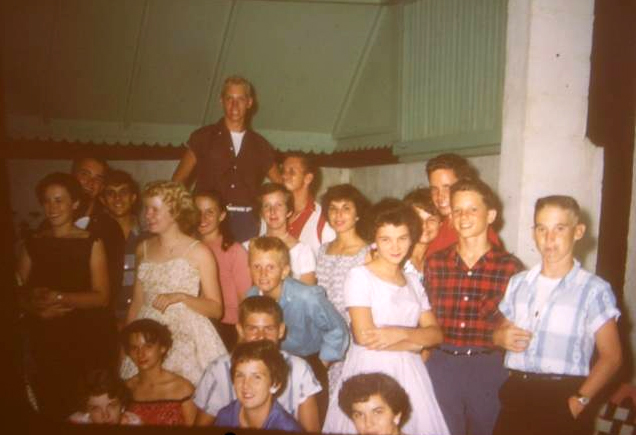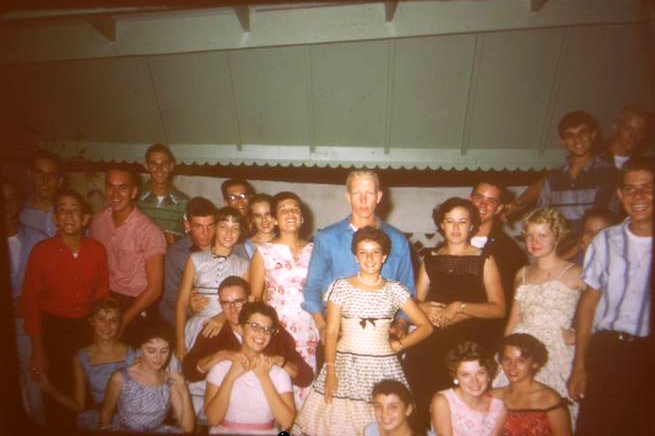 KID'S PARTY AT THE BINETTI'S HOUSE
---
JANE WILKEN'S WEDDING IN ARUBA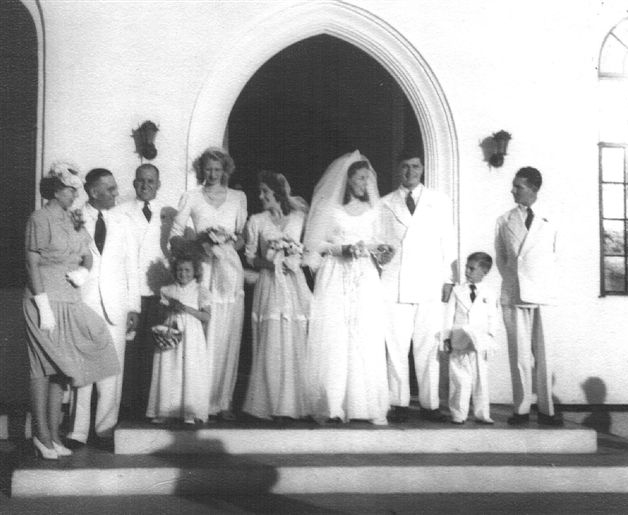 ---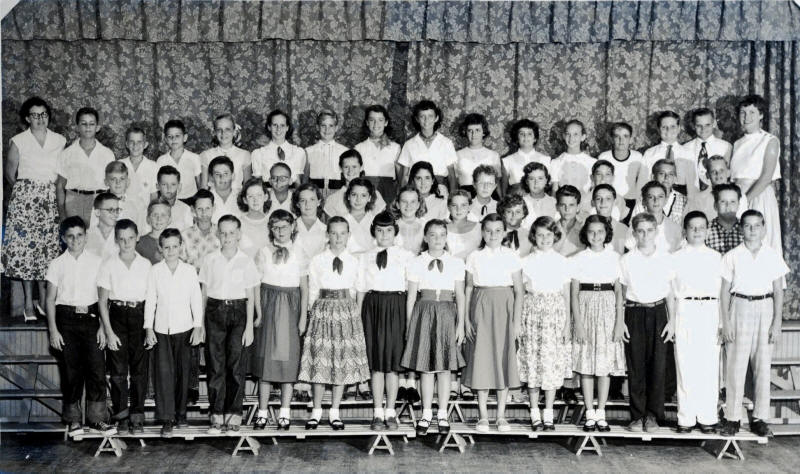 Mrs. Helen Redfoot, Michael Salzman, William Hedlund, James van Rite, Cynthia Mundt, Margaret Sherwood, Patricia Anderson, Dixie Rou, Mary Del Kling, Mary Beth Rae, Suzanne Tricarico, Linda Begin, Tres Dunlap, Michael Proterra, Clifford Wilson, Miss Miriam Herbst
Richard Monroe, Butch Drew, Frank Pekary, Adrian Sanberg, Jean Sutherland, Judith Platts, Robin Garig, Martha Walker, James McDermott, Jock Dittle, Henkie Smit
Sheldon Jones, Michael Lopez, Hans Schindeler, Prissy Whiteley, Patsy Latimer, Joanne Roll, Josephine Ritchie, Natalie Holland, Sandra Branham, Donald Smith, LeRot Marvick, Robert Keesler, Paul Schillereff
Frank Binetti, Douglas Massey, James Bruce, Robert Wyatt, Ruth Ann Berrisford, Judith Watkins, Maureen Lambert, Libby Tully, Maria Van Ogtrop, Lynda Brennan, Barbara Simon, Paul Learned, Edward Gruenberg, Stephen Ballard
This photo was taken in 1954 and submitted by Vic Lopez.
---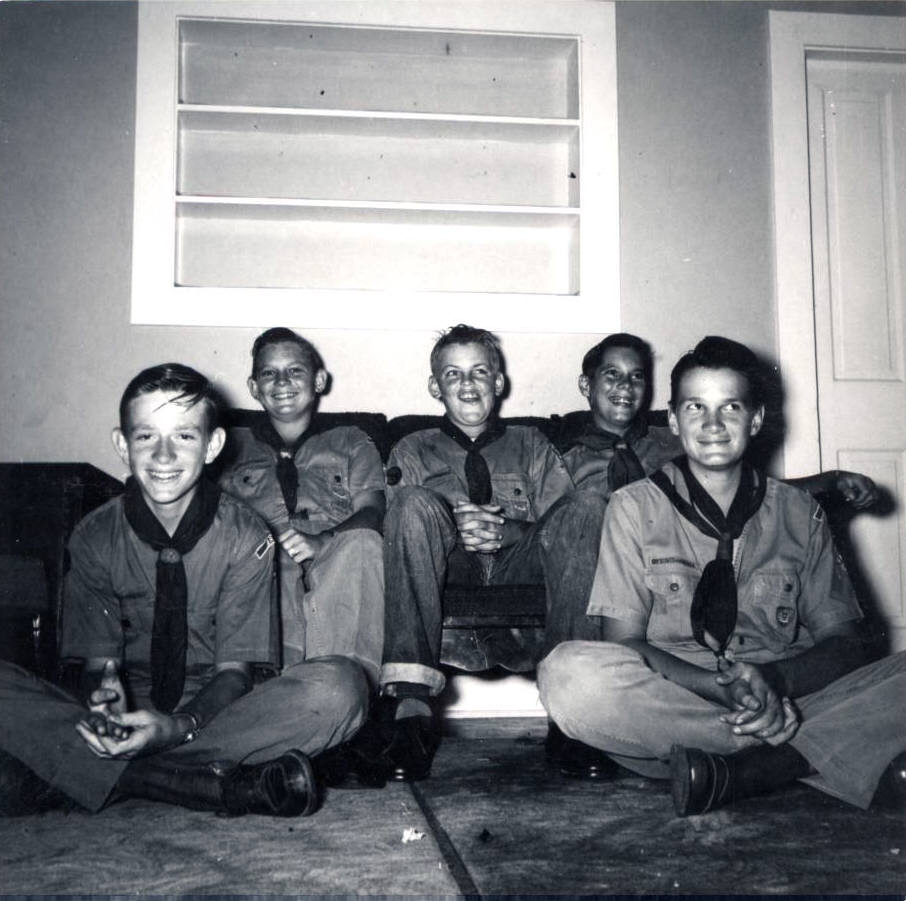 Boy Scouts, in 1956, Peter Opdyke, Gary Osborn and Chapman, can anyone help with the other two and Chapman's first name?
This photo was taken in 1956 and submitted by Vic Lopez.
---
The following photo is of the Class of 1948, this photograph comes from the Aruba Esso News, 1948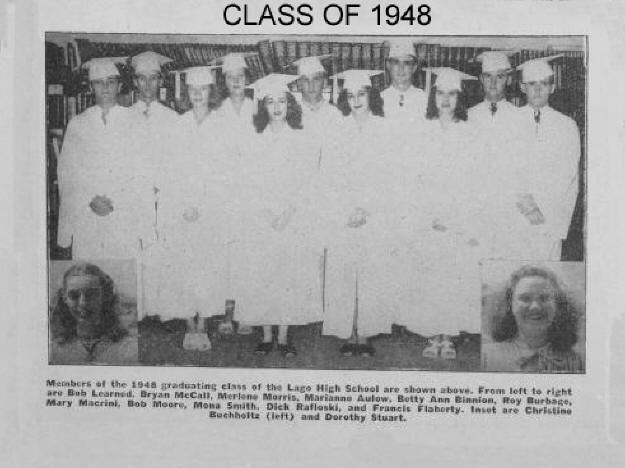 ---
This next photograph is of the Aruba Esso News, June 25, 1958 and shows the Class of 1958.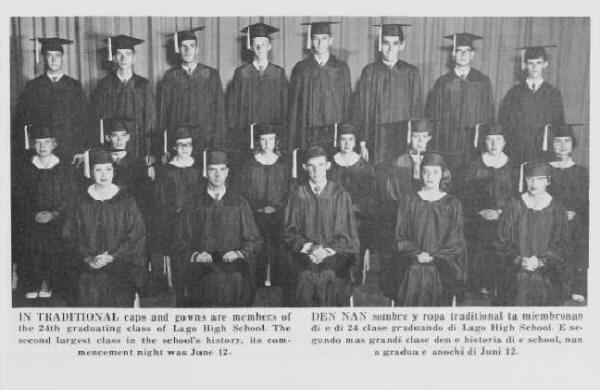 ---
This next photograph is also from of the Aruba Esso News, June of 1959 and shows the Class of 1959.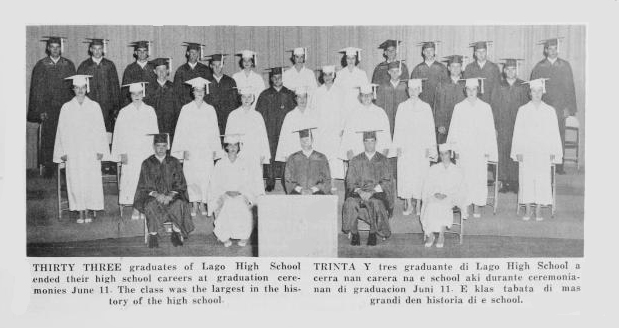 ---
The next photograph is also from of the Aruba Esso News, July 2, 1960 and shows the Class of 1960. The caption states that this is the 26th class to graduate from Lago High School and and there have been a total of 383 graduates. This averages out to just under 15 a year. Not very large classes.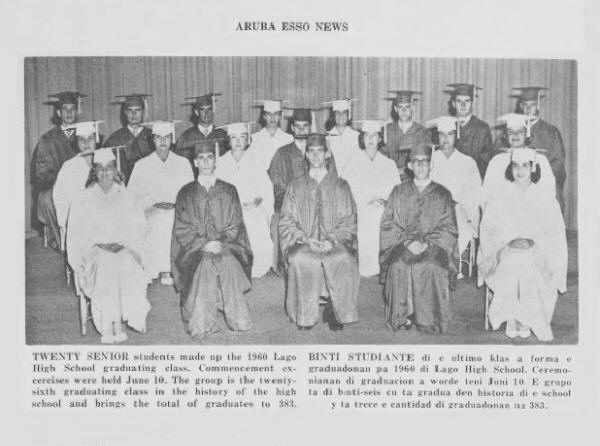 ---
Below is a better photo of the Class of 1960 sent to Larry Riggs by Paul Learner and used with his permission
CLASS OF 1960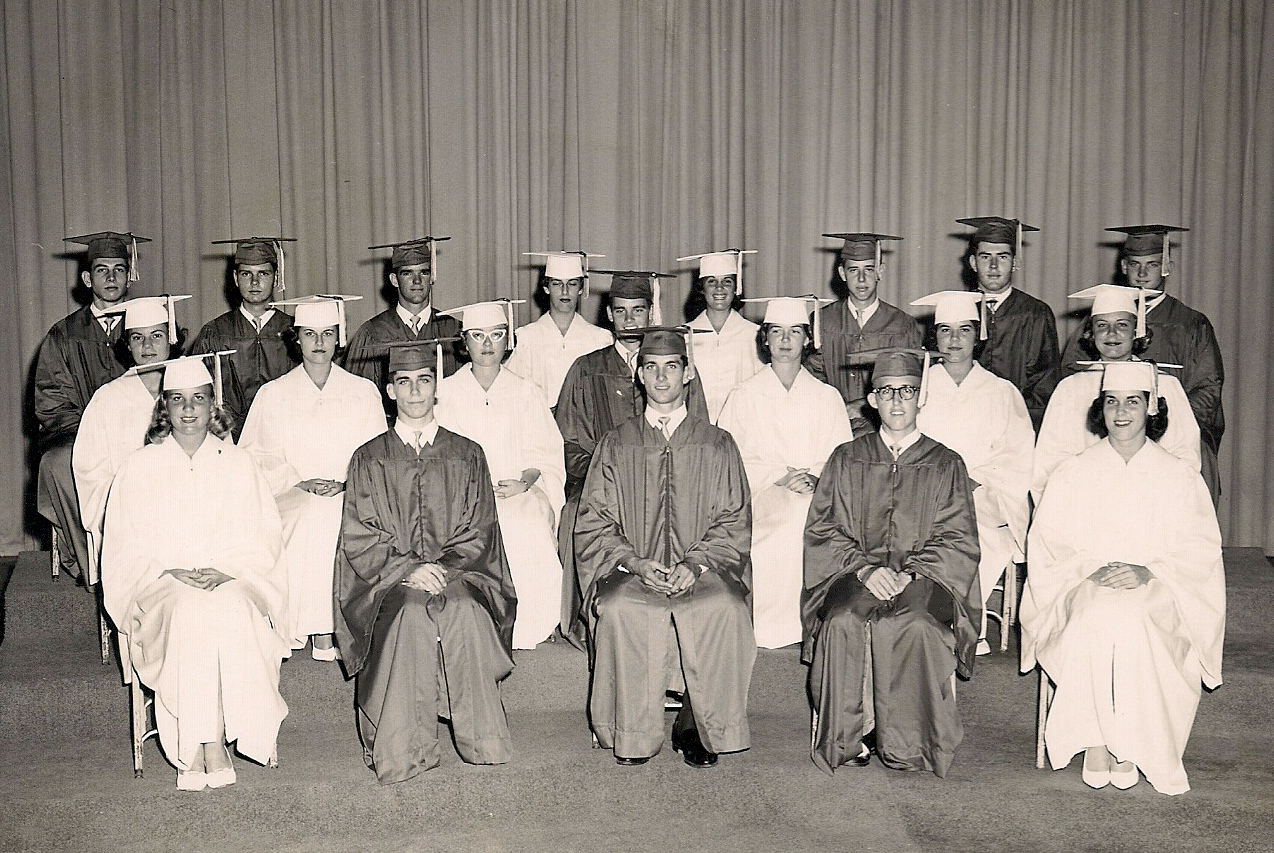 ---
If you have Class Graduation Phots please send them to me and I will add them to the collection. Dan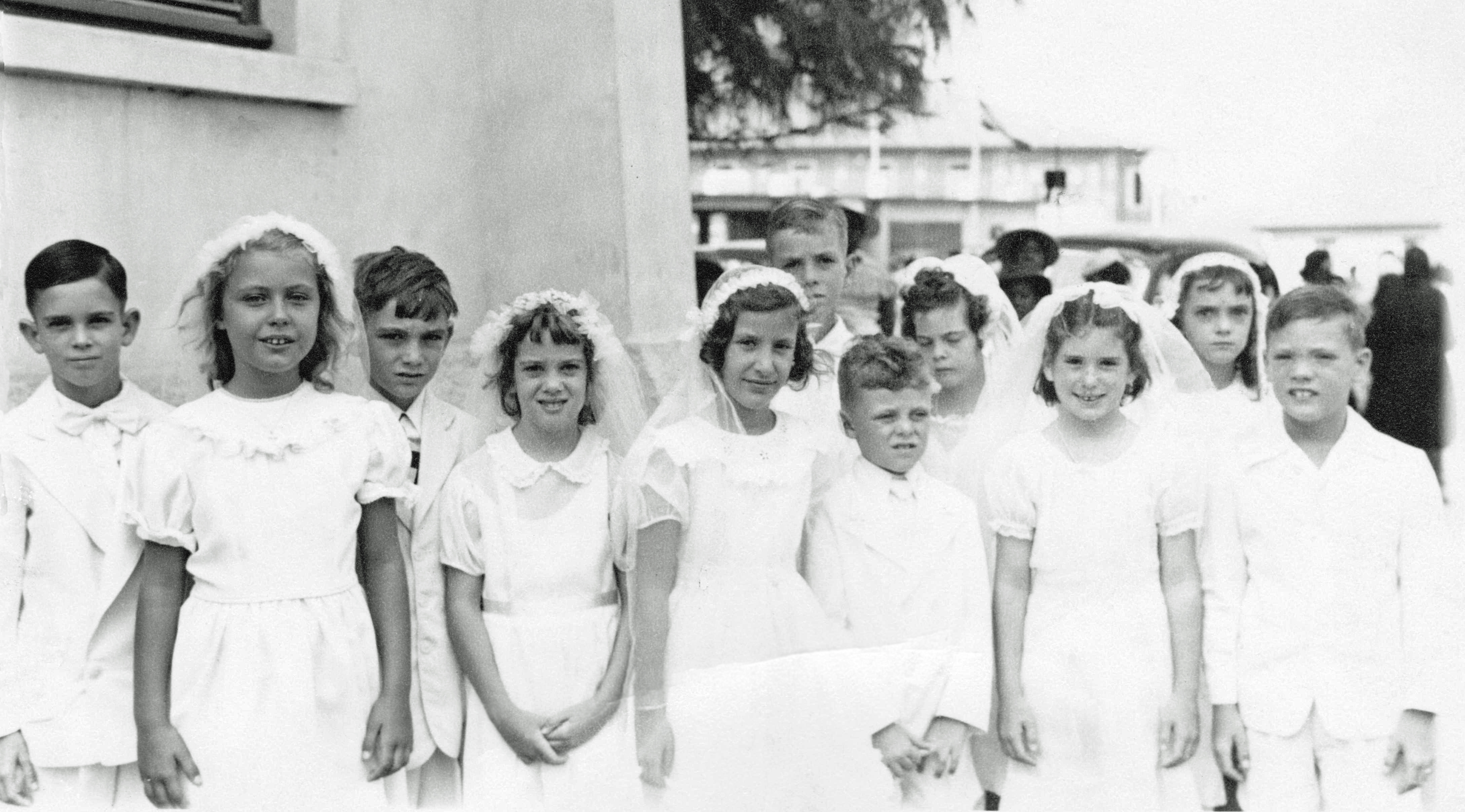 BOB PEARSON SENT IN THIS PHOTO, HE SAID IT WAS THE FIRST COMMUNION AT ST. THERESA'S CHURCH, CAN ANYONE HELP WITH THE NAMES OF THE KIDS IN THE PHOTO.
MY GUESS IS: LEFT TO RIGHT: 5TH GIRL, JANET SPRINGER, BOY BEHIND JANET, JIM ROBY, BOY NEXT TO JANET, BOB PEARSON, LAST GIRL BACK ROW SUZANNE ROBY. I MAY BE WRONG WITH MY GUESSES.
WHAT ABOUT THE REST?
BOB PEARSON SENT IN THIS PHOTO, HE SAID IT WAS THE FIRST COMMUNION AT ST. THERESA'S CHURCH, CAN ANYONE HELP WITH THE NAMES OF THE KIDS IN THE PHOTO.
---
NEW YEAR'S EVE PARTY AT ESSO CLUB
Mitsy Ray sent in this photo of a New Years Party at the Esso Club. Can anyone tell me what year it was or who all the people are?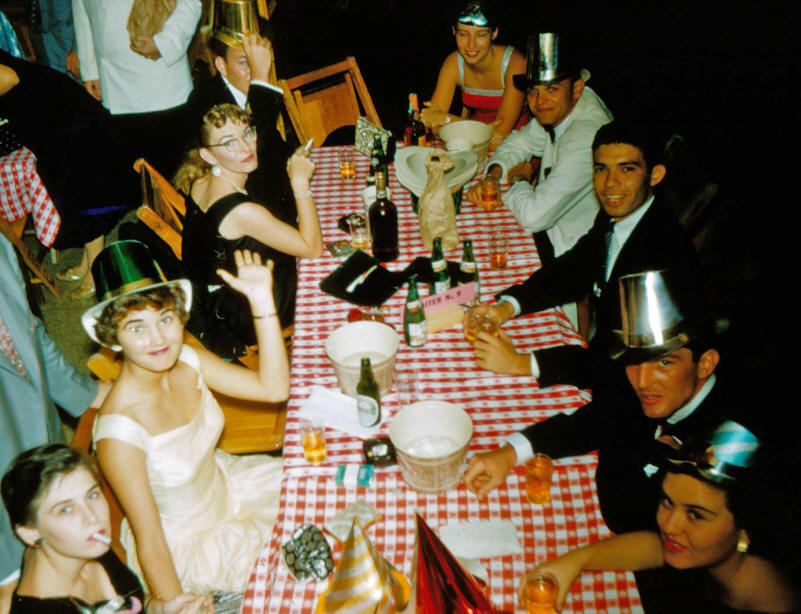 Lower left, Elaine Gruenberg, Vickie Schultz(?), (girl?), (boy?), empty seat was Neal Ray who took photo, Mitsy
Ray, Bob Gladman, Bill Mello, (boy?) and Sharon Pace(?).
---
RETURN TO THE LAGO HIGH SCHOOL DIRECTORY