COLLEGE BOUND GROUP PHOTOS
LEAVING FOR COLLEGE IN 1954, TAKEN AT THE AIRPORT
Yo! Dan,
Great photos! The Class of '52 at the airport, was not the class of '52. That is definitely Bill Moyer ('51) standing next to Jim Downey. I don't recognize everyone in the picture, but I think I see Joe Carroll ('51), Jack Horigan ('51), Bob Norcom ('52). I think the tall guy on the left is Bob Lloyd.
Bill Burbage ('51) 2/20/2006
AT FIRST I HAD LABELED THIS PHOTO "CLASS OF 1952".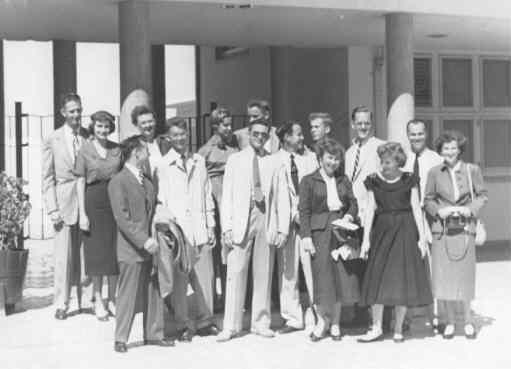 FIRST ROW, LEFT TO RIGHT
JIM ROSBOROUGH, BOB BARBONUS, BOB GRIFFIN, STANLEY NORCOM, POLLY MINGUS, MARY B. SPITZER, BETTINE HORIGAN.
SECOND ROW, LEFT TO RIGHT
BOB LLOYD, JANET WHITE, SARAH ANN SMITH, MARY JEAN OWEN, AL LEAK, JACK HORIGAN, BILL MOYER, JOHNNY TEAGLE.
NAMES BY BOB LLOYD, THANKS BOB
CLICK ON PHOTO TO SEE LARGER VIEW
THE FOLLOWING TWO GROUP PHOTOS WERE SENT IN BY MITZI RAE.
CAN SOMEONE HELP WITH NAMES?
CLICK ON THE NEXT TWO PHOTOS TO SEE A LARGER VIEW OF THE SAME PHOTO.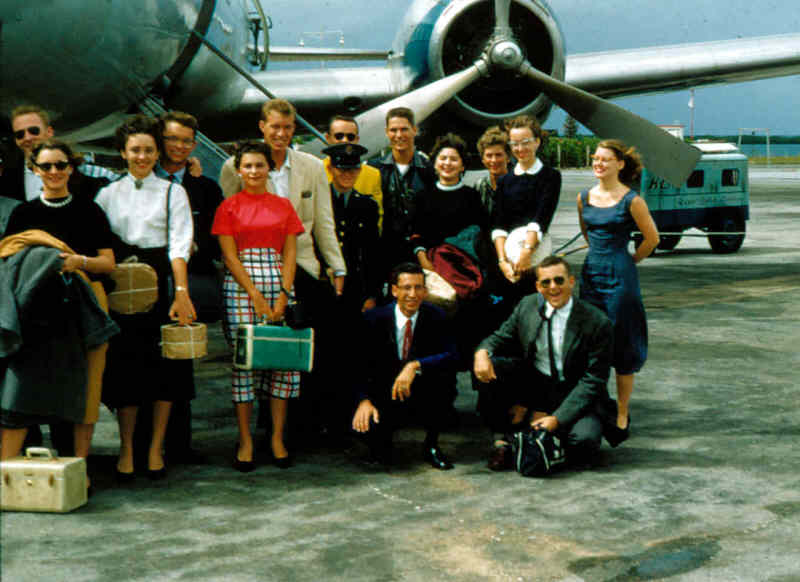 ABOVE PHOTO
Back row: Lad Mingus, Bob Barbonus, Dirk van der Linden, Bob Gladman, David Dodge, Brenda Engle, Rickie Koster, unknown, Mary Ellen Straub.
Front Row: Carla Massey, Patty Pakozdi (sp), Xenie Swartz, Gene Keesler, Mike Alemany and Bob Griffin.
With the help of Bob Lloyd and Mary B.
WHEN YOU CLICK FOR LARGER VIEW I ALSO LIGHTED THE PHOTOGRAPH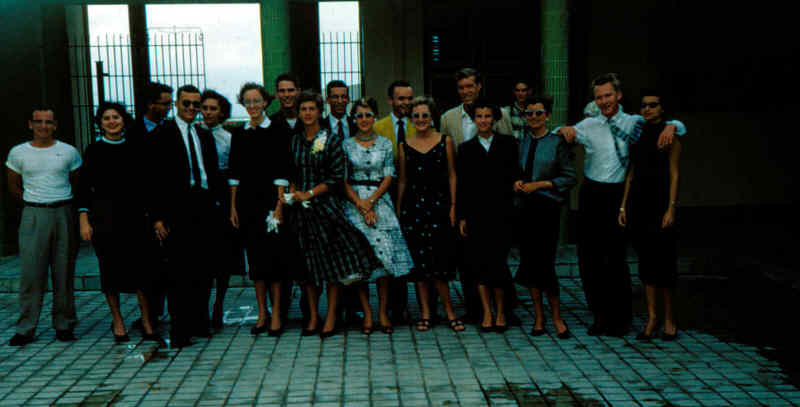 Buddy Berrisford, Brenda Engle, Bob Borbonus, Bob Griffin, Patty Pakozdi, unknown, David Dodge, Rickie Koster, Mike Alemany, Martha Sue Lloyd, Bob Gladman, ? Chipendale, Dirk van der Linden, Bettine Horigan, unknown, Nancy Chipendale, Lad Mingus and maybe Carla Massey.
COLLEGE BOUND PHOTOS FROM PAM MATHIASEN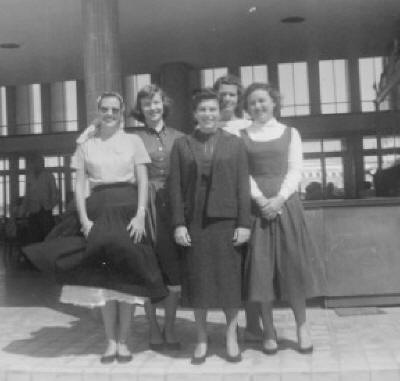 Alice Spitzer, Pam Mathiasen, Elaine Gruenberg, Janet Updike, Sharon Pace all going off to College.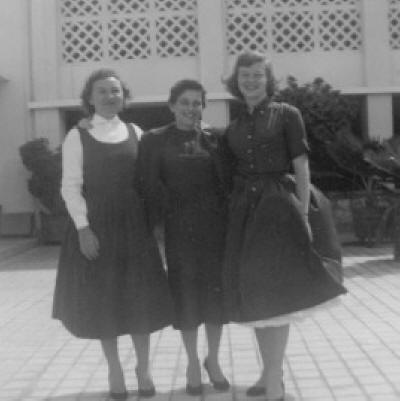 Sharon, Elaine, Pam (all heading to Cornell University)