CAPTAIN RODGER
Alastair Roberts, a grandson of Captain Rodger who resides in England, sent me a DVD made from home movies taken by Captain Rodger in Aruba in the 1930's. They are very good quality and I have cut the film into segments for easy download.
FILM SECTIONS
ARUBA WEDDING: This shows the wedding of Mabel, Captain Rodger's middle daughter getting married in the Lago Community Church, people leaving the church, arriving at Bungalow 69 for the reception, greeting guests on the porch, the party, and guests leaving the reception. Check out the dress of the period. Captain Rodger had a ships "figurehead" at the front of the garden, overlooking Rodger's Beach, the front of the garden came to a point, like the bow of a ship. In those days the driveway seemed to circle the house, later the drive in front of the house was made part of the garden. This was later the Mingus' home.
VIEW FROM # 69 & LEAVING BY SHIP: A pan from the garden in front of Bungalow 69. You can see Rodger's Beach, The Big Dock, Tankers at anchor beyond the reef, the area where the Esso Club was built and the "Figurehead" at the front of the garden.
ARUBA COUNTRYSIDE I: The Main Gate into Lago, good pan of San Nicholas standing in front of Gate # 1.
ARUBA COUNTRYSIDE II: Fields of aloe, natives on burrows, view of Hooiberg and aircraft, maybe the "Snipe" flying overhead, views from Oranjestad, and the "banana" boats from Venezuela.
ARUBA COUNTRYSIDE III: The Rodger family on the beaches on the North Shore, Natural Bridge, and Ayo Rocks.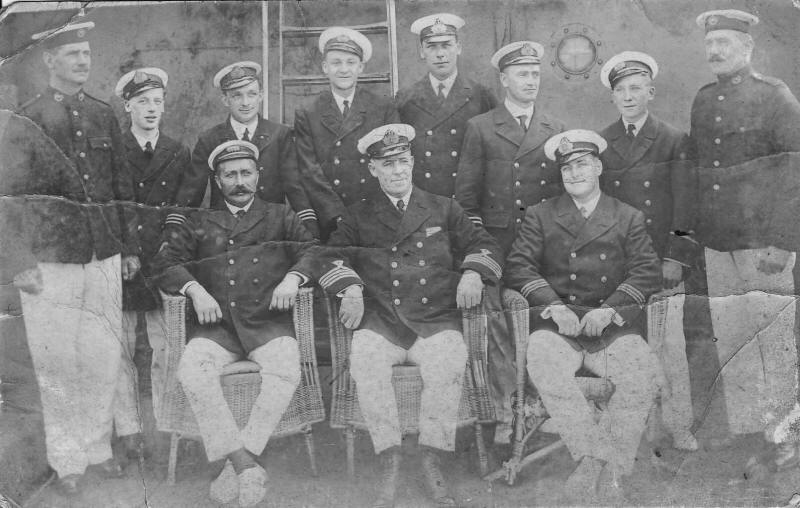 CAPTAIN ROGERS AND HIS CREW, PHOTO SENT IN BY RENTON KIDD
TO SEE A BIOGRAPHY OF CAPTAIN ROGER BY HIS DAUGHTER, EILEEN ROBERTS
CLICK ON THIS LINE TO SEE THE BIOGRAPHY
RETURN TO THE LAGO REFINERY DIRECTORY