BLOWUP OF EAST END OF ARUBA FROM A MAP
BY
DON BLAIR & BETTINA STEINKE
First the entire map, this is a photo of the map that hangs in the Gray's home, the photo is taken by Lisa Gray.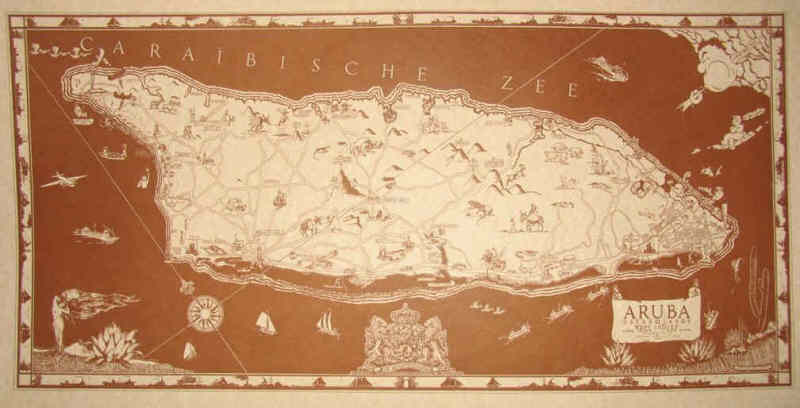 This is a blow-up of the east end of Aruba, showing what was the Lago Concession.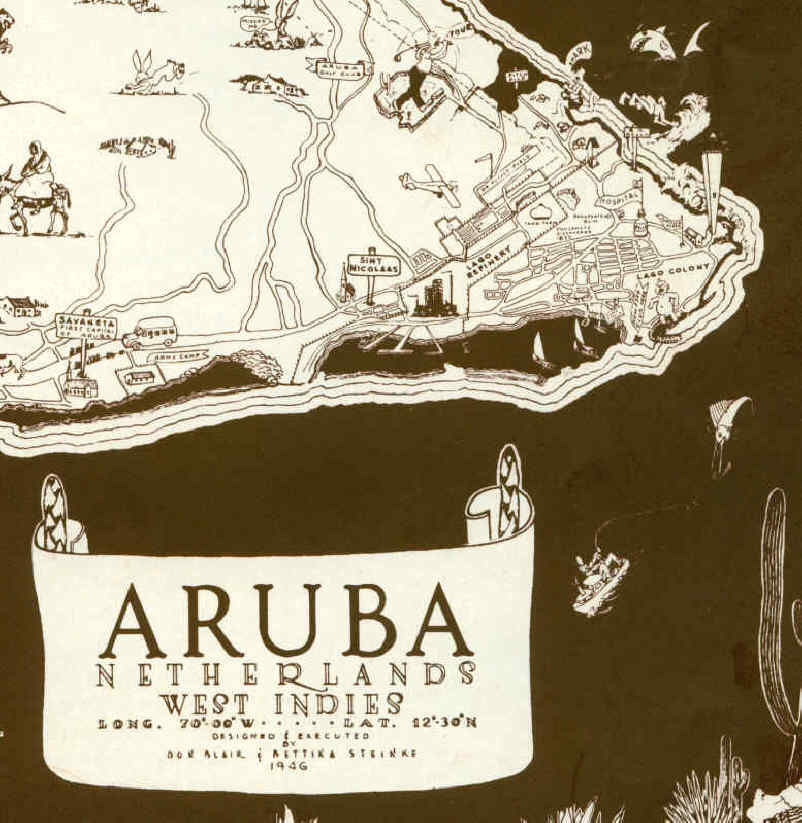 The following is taken from National Cowboy & Western Heritage Museum, Oklahoma City, Oklahoma, The Donald C. and Elizabeth M. Dickinson Research Center which has the Bettina Steinke and Don Blair Papers.
Donald Allam Blair was born on October 4, 1905 in Lamar, Arkansas. Blair attended the University of Oklahoma and graduated with a degree in engineering.
He began his career in the oil industry as a ditch digger with Marland Oil Company of Ponca, Oklahoma, which later became the Conoco Oil Company.
Later he worked as the chief draftsman for the company and also wrote, did commercial art, and edited an in-house publication for Conoco.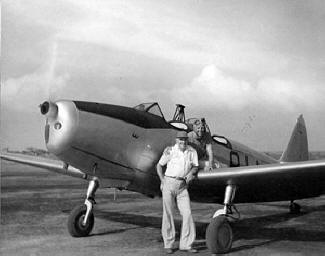 In 1937 Don Blair was employed by Lago Oil & Transport Co. Ltd. in Aruba. This was a subsidiary of Standard Oil of New Jersey with a refinery on the island of Aruba in the Dutch West Indies. When he first got to Aruba, Don worked as a piping draftsman and company photographer. In 1943 he transferred to the Industrial Relations Department as an assignments supervisor. This was also the year he met Bettina Steinke, with whom he corresponded with until 1946, when he asked her to visit him in Aruba.
Bettina Louise Steinke was born on June 25, 1913 in Biddeford, Maine. Her father was a cartoonist and caricaturist and encouraged her to follow interest in art.
Bettina attended the Fawcett Art School in Newark, New Jersey, Cooper Union in New York City and Phoenix Art Institute in New York City, in all she spent six years in art education. DON BLAIR & SKIPPY CULVER WITH A TRAINER AIRCRAFT AT THE ARUBA FLYING CLUB.
Bettina began her art career as a portraitist and commercial illustrator. She is credited with doing portraits of Arturo Toscanini, Igance Paderewski, Jerome Kern, W. C. Handy, Generals Henry "Hap" Arnold and Douglas MacArthur as well as Admiral Chester Mimitz and many others.
Bettina Steinkeís visit to Aruba in 1946, which began with her taking the oil tanker, S. S. Esso Bolivar to Aruba, resulted in the couple getting married in Aruba. They were married by on March 21, 1946 and their wedding was officiated by the governor of Aruba.
Shortly after their marriage the Blairís left Aruba and the couple began a decade of joint assignments with Don as photographer and Bettina as artist. Together they traveled Central America, Colombia and the Canadian Artic.
In 1949 the Blairís opened an art gallery in Claremore, Oklahoma and sold work by Bettina and other artists.
Don Blair died on September 18, 2000, only a little more than a year after his wifeís death. His cremated remains were scattered over the New Mexico landscape.
Dan's Note. I have a very vague recollection of Don Blair and none of Bettina Steinke. As a very little boy I remember there being a party for my birthday and he was there. The party was more of an adult party than a child's birthday party because I was only about 5 or 6 years old. The reason for the party was a joint birthday party, we were both born on October 4, he in 1905, me in 1938, so it was a joint birthday party, although there was 33 years difference in our ages.
I remember this because I did a pencil drawing of a person and Don Blair "graded" it for me. I hope my daughter has it and can find it, if so I will post it on this page. I did not get a very good grade on my drawing of the person because I had the arms coming out of the head instead of the shoulders. My mother kept the drawing in a scrapbook or I would never have remembered this. Dan Jensen 4-29-2006
TO SEE PHOTOS BY DON BLAIR CLICK HERE
RETURN TO COLONY DIRECTORY