An Island Away
A novel set in Aruba written by Daniel Putkowski. This book can be pre-ordered from www.amazon.com and is expected to be shipped in the middle of May, 2008. To learn more about Daniel Putkowski go to his web site at: www.danielputkowski.com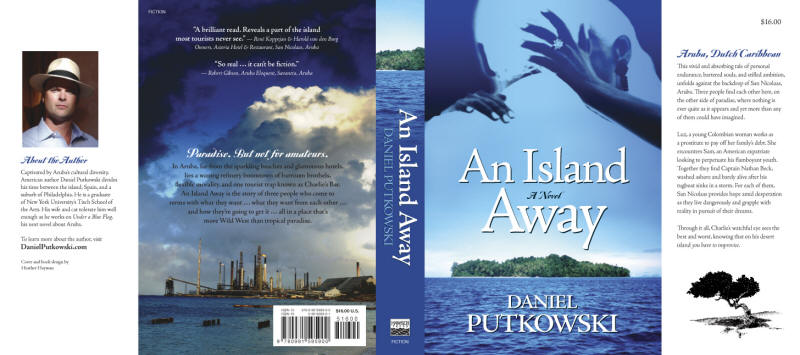 What is said on the dust cover.
BACK COVER:
Paradise. But not for amateurs. In Aruba, far from the sparkling beaches and glamorous hotels, lies a waning refinery boomtown of barroom brothels, flexible morality, and one tourist trap known as Charlie's Bar.
An Island Away is the story of three people who come to terms with what they had, what they want from each other and how they're going to get it. This happens in a place that's more Wild West than tropical paradise.
INSIDE FLAP:
Aruba, Dutch Caribbean
This vivid and absorbing tale of personal endurance, bartered souls, and stifled ambition, unfolds against the backdrop of San Nicolaas, Aruba. Three people find each other here, on the other side of paradise, where nothing is ever quite as it appears and yet more than any of them could have imagined.
Luz, a young Colombian woman works as a prostitute to pay off her family's debt. She encounters Sam, an American expatriate looking to perpetuate his flamboyant youth. Together they find Captain Nathan Beck, washed ashore and barely alive after his tugboat sinks in a storm. For each of them, San Nicolaas provides hope amid desperation as they live dangerously and grapple with reality in pursuit of their dreams.
Through it all, Charlie's watchful eye sees the best and worst, knowing that on his desert island you have to improvise.